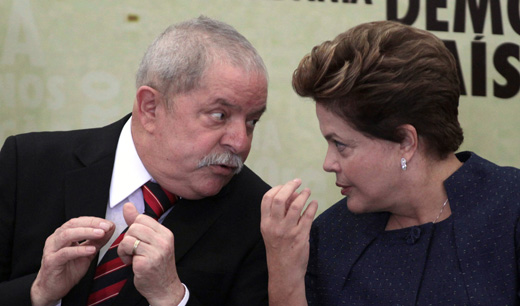 Twenty-eight years after the re-democratization of Brazil, the government will investigate human rights violations committed by the right-wing military dictatorship that ruled the country from 1964 to 1985.
The regime began with a U.S.-backed coup d'ètat that removed democratically-elected President João Goulart from office after he proposed reforms to education, taxation, agriculture and the electoral system.
Four hundred and thirty-seven activists were murdered or disappeared, and thousands more imprisoned and tortured, including current president Dilma Rousseff of the Workers' Party. In late 2011, the government approved establishment of the National Truth Commission to investigate all human rights abuses beginning in 1946 and ending in 1988.
President Rousseff, who was arrested in 1970 and spent three years in jail as a political prisoner, was tortured for her engagement in the Marxist guerilla groups Comando de Libertação Nacional (COLINA) and Vanguarde Armada Revolucionária Palmares (VAR Palmares).
Rousseff's predecessor, Luiz Inácio "Lula" da Silva, a former union leader who was also imprisoned during the military rule, joined three other former presidents alongside Rousseff at the installation ceremony of the Truth Commission on May 16.
"Ignorance of our history does not pacify, on the contrary – it maintains latent heartbreak and resentment. Disinformation does not contribute to peace, it only paves the way to intolerance," said Rousseff while fighting back tears.
The commission will review top secret government documents that could clarify cases of death, torture, and disappearances. It will have two years to present a report on past human rights abuses committed by the Brazilian government.
Through the U.S. Freedom of Information Act, the seven members of the panel will have access to information regarding the U.S. State Department and CIA's role and cooperation with the military dictatorship in repressing political dissent.
Those seeking information on friends and family members who were victims of the military dictatorship will benefit from the Access to Information Law (Lei de Acesso à Informação), which passed last year with the goal of increasing government transparency.
Top secret documents will now be classified for a total of 25 years, or a maximum of 50 years if its classification status is extended. Previously, secret documents could have the length of its classification renewed indefinitely.
No legal proceedings will be initiated against officials responsible for human rights violations. A 1979 Amnesty Law that allows exiles to return to the country and pardons officials who committed crimes under the dictatorship is still in effect.
Photo: Brazil's President Dilma Roussef, right, talks with former President Luiz Inacio Lula da Silva during the installation of the Truth Commission, May 16. Rousseff swore in the seven members of a truth commission created to look into human rights abuses committed during the nation's long dictatorship. Eraldo Peres/AP