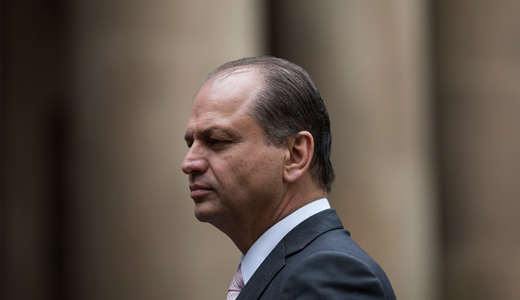 As the Brazilian Senate proceeds with the impeachment trial of suspended President Dilma Rousseff, the right-wing interim president, Michel Temer, and his cabinet are blasting ahead with efforts to undo all the social reforms undertaken by Rousseff's government and that of her predecessor, Luiz Inacio Lula da Silva.
Specifically, Temer and his right wing "Cattle, Bible, and Bullets"(Boi, Biblia y Bala) gang of right-wing extremists (so named because they include a large representation of large-scale cattle ranchers, Evangelical Christians and gun nuts) are aiming to amend the 1988 constitution, which established health care as a right of the Brazilian people.
The people in charge of this effort include Temer's Minister of Health, Ricardo Barros, whose roots are in the ill-named and right-wing "Progressive Party" (Partido Progressista or PP). Barros has proceeded to make such outrageous statements about health care and other things that he has ended up being a laughingstock in the view of many, but this does not seem to either bother or deter him or his boss, Mr. Temer.
A businessman in charge of public health
Ricardo Barros does not have a healthcare background, or any healthcare knowledge as far as anyone can see. He is, rather, a politician and businessman. He was a federal deputy from Paraná in the legislature until he was appointed minister of health by Temer on May 12 of this year.
Like most of Temer's cabinet and close advisors, he has also been accused of corrupt practices, including fraud involving a public relations contract when he was a local government official in 2011. As a federal deputy, he voted in April to proceed with impeachment proceedings against Rousseff, and also voted against taking action to remove Eduardo Cunha as Speaker of the Chamber of Deputies, again because of the very credible corruption accusations against Cunha. But Cunha was eventually kicked out anyway.
Barros did not hold the post very long before he got into hot water for some generalizations he made about the Brazilian people. On July 15, he delivered the following pearls of wisdom when addressing a meeting of the Brazilian Medical Association in São Paulo: The "culture of the Brazilian" leads people to "imagine" illnesses from which they do not, in reality, suffer. Barros went on to explain that "the majority of the people come to health centers or primary care with psychosomatic effects… If the patient does not leave with a prescription or with an appointment for an examination, he feels he was not 'consulted.' This is a [cultural characteristic] of the people, and I find that we all have to change, because this is not compatible with the resources we have."
So his motives in discovering this strange cultural characteristic of the Brazilian people were clear: "We don't have the money to be giving examinations and handing out medicines which are not necessary, just in order to satisfy people so that they think they were well taken care of at the health center," he explained.
Government aims to dismantle health system
Barros's statements dovetailed with efforts of Temer's right-wing government to gut the Comprehensive Health System, Sistema Unico de Saude or SUS, which was established by the constitution of 1988. The effort is being carried forth as a constitutional amendment, called PEC (Constitutional Amendment Project) 241, which would establish a ceiling or cap for health care expenditures, in a country where nobody except Barros thinks that available health care resources provide luxury level care.
In fact, one of the complaints that led to large scale demonstrations in 2013 was that not enough money was being put into health care; one of the responses of the government was the Mais Medicos (More Doctors) project in which a large number of mostly Cuban healthcare workers were brought in to provide services to underserved communities. But now there is talk in the Temer government of also eliminating the Mais Medicos program. Another plan is to establish a lower-level, minimalist healthcare plan for lower-income communities.
There are large-scale protests in Brazil, led by a wide range of organizations, against Temer's budgetary priorities and specifically Barros' plans for healthcare. On August 9, 54 organizations of various kinds sent a letter to interim president Temer, House of Deputies Chair Rodrigo Maia, and Senate President Renan Calheiros, demanding no erosion of the constitutional guarantee behind SUS.
Others have been demanding that Ricardo Barros be removed as health minister, but he blunders merrily on. He has also claimed that women visit the doctor too much, more than men, because men are working and women are not working. This enraged women's organizations, which is unlikely to have much impact on Temer's all-male and all-male-chauvinist cabinet.
In the event that Dilma Rousseff wins her struggle in the Senate and is returned to power, Temer and his ministers, including Barros, will all be gone. A referendum may take place, which is likely to repudiate the policies that Temer, Barros, and the rest have foisted on the Brazilian people.
There could be a room for a person like this in a Donald Trump cabinet in the United States, though. He'd fit right in.
Photo: Health Minister Ricardo Barros walks away after speaking with the foreign media about Zika at Itamaraty Palace in Rio de Janeiro, Brazil, June 10. Felipe Dana | AP