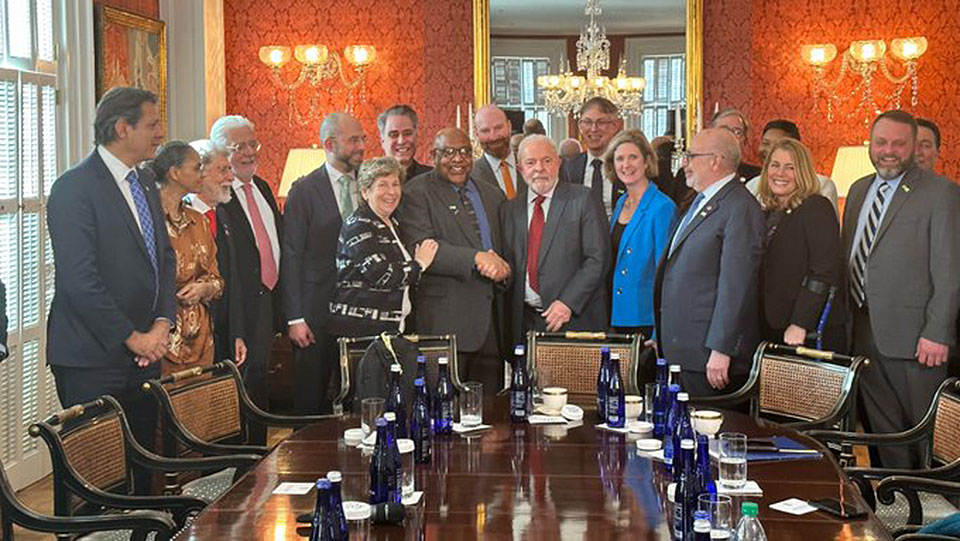 WASHINGTON—As Brazilian President Luiz Inácio Lula da Silva met both Democratic President Joe Biden and, separately, U.S. labor leaders, happy U.S. supporters—including two identifying themselves as Auto Workers and others from the peace movement—chanted support for him outside the White House security perimeter.
The supporters of Lula outside the White House, both labor and peace movement activists, and the president shared a common theme: Preserving democracy in the Western Hemisphere's two most-populous countries. The U.S. has 339 million people and Brazil has 216 million.
In both nations right-wing and fascist supporters of Lula's and Biden's predecessors—Donald Trump and Jair Bolsonaro—attempted coups to prevent them from taking office.
And while a large minority of U.S. Republican lawmakers and several big-state GOP governors, among others, are Trumpites, Lula, of the Brazilian Workers Party, faces a Bolsonarista majority in the Brazilian Congress plus key governors and many other Bolsonaro-backers among state officials and the police.
As a result, the leaders' joint statement, the AFL-CIO's statement after his closed-door meeting with top union leaders in the federation's Executive Council room upstairs, and the protesters' singing chants all emphasized Lula's role in preserving democracy there.
"Defend Democracy in Brazil," many signs read among the 75-100 serenaders flanking Blair House, the official "guest house" for visiting foreign leaders just down the block from the White House. CodePink, the serenade's sponsor, had members with hand-drawn signs reading "We (heart) you, Lula!" And serenaders changed the chant of "…this is what democracy looks like!" to "Show us what democracy looks like! Lula's what democracy looks like!"
Inside the White House, Lula and Biden issued a joint statement emphasizing agreement on restoring the Amazon rainforest, which is vital to controlling climate change, on protecting democracy, and promoting respect for human rights.
For Biden, in his part of the statement, it meant standing up for Black Americans. For Lula—in the statement and outside in some of the serenaders' signs—it meant promoting equality and economic equity for the Indigenous exploited Yanomami people of the rainforest.
"It was a privilege to host" Lula at AFL-CIO headquarters, the federation statement said. "Lula has spent his entire life fighting for the working class as both a union and political leader. He knows the future of Brazil and the United States depends on dismantling systemic inequality, building worker power, and fighting racial and economic injustice.
"The significance of today's meeting is heightened as a momentous step forward in the long-standing bond between our two movements.
"Four years ago, while Lula was wrongfully imprisoned, the late AFL-CIO President Richard Trumka traveled to the country's federal police building to demand justice and organize for Lula's release.
"We stood by him then and we will continue to stand alongside Lula, his Workers' Party, and the Brazilian labor movement in their fight to defend democracy and build a better world for working people."
The joint statement from Biden and Lula reaffirmed their democratic commitment before moving on to other issues.
The two "continue to reject extremism and violence in politics, condemned hate speech, and reaffirmed their intention to build societal resilience to disinformation, and agreed to work together on these issues," they said.
Both coup attempts came after disinformation campaigns by Trump and Bolsonaro, Trump's continuing denial of his defeat while Bolsonaro, now residing in Florida, recognized Lula would be inaugurated, though he too never formally conceded. Trumpites trashed the U.S. Capitol in their 2021 coup attempt. Bolsonaristas smashed into the president's residence, the Brazilian Congress, and its Supreme Court while also blocking roads around the country.
Biden and Lula also agreed on "advancing the human rights agenda through cooperation and coordination on such issues as social inclusion and labor rights, gender equality, racial equity, and justice, and the protection of the rights of LGBTQI+ persons."
Left unsaid was one big disagreement between Biden and Lula. Brazil has been a leader in the global South in refusing to follow the U.S.-led weaponization of Ukraine in its war against Russia. Both Lula and CodePink, which organized the serenaders, say countries should be calling for negotiations involving Ukraine, Russia, and the U.S., not sending weapons to worsen the conflict.
Combatting climate change was the other big issue Biden and Lula discussed. The Amazon rainforest has long been the world's largest "carbon sink," with its dense canopy of trees absorbing carbon dioxide which otherwise would lead to climate change.
Code Pink has asked President Biden to take heed to Lula's push for peace in Ukraine. Brazil is a major manufacturer of ammunition and other material used to conduct warfare, including parts for the Leopard tanks European countries are sending to Ukraine.
In a tweet, rejecting a recent request from Germany, Lula said, "Brazil has no interest in ceding ammunition to be used in the war between Ukraine and Russia. Brazil is a country of peace. At this moment, we have to find those who want peace, a word that until now has been used very little." At a press conference before he left Brazil he expressed a desire to create a "club of countries that want to build peace on the planet."
"Building peace on the planet should be a top priority for President Biden and the United States," CodePink said in a statement.
"The U.S. should work in cooperation not competition with other nations for the sake of people and the planet. Latin America is leading the way towards sustainability and the United States should follow" said Michelle Ellner, Latin America Team organizer with CodePink.
Combatting climate change was the other big issue Biden and Lula discussed. The Amazon rainforest has long been the world's largest "carbon sink," with its dense canopy of trees absorbing carbon dioxide which otherwise would lead to climate change.
But Bolsonaro applauded and encouraged corporate clear-cutting of the rainforest, regardless of the environmental consequences, and sometimes at the cost of the murder of resisting environmentalists and indigenous people. As a result, starting in 2021, due to clear-cutting, intentional forest fires, and effects of already galloping climate change worldwide, the Amazon rainforest is now a net carbon emitter—a result Lula plans to reverse.
Other organizations in attendance in support of Lula were Defend Democracy in Brazil Committee from New York and Florida, ANSWER coalition, Claudia Jones School for Political Education, and the Brazilian Popular Struggle Committee chapters from New York, New Jersey, and Pennsylvania.