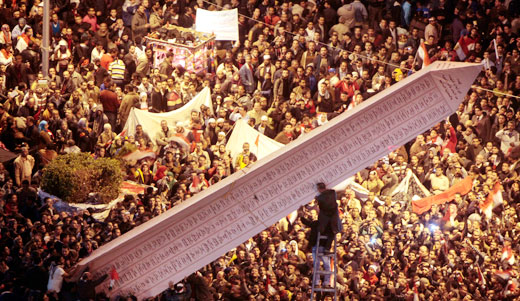 Hundreds of thousands rallied in Cairo's Tahrir Square and in other Egyptian cities Wednesday on the first anniversary of the Jan. 25, 2011, uprising that led to the ouster of dictator Hosni Mubarak.
BBC reporter Jon Leyne said the huge crowd in Cairo was "possibly the biggest gathering in Tahrir Square since that day nearly a year ago when they celebrated the departure of Hosni Mubarak. But as to the political significance – that's a bit harder to assess."
"There are now many competing agendas in Egypt," Leyne said. "On one side of the square the Islamists reveled in their recent success in the parliamentary elections. Their leaders are in behind-the-scenes talks with the military over a negotiated handover of power later this year. On the other side of the square, liberals and representatives of the youth movement were more openly antagonistic towards Egypt's military rulers. Many more people came just to enjoy what felt like a huge street party."
The Associated Press called it "a show of strength by secular groups in their competition with the country's powerful Islamists over demands for an end to military rule."
News reports, and the video below, indicate masses of protesters expressed anger over the slow pace of trials for those accused of killing protesters last year, demanded an end to military trials for civilians, and called for the ruling military council to hand over power to elected civilian government.
"Those in uniform who shot Egyptians dead in front of me still walk the streets freely," a Cairo tour guide told the UK Guardian. "Those that, like Mubarak, ordered such shootings – they remain in power instead of being behind bars. Listen to chants around us: 'Bread, freedom, human dignity.' Where are those things? Can we see or touch them? No, and that's why we're here today."
The video was made by Mosireen, which describes itself as "a non-profit media centre in Downtown Cairo born out of the explosion of citizen journalism and cultural activism in Egypt during the revolution." It shows students, doctors, workers, women and others demanding "change, freedom, social justice": (text continues below video)
BBC reported that Field Marshal Mohamed Hussein Tantawi, chair of the ruling Supreme Council of the Armed Forces (known as Scaf) said on Tuesday that the state of emergency, which has been in place in Egypt almost continuously since 1967, would be lifted.
But he said the law would still be applied in cases of "thuggery." The military has used the term "thugs" to justify the crackdown on people demanding a return to civilian rule, the BBC said. Repeal of the much-hated emergency law has been a key demand of the protesters, the British news agency said.
Last year, the military council widened the scope of the emergency law to include labor strikes, traffic disruption and spreading false information.
The Egyptian Federation of Independent Trade Unions was formed a year ago, in opposition to the state-controlled Egyptian Trade Union Federation. The interim governing body has not recognized the approximately 300 independent unions that have been formed since then, with a membership of approximately 2 million, according to the Egyptian Independent, the English-language website of Al-Masry Al-Youm.
Reporter Jano Charbel writes, "Many workers say they have yet to see conditions change, despite their critical role in the protests that forced former President Hosni Mubarak from office. 'Workers continue to feel marginalized, just like they did under the Mubarak regime,' says Mahmoud Rihan, a leading organizer of the recently established Federation of Transport Workers."
Workers are demanding full-time contracts for full-time work, an increased minimum wage, official recognition of independent unions, passage of a trade union rights law, purging of corrupt officials from state institutions and companies, and re-nationalization of privatized companies, Charbel reports.
Thousands of protesters have remained in Tahrir Square since Wednesday. More than 50 political groups and parties announced additional protests planned for Friday, Jan. 27, which they are calling the "Second Friday of Anger." The Friday protests will demand Egypt's military rulers hand over power to an elected civilian authority.
Photo: Egyptians set up an obelisk in Cairo's Tahrir Square with the names of people who were killed during the 18-day uprising a year ago, to mark the uprising's first anniversary, Jan. 25, 2012. (AP/Amr Nabil)