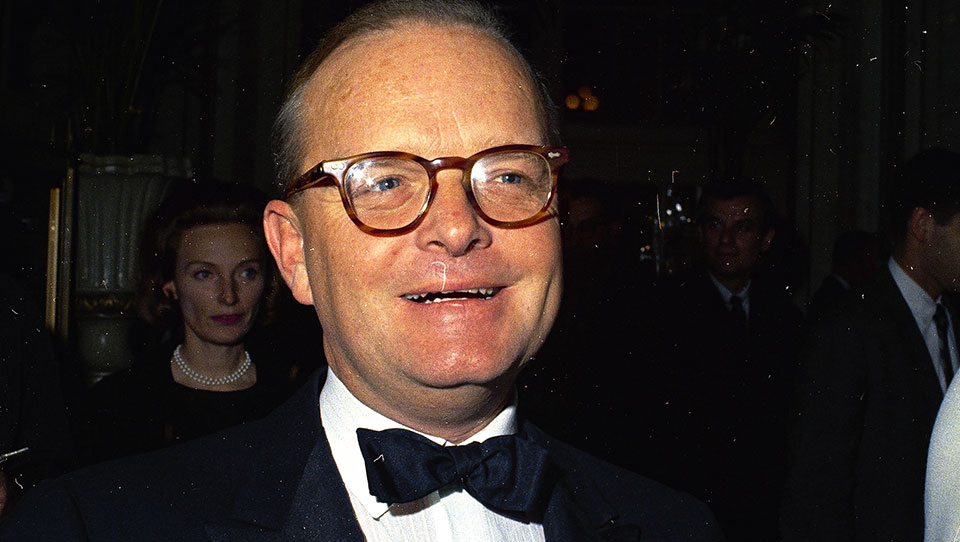 On August 25, 1984, Truman Capote died. A new documentary sheds light on his life and writing.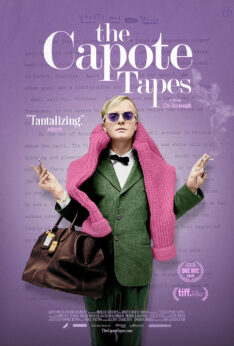 In Cold Blood author Truman Capote is one of the most storied American writers of the second half of the 20th century. Capote's greatest talent may have been off-page, when he was onstage and center stage, promoting his image, endlessly appearing on TV talk shows hosted by Dick Cavett, David Frost, Johnny Carson, etc., cleverly, calculatingly cultivating what his contemporary Norman Mailer called "advertisements for myself."
As he well knew, Truman's unusual appearance made him instantly stand out in a crowd: This fish out of water was more or less openly gay when it was strictly taboo; diminutive if dapper; a Southerner amidst Manhattanites; possessor of a unique speaking voice; and wielder of a wry, wicked wit. Later in life substance abuse, alas, made the author even more of a spectacle.
Truman co-starred in Neil Simon's star-studded 1976 whodunit spoof Murder by Death, portentously playing the victim, and was depicted in two back-to-back biopics, starring Philip Seymour Hoffman in 2005's Capote and Toby Jones in 2006's Infamous. The New Orleans-born wordsmith has also been the subject of documentaries such as 2020's Truman & Tennessee: An Intimate Conversation and is now the titular character of The Capote Tapes.
Ebs Burnough's new 98-minute nonfiction film includes a clip from the most famous movie portraying Capote, 1962's three-time Oscar winner To Kill a Mockingbird, based on the novel by Truman's childhood friend, Harper Lee, with John Megna playing Truman as a six-year-old boy named "Dill Harris." Tellingly, Dill introduces himself to Scout and Jem Finch by boasting that he knows how to read.
Among other things, Tapes investigates whether or not the man who penned the celebrated Breakfast at Tiffany's actually wrote a manuscript (or portion of a ms.) for his much heralded, long awaited but never finished (if even started?) novel about the in-crowd he cavorted with in order to cover Unanswered Prayers. Or was that just a literary hoax, for which Truman received (embezzled??) a $1 million advance from a presumably beguiled and hoodwinked publisher? Or is the ms. ensconced in a safe deposit box somewhere? (I don't recall the doc noting that an unfinished version of Prayers was actually posthumously published by 1986, two years after Truman's premature demise.)
The Capote Tapes is built around a series of never-before-heard taped interviews and includes glimpses of the jet set/beautiful people Capote mingled with and wrote about, such as Mick Jagger, Babe Paley, Andy Warhol, Princess Lee Radziwill, Jackie O, etc. Interview subjects include Cavett, novelist Jay McInerney, Harper's editor Lewis Lapham, Truman's life partner Jack Dunphy, and Dotson Rader, who wrote the book about Sixties protest, I Ain't Marchin' Anymore, which took its title from Phil Ochs's anthem. The daughter of one of Capote's lovers, Kate Harrington (any relation to socialist Michael Harrington?), whom Truman adopted, is interviewed throughout the doc, providing personal details about his little known private side, particularly his parenting.
In terms of ambiance and milieu, the stylish The Capote Tapes is imbued with a very New York state of mind, with great shots and views of my old hometown, the city that never sleeps. Regarding Manhattan's glitterati and their hangouts, such as Studio 54, of which Capote was a habitué, with their ostentatious emphasis on looks and style, they can come across as fatuous. One of Tapes' fashion-related interview subjects seems like a totally shallow imbecile as he professes sheer admiration for a socialite because she has her servant regularly iron her five-dollar bills so they are very crisp. (Talk about having money to burn!)
Truman's parents divorced two years after his birth in 1924 and more or less abandoned him to be raised by distant relatives in Monroeville, Alabama, where he met Harper Lee. I imagine that like F. Scott Fitzgerald, Capote had complicated, conflicting feelings about the rich, who, as Fitzgerald rather famously observed in a conversation with Ernest Hemingway, are "different from you and me. They possess and enjoy early, and it does something to them, makes them soft where we are hard, and cynical where we are trustful, in a way that, unless you were born rich, it is very difficult to understand.
"They think, deep in their hearts, that they are better than we are because we had to discover the compensations and refuges of life for ourselves. Even when they enter deep into our world or sink below us, they still think that they are better than we are. They are different."
Capote apparently envied the denizens of café society he hobnobbed with, while simultaneously disdaining many of them and their bourgeois attributes as he observed them with his probing, perceptive, acidic, all-seeing eyes—and articles. Call it "The Other Truman Doctrine." When chapters or portions of his magnum opus were published in Esquire in mid-1976, high society "friends" who'd confided in Capote believed they recognized themselves in his unflattering literary portraiture. These not-so-high society glams felt betrayed and angrily unfriended him, denouncing his stories as mere gossip-mongering. Women's Wear Daily called Truman "The Tiny Terror" and Neil Simon killed him off as the homicide target stabbed in cold blood (sorry, I just can't resist!) in Murder by Death.
In addition to exploring Capote's status as a homosexual when this was verboten in America, The Capote Tapes also reveals how celebrityhood corrupts artists in capitalist society. This has been much remarked upon before, just as Truman's supposed love and/or lust for one of the In Cold Blood murderers has been, as well as Capote's supposed lobbying for the execution of those two killers in order to provide a grand finale for his "nonfiction novel." This is well-trod turf, but Tapes does add new details that I had never heard before about the putative if puny Great American Author.
Some of these tantalizing tidbits are provided by Kate Harrington, who is able to offer such revelatory insights because she lived with her adoptive father. As a scribbler myself, I find the creative process of other word slingers to be of great interest. Of course, Truman, who died in 1984, didn't use a computer to write: According to Harrington, one of our most renowned authors didn't even use a typewriter. Instead, Capote scrawled on yellow legal pads and reportedly found the actual act of writing per se difficult to do. I have long suspected that Truman was frequently faced with a daily dilemma and choice: The daunting task of putting his words down, literally, on paper—which often meant painfully confronting his inner demons—or rousting about with Babe Paley or Princess Lee Radziwill at a swanky joint such as La Côte Basque on West 55th St., drowning his sorrows with the swill that likely hastened his all-too-early death from liver disease.
The Capote Tapes shows what happens to artists when they put distractions—sometimes enabled through "success" in capitalist societies that over-reward a handful of talents (while most are condemned to lives of hardship)—ahead of their art.
As such, this excellent, entertaining, informative documentary chronicling the life and career of one of America's literary and gay icons is a cautionary tale. Tapes marks the directorial debut of Ebs Burnough, former White House Deputy Social Secretary and Senior Advisor to Michelle Obama, and I anxiously anticipate this gifted filmmaker's next film.
During the 1970s, when I was a teenager studying cinema at Hunter College on Park Avenue, I popped into a tobacco shop near the 59th St. Bridge, probably to buy a copy of the Village Voice. A petite, bespectacled man in a khaki jumpsuit entered, whom I immediately recognized from my late night TV viewing. "Mr. Capote," I gasped, "when I was a little boy I saw In Cold Blood, and ever since then I've wanted to read it." With a smile and twinkle in his eye, without missing a beat Truman drawled, "Well, you can take my word for it: The book is much better than the movie." We both laughed. The Capote Tapes brought back that droll memory and much more, about one of our most enduring, enigmatic writers, although to this day, pace Truman Capote, I haven't had the guts to read his true tale of murder most foul. Truth be told, I'm more of A Christmas Memory kind of a guy.
Not too fun fact of the review: Truman Capote died on August 25, 1984, in Los Angeles, at the Bel Air home of Joanne Carson, ex-wife of the host of The Tonight Show, where the celeb author had been a repeat guest. His ashes were, for a time, laid to rest at Westwood Village Memorial Park, near UCLA.
The Capote Tapes opens in theaters on September 10 and is available on TVOD and DVD on October 26. The trailer can be viewed here.