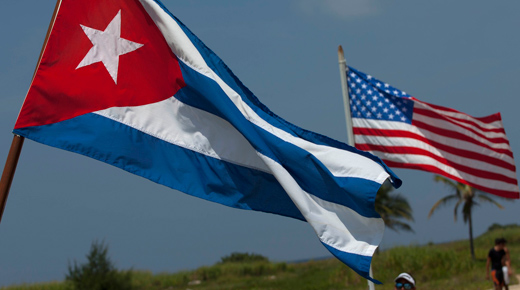 The remaining three of the Cuba 5 are being freed in a new deal between President Obama and Cuban president Raul Castro under which American Alan Gross has been released from a Cuban prison after five years.
The three Cubans are three of five jailed in the U.S. after they were captured monitoring anti-Cuban terrorist activity that was being orchestrated from the Miami area. Rightwing terrorists funded in the U.S. had previously blown up a Cuban airplane, among numerous other activities.
Cuba has maintained that Gross had actually been spying during his mission to Cuba when he was arrested there five years ago, senior U.S. officials said Wednesday.
Officials said Gross was on a U.S. government plane bound for the U.S. Wednesday morning after being released on humanitarian grounds by the Cuban government at the request of the Obama administration. The deal could help clear the way for broader discussions on strengthening ties and perhaps ending the decades-long U.S. economic embargo against Cuba.
President Obama was to address the nation on Cuba at noon Wednesday, the White House said, and U.S. officials speaking on condition of anonymity said he was expected to announce the deal. President Castro of Cuba is expected to address his nation at the same time. A full story will appear later today when more details emerge.
Photo: AP