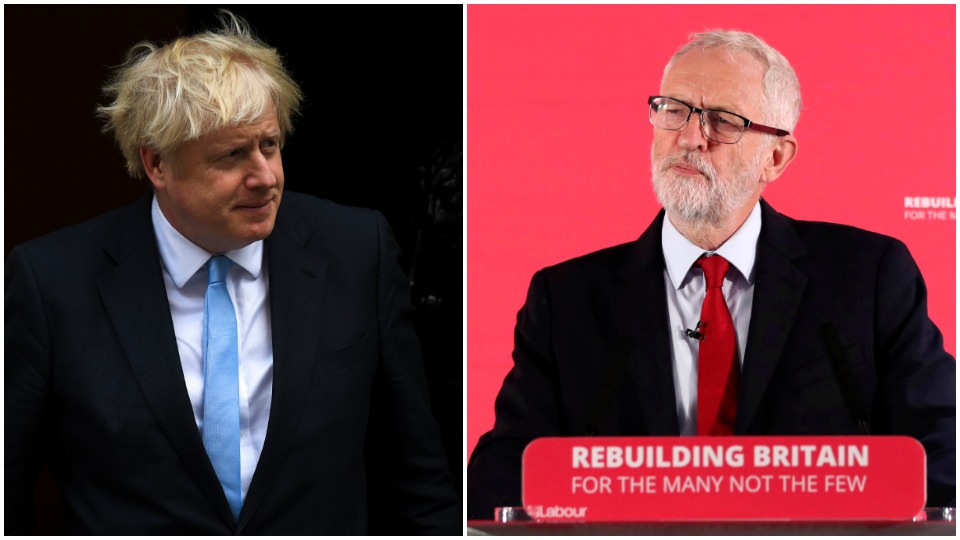 Will there ever be an end to the Brexit crisis?
With a stubborn new Prime Minister apparently unwilling to admit defeat, and Members of Parliament opposed to a no-deal U.K. withdrawal from the European Union—the so-called "Rebel Alliance"— holding their ground, it seems the end of Brexit is nowhere near.
Prime Minister Boris Johnson's party may appear to be splintering as he loses a number of key votes and members, but there are concerns among many on the left that he may yet win the day by narrowing down all other political and economic issues to the Brexit question.
Breaking down this week in Parliament
Tuesday, Sept. 3
British Prime Minister Boris Johnson's "do or die" attempt to force Brexit through on Oct. 31 via a parliamentary shutdown (prorogation) during the last week in August was blocked.
During an expected showdown in Parliament Tuesday, Sept. 3, MPs, including 20 members of Johnson's own Conservative Party, voted 328 to 301 to seize control of Parliament, allowing them to debate a bill that would attempt to prevent a no-deal Brexit by requesting a three-month delay to the scheduled withdrawal.
Tuesday also saw Johnson lose his government majority when Conservative MP Dr. Phillip Lee resigned and joined the centrist Liberal Democrats.
In response to his heavy defeat, Johnson moved to trigger a snap general election and punished Conservative rebels by expelling all 21 from the party, including Winston Churchill's grandson, Nicholas Soames.
Opposition and Labour Party leader Jeremy Corbyn said Labour would support a motion for a general election once the bill to block a no-deal Brexit becomes law.
"I welcome tonight's vote. We live in a parliamentary democracy; we do not have a presidency but a Prime Minister. Prime Ministers govern with the consent of the House of Commons, representing the people in whom the sovereignty rests," said Corbyn. "There is no consent in this House to leave the European Union without a deal. There is no majority for no deal in the country.
"As I have said before: if the Prime Minister has confidence in his Brexit policy—when he has one he can put forward—he should put it before the people in a public vote".
Wednesday, Sept. 4
Johnson faced two more defeats in the House of Commons, bringing the total to three when MPs voted 327 to 299 to approve a bill stopping a no-deal withdrawal from the EU and to reject the prime minister's bid to hold a snap general election mid-October.
After only six weeks on the job, Johnson has lost all authority in parliament and is losing the last of his public support.
"It is completely impossible for government to function if the House of Commons refuses to pass anything that the government proposes," said Johnson. "In my view and the view of the government, there must now be an election on Tuesday 15 October."
Corbyn likened a snap election to the poison apple given to Snow White by the wicked queen "because what he (Johnson) is offering is not an apple or even an election, but the position of no-deal."
Thursday, Sept. 5
Adding to the collapse of the Conservative Party, Jo Johnson, MP, the Prime Minister's brother, announced his resignation from parliament and as a business minister.
"It's been an honor to represent Orpington for 9 years & to serve as a minister under three PMs. In recent weeks I've been torn between family loyalty and the national interest—it's an unresolvable tension & time for others to take on my roles as MP & Minister. #overandout," said Johnson via Twitter.
What comes next? 
An election is still possible, and Johnson has hinted he will be bringing back a snap general election motion next week in Parliament. Corbyn said he would support a snap election once a no-deal Brexit has been ruled out, so he may be up for it now that the bill is set to become law.
The tricky part for Labour will be the date of the election. Labour wants an election after Oct. 31 while Johnson seeks an election Oct. 15. In the end, Labour may vote against a new election, and force both sides to take their arguments to the people.
Labour's left supporters caution that if, as Johnson hopes, any potential election is fought only on the issue of Brexit and not on any of the concerns that motivated many working people to vote for leaving the EU in the first place (like job loss), then Johnson could revive his populist image. Posing as the defender of democracy and railing against EU elites, he could manage to hold on to the premiership.
Some right-wing Labour figures, such as former Prime Minister Tony Blair, are encouraging just such a narrowing of the electoral ground; he has urged Corbyn to essentially put the rest of the party's platform on the back burner in deference to the Brexit issue.
The counsel of Blair, who led Labour's shift to the right in the 1990s and took the country into the Iraq War, however, does not carry the same weight in the party that it once did.
In an editorial earlier this week, Britain's socialist newspaper Morning Star declared that the Labour Party's full program—"with its assault on the privileges that profit confers and its promise of a new deal for people and planet"—has to be the center of Labour's messaging in any potential election.
C.J. Atkins contributed to this article.