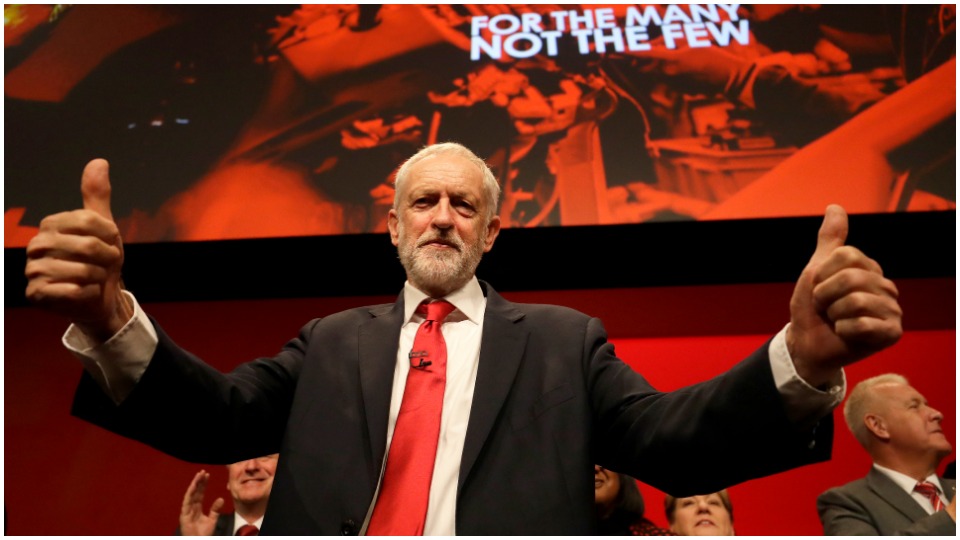 LONDON—Britain is poised for a December election as Labour Party leader Jeremy Corbyn said he was ready with an "ambitious and radical" winter campaign for power. He said his party "always wanted an election" but were waiting until a no-deal Brexit was "officially off the table."
Surrounded by cheering members of his shadow cabinet, the Labour leader said that now a three-month Brexit extension has been granted by the EU, he "cannot wait to get out there" to "give a message of real hope where this government offers nothing."
Labour tried to make amendments to the government's election bill changing who has the right to vote by lowering the voting age to 16 and extending it to EU citizens with settled status last night. The government said if the amendments passed it would withdraw its bill.
The latter amendment would have made Britain the only EU country to allow all EU citizens the vote—but neither was selected by deputy Commons speaker Lindsay Hoyle, meaning the election looked set to go ahead when Morning Star went to print.
At Downing Street, Conservative Prime Minister Boris Johnson said that the amendments were part of Labour MPs' attempts to "wreck" the election plans as it would be "logistically impossible to deliver" the changes in just over five weeks.
Corbyn's amendment that would change the date of the election to Monday, Dec. 9, from Thursday, Dec. 12, was selected. The government is opposed to the date change, because it would mean Parliament proroguing Thursday—a date that Corbyn said could mark the "end of [Johnson's] tenure" because he failed in his promise to be out of the EU "do or die" by Oct. 31 after being forced to seek an extension.
Labour whips had told MPs to vote in favor of the Bill which needed a simple majority for a general election to take place. It comes after most Labour MPs on Monday night abstained on Johnson's third attempt to call a general election—which required a more difficult two-thirds majority to succeed.
Corbyn added that Labour is "looking forward" to campaigning, including in Johnson's constituency of Uxbridge—where local working-class Labour candidate Ali Milani is hoping to unseat him.
Corbyn told MPs: "Labour backs a general election because we want this country to be rid of this reckless and destructive Conservative government. A government that has caused more of our children to be living in poverty, more pensioners to be in poverty, and more people to be in in-work poverty, more families without a home to call their own, and more people sleeping rough on our streets (homeless).
"A government that has cut and sold off so much of our important public services. And that government which created the vicious hostile environment which saw our own citizens deported from this country.
"It is time for real change."
This article originally appeared in Morning Star.