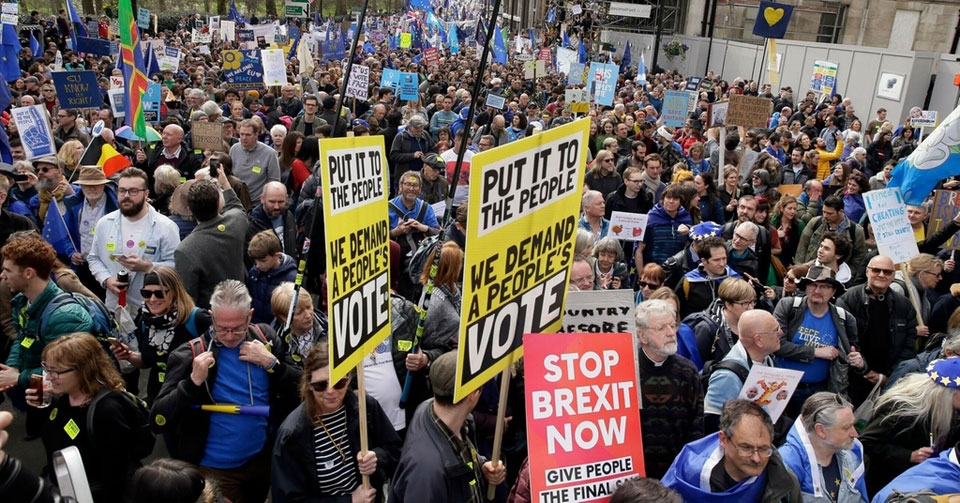 LONDON— It was another night of fierce division and anger between Members of Parliament in the House of Commons yesterday, kicking off another week of Brexit uncertainty.
With the April 12 withdrawal deadline fast approaching, the U.K.'s Parliament of "NO" has now tossed the Brexit ball back into the hands of  British Prime Minister Theresa May.
In a repeat of last week, which also saw the third rejection of  British Prime Minister Theresa May's negotiated European Union withdrawal agreement, MPs were again unable to rally and find consensus on any alternative Brexit plan selected for a vote.
Four options went up—a common single market, customs union, second referendum, and parliamentary supremacy—and were defeated.
"On point of order, it is a disappointment that no solution has won a majority this evening," said Labour Party and opposition leader Jeremy Corbyn, after the vote results were announced," but I remind the House that the prime minister's unacceptable deal has been overwhelmingly rejected three times."
He continued: "If it is good enough for the prime minister to have three chances at her deal, then I suggest that possibly the House should have a chance to consider again the options that we had before us today, in a debate on Wednesday, so that the House can succeed where the prime minister has failed; in presenting a credible economic relationship with Europe for the future that prevents us crashing out with no deal."
Absent from last night's motions was the Labour Party's alternative Brexit plan. Labour chose to support the cross-party "Common Market 2.0" motion—a soft Brexit, which would see the U.K. remain in the EU's single market and continue the "freedom of movement" for workers.
A Labour spokesperson said Monday: "In line with our policy, we're supporting motions to keep options on the table to prevent a damaging Tory deal or no deal, build consensus across the house to break the deadlock and deliver an outcome that can work for the whole country."
What is clear from last night's results is that even if there is a slight majority in Parliament in favor of a soft Brexit, Conservative MPs would make it impossible for that option to pass—a relief for hard Brexiteers in favor of a no-deal divorce.
And with the prospects of a Brexit compromise within the Conservative party nonexistent, adding to the toxic situation brewing inside the party, some soft Brexit MPs are ready to walk.
"I have given everything to an attempt to find a compromise that can take this country out of the European Union while maintaining our economic strength and our political cohesion," said Conservative MP Nick Boles, after his "Common Market 2.0" motion was defeated. "I accept I have failed. I have failed chiefly because my party refuses to compromise. I regret therefore to announce I can no longer sit for this party."
While a single Conservative MP voice yelled, "No Nick, don't go" as he left the government's benches, rousing applause rose from the opposition seated across. Boles resignation follows last week's three ministerial resignations before the first round of indicative votes on Brexit.
This morning May called her Cabinet into a meeting in No. 10 Downing Street, as her government's fallout spirals out of control. The three-hour session will address the possibility of a long Brexit delay, a snap general election, and bringing back May's EU divorce deal for a fourth vote.
A key component of this is the EU's ability to approve or reject a withdrawal extension.  As mentioned earlier, the EU has repeatedly said an extension would be granted if good reasons were shown. France is reluctant to allow an extension even if a general election is part of the requests condition. Irish Prime minister Leo Varadkar and French President Emmanuel Macron are scheduled to hold talks today regarding Brexit.
"The Taoiseach (Prime Minister) and President Macron will take stock of the latest developments in Westminster, and discuss the scenarios which may arise, including the possibility of a request for an extension, or ratification of the withdrawal agreement, in advance of the extraordinary meeting of the European Council on 10 April," said a spokesperson for the Irish government.
The EU's lead Brexit Spokesperson, Guy Verhofstadt, tweeted: "The House of Commons again votes against all options. A hard Brexit becomes nearly inevitable. On Wednesday, the U.K. has a last chance to break the deadlock or face the abyss."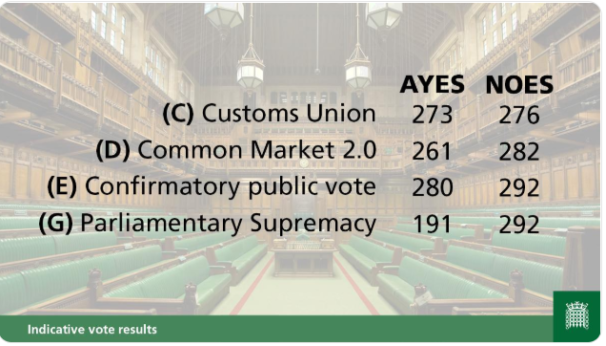 In the meantime, before we likely see the reappearance of May's thrice defeated withdrawal agreement, a cross-party group of MPs' today tabled a bill to prevent a no-deal Brexit in 10-days.
Presented by Labour MP Yvette Cooper, the one-clause bill (EU Withdrawal No. 5), to be voted on Wednesday, would force May to immediately present the House of Commons with a proposal for an extension of Article 50 beyond the scheduled April 12 Brexit day.
"We are now in a really dangerous situation with a serious and growing risk of no deal in 10 days' time," said Cooper. "The prime minister has a responsibility to prevent that happening. She needs to put forward a proposal, including saying how long an extension she thinks we need to sort things out. If the government won't act urgently, then parliament has a responsibility to try to ensure that happens even though we are right up against the deadline."
The people here will continue to stare into the political abyss from Brexit's edge—each day bringing  another surprise, another worry, another possible solution, with no real end in sight.
Breakdown of the four Brexit motions yesterday:
Common Market 2.0: The U.K. would join the European Free Trade Association (EFTA) and European Economic Area (EEA), with Norway. The U.K would remain a part of the EU single market and would keep freedom of movement, so British citizens would be able to live and work in EU nations, and vice-versa.
Customs Union: Would commit the U.K. to negotiate "a permanent and comprehensive U.K.-wide customs union with the EU as part of any Brexit deal. It would give the U.K. a close trade relationship with the EU and reduce the need for some of the checks at the Irish border.
Confirmatory Vote: Gives the public the right to vote to approve any Brexit deal passed by Parliament before it can be implemented.
Parliamentary Supremacy: It would give Parliament a series of steps to prevent a no-deal Brexit. First, it would rewrite the government to seek a withdrawal extension. If an extension was denied by the EU, on the day the U.K. would leave, MPs would vote on whether to leave without a deal or revoke Article 50, cancelling Brexit all together.