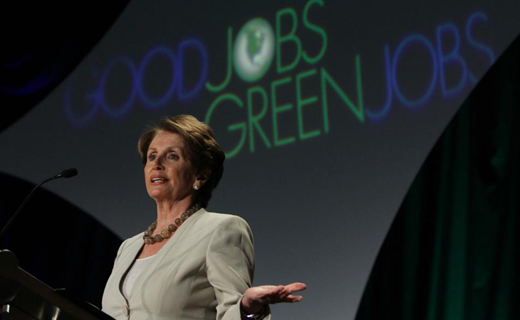 WASHINGTON (PAI) – The Bricklayers became the latest union to join the BlueGreen Alliance, a coalition of 16 unions and environmental groups working together, particularly on "green jobs," Alliance Executive Director David Foster said. EDF Action, the campaign finance committee for the Environmental Defense Fund, also joined.
The Steel Workers and the Sierra Club co-founded the alliance almost a decade ago to enhance labor's push for climate control legislation – and for well-paying union jobs in the "green" economy that would arise to meet demands for devices to curb greenhouse gas emissions and to create alternative energy sources.
"Our members are working every day to ensure that our built infrastructure is energy efficient," Bricklayers President James Boland said in a statement. "By joining the BlueGreen Alliance, we're showing our commitment to a better future for workers and the environment. Addressing climate change and preparing for its impacts is an opportunity to create quality, family-sustaining jobs, and the BAC (Bricklayers and Allied Crafts) wants to be part of the unique partnership working to achieve that vision."
"The solutions to climate change and other environmental challenges are available now, and this partnership is essential to ensuring that jobs are created and the economy grows along the way," Steel Workers President Leo Gerard, an alliance co-founder, said in a statement. The alliance "is critical to ensuring this happens, and the addition of EDF Action and BAC is another step forward in building a stronger collaboration for the future.
Photo: Nancy Pelosi speaks at the Good Jobs, Green Jobs 2013 conference in D.C. Good Jobs, Green Jobs Facebook page