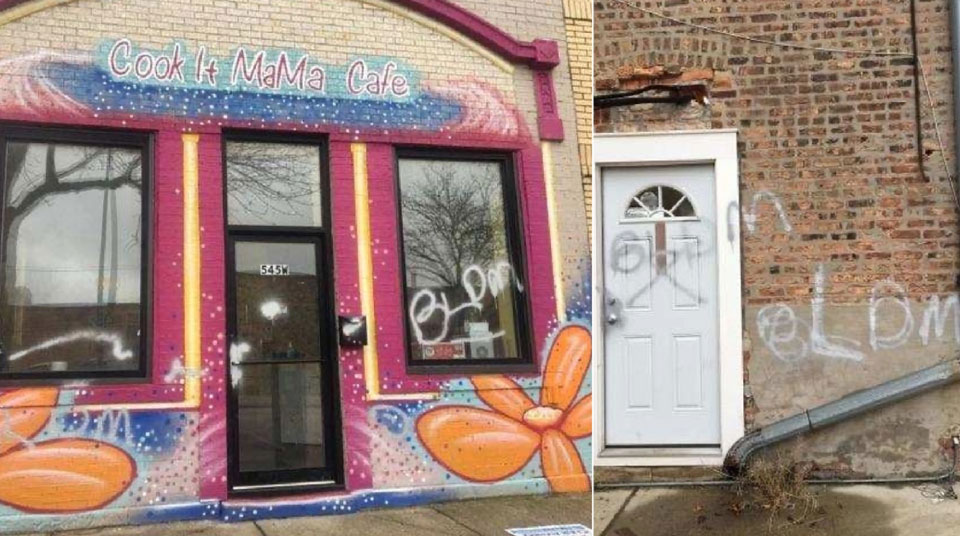 CHICAGO – By mid-month January residents of the Bridgeport neighborhood here, both Black and white, started turning up in big numbers to undo damage done to a fledgling soul food restaurant by racist vandals in this Chicago neighborhood.
Determined to let the vandals who smeared the restaurant with BLDM (Black Lives Don't Matter) graffiti know there was no place for such racist violence in the neighborhood, they put joy back into the life of Sydney Blakely, the young owner of a business she had saved up for years to acquire and they ended up growing the business beyond her wildest expectations even before the attack.
The positive response by people of all ages and racial backgrounds began almost as soon as Sydney Blakely, the owner of Cook it Mama asked for donations on a Go Fund Me page to help her clean up the damage and improve security. At last check she had collected $22,000, far more than the $10,000 she was aiming for.
Sydney Blakely was devastated when she came to work the first Wednesday morning in January at her Cook It Mama Café to find "BLDM" spray-painted across the doors, walls and windows. The racists damaged a mural of a Black woman on one outside wall of the building as well as colorful decor at the entry. The young Blakely, in addition to being a fabulous cook, is also the artist responsible for colorful décor and murals at her recently acquired restaurant.
"I feel nothing but gratitude and joy now with the support and response I have gotten," she said last Thursday. It was difficult to here her quiet voice over the chatter of more than a dozen customers filling all four tables and lined up at the takeout counter. "There will be a 30-minute wait," she called out to each new customer coming through the door. None of them were discouraged. They all remained.
"I'm going nowhere," said Troy, a truck driver, as he joined the group at the counter. Troy delivers material for the Chicago Public Library system and said, "I drove down here from the North Side specifically because I heard about what they did to Sydney and I want to show my support. I will come to have lunch here at least once every week."
"I second that," said Laura DeLeon, a social worker who said she too was there to show support for the business. "So are the people at that table," she said, pointing to three teachers at the public school across the street who were enjoying a Caribbean-style jerk chicken dish.
Troy waited the thirty minutes for his Queen T's Submarine consisting of Cajun turkey,  American cheese, red onions, tomatoes, spinach, banana peppers, sweet pickles, mayo and mustard. "Where else can I get something like this made with so much love?" he asked, grinning from ear to tear when Blakely's cousin Kenya Hemingway, who was helping handle the big crowd, handed him the sandwich.
Blakely, who was obviously thrilled as she cooked up a storm behind the counter, said that the day she saw the vandalism her "spirit was crushed but only at that moment. I was determined to push forward and reach out to my neighbors and the good people of this neighborhood for help and they responded. It actually takes less effort to be nice than it does to do mean things and they proved that the majority wants to be nice."
By last Thursday Blakely said she had surpassed the $10.000 she had hoped to raise on the GoFundMe page (by this week it has passed $22,000) for a security camera, an alarm system and repair to the outside walls.
As of last week the Bridgeport police said that their investigation has not yet resulted in anyone having been taken into custody. They say the investigation is continuing.
Blakely says she has always loved cooking. As a teenager (which was only a few years ago) she would cook up big pans of jerk chicken salad and sell the food to friends and neighbors who always wanted more. She said she is a "hard saver" and was able to save up the money to get the tiny store in Bridgeport. "It only took me two years to do it," she said proudly. Blakely poured her savings into Cook It Mama Cafe and opened in September on W. 31st Street.
Bridgeport has had a difficult history when it comes to progress in the fight against racism. A century ago, in 1919, then all-white Bridgeport was the home of racist rioters who killed many Black people that year in what was one of the worst racist attacks in Chicago history. The original Mayor Daley, who became famous in the 1960's for attacking peace demonstrators, was then a teenager and was reported to have been a leader of one of the racist gangs. Blakely said she knew the bad history as well as the good history but felt that it was time now that a Black business owned by a young Black woman could make it in the neighborhood.
As recently as last March a Black-owned beauty salon in Bridgeport was vandalized but over the past few years the neighborhood had become increasingly diversified and is now home to white, Black and Asian communities. Cook it Mama joins a growing number of Chinese and Korean restaurants as well as Italian and Mexican eateries in the neighborhood. The positive response to Blakely's appeal for support shows that a large number of people want their neighborhood to be a warm and welcoming place to everyone.
She said she knew that a lot of people would have no idea even what a jerk chicken salad is but she believed that when they got to know her and tasted her cooking they would come on board with what she was trying to do. She believes that is happening now.
Melissa Parks, an African American grandmother, runs the Workers Education Society which operates out of a storefront on South Halsted Street, a few blocks away from Cook it Mama. Over the years they have housed a program that helps neighborhood residents in need of help paying their heating and lighting bills. "We service a very diverse group of people, white, black, Latino and Asian," she said. "This is a diverse neighborhood and we pride ourselves on everyone getting along. No room for racism here or anyplace else."
The Workers Education Society sent a big box of plastic cutlery to Blakely as a gift she could use to dispense to her takeout customers.
As devastated as she was on the day she discovered the vandalism, the results now have confirmed, Blakely said, that she was right about people. "All kinds of people have come out to support this place and they are all enjoying what Cook it Mama has to offer. It was important to me," Blakely said. "I'm a Black woman, and this is my first business. I know the history of Bridgeport. Did I expect everyone to buy a jerk chicken salad? No. But now things are really looking up because people, given the chance, reject the racists and have come together."
"Now I feel safe," she said looking at all the people in her restaurant. "I am not alone and I am so glad I spoke out and I am so grateful for all the people who have turned out to support me. I did not plan to make a spectacle of myself but I did want to show that Black businesses will not take this lightly."
The diversifying going on in Bridgeport is what attracted Blakely to the area, she said. The overall support from the community since the incident has been "uplifting and all love," Blakely said.
The teachers at the restaurant last Thursday work at Robert Healy Elementary School across the street. "We are in here on a regular basis," one said, as the others nodded. "It's great to have this place right nearby the school," another said.
Blakely is busy not just with the people inside her place but with outgoing orders. Staff at a nearby Day Care center order food and an Asian-owned dance studio holds catered affairs with food from Cook it Mama. Workers at a check-cashing place a few blocks away call in for food orders.
A Latino neighbor, Blakely said, comes in to pick up coffee every morning for his entire work crew. Blakely smiled as she pointed to the coffee pot that she received as a gift form him and his workers.
The restaurant reviews from Google have been overwhelmingly positive and that helps too, she says.
Blakely said she is inspired to work on a new mural with a variety of faces that represent the diversity of the neighborhood. She plans to replace the defaced mural with one featuring a variety of faces, representing the diversity and unity of the neighborhood, she said.
"For me, this business is all I have," Blakely explained "which is why I appreciate the support from all these people. Even if you come in to buy just a coffee or a water that means a bit more money to keep going. We are not like the ferocious big businesses that gobble up everything. We give back any love that you give us."
Kenya Hemingway, Blakely's cousin, says she is glad to help out. "She is not just selling jerk chicken salad," Hemingway said "She is giving her all so this is why it is so beautiful to see this response form the people."