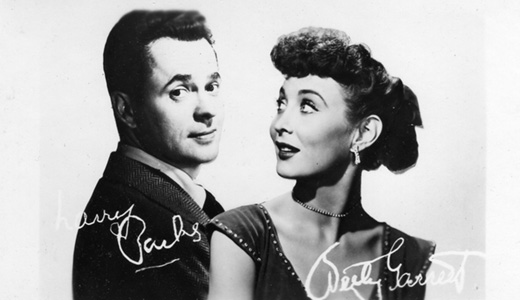 LOS ANGELES – Actor Jeff Bridges was among those who eulogized actress Betty Garrett in an April 6 memorial service at the prestigious Mark Taper Forum in downtown L.A., attended by hundreds of entertainment community members. Bridges, who won the Academy Award for 2009's Crazyheart, said Garrett, who was his godmother, "really pointed the way for me…. She was teaching [a musical theatre class] a week before she kicked it…. She taught us how to fly…." Beau Bridges also remembered his godmother as "probably one of the most positive people I ever met."
The two-hour-plus celebration of the life of Garrett, who died February 12 at age 91, included a number of film/TV clips. The larger than life Garrett sang, danced and joked with Frank Sinatra and Gene Kelly in 1940s MGM musicals, with Red Skelton and Esther Williams, and as Archie Bunker's neighbor Irene Lorenzo in TV's All in the Family 1970s series. Garrett also had a recurring role on another popular sitcom, LaVerne & Shirley, and performed onstage from Broadway to Las Vegas to L.A., where she co-founded the Theatre West company.
The video tribute included many blue jokes and limericks told by pixyish Betty, which had the audience frequently laughing hilariously. Highlighting the memorial service were home movies of Garrett and her husband, Larry Parks (Oscar nominee for 1946's The Jolson Story), visiting Hawaii in the 1970s. In this rare footage of the sightseeing Garrett and Parks, a poolside scene reveals a rascally Garrett: Both she and Parks are clad in "aloha" tourist attire, and as Parks nonchalantly relaxes on a lounger, Garrett mugs for the super 8MM camera. She lifts her Hilo Hattie-type top (to discreet camerawork). Then Garrett twice turns her back to the camera and lifts the top to expose her derriere, which she impishly wiggles around while giggling merrily.
Garrett's upbeat, jaunty personality helped sustain her marriage when tragedy struck during the Red Scare in the form of the House Un-American Activities Committee. Sixty years ago Larry Parks was the first of 100-plus Tinseltown talents to be subpoenaed to appear before the congressional committee when HUAC resumed its investigation of "subversion" in Hollywood. On March 21, 1951, Parks confessed to having been a member of the Communist Party years earlier. From his tearful testimony:
"Don't present me with the choice of either being in contempt of this Committee and going to jail or forcing me to really crawl through the mud as an informer…. I don't think this is really sportsmanlike [or] American justice…. I beg of you not to force me to do this … frankly … I am probably the most completely ruined man that you have ever seen."
Although Parks eventually named other suspected Communists, he was blacklisted anyway and his promising movie career ruined, as was Garrett's. Banned on the big screen, Garrett and Parks created a live show in Las Vegas. In another film clip at the memorial, Garrett recalled meeting Joe McCarthy in Vegas. There the vacationing anti-communist zealot requested to meet with the blacklistees, and feigned friendliness. The following morning he played with the couple's children, Andrew and Garrett, in the hotel swimming pool. The young boys were mystified when their parents made them take baths after the swim – lest they be contaminated by the fascistic junior senator from Wisconsin.
At the service, one of the sons referred to the McCarthy era, saying, "My mother lived through the slings and arrows of outrageous fortune." But being as loving and vivacious as Betty Garrett was must have helped her and Parks, who died in 1975, to persevere.
For Betty, Theatre West's 2010 revival of Clifford Odets's proletarian drama of the 1930s, Waiting for Lefty, recalled her youthful idealism (she had performed several roles in another working-class masterpiece, Marc Blitzstein's musical The Cradle Will Rock, also recently revived in L.A.).
After the Lefty performance I told Betty that I wanted to write and co-produce a theatrical production based on the transcripts of the 1951 HUAC hearings, now that we are observing the 60th anniversary of the inquisition in Hollywood. "You are bringing back some very disturbing memories," the 90-year-old told me, "and I'm glad you are." Agreeing to support the project, she offered that one of her sons, an actor, might read Larry Parks' heartbreaking testimony.
Aloha oe, farewell to thee, Betty Garrett. This beloved progressive performer gave us a glimpse of what a truly emancipated woman could be and do.
Photo: Betty Garrett in an autographed picture with husband Larry Parks. Courtesy of the Parks family.