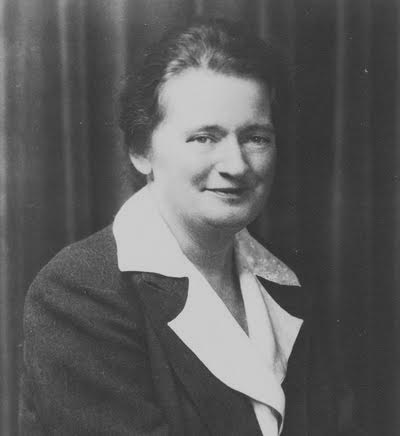 Eleanor Roosevelt is etched in American memory as the people's First Lady, the workaday heroine of the New Deal White House. She symbolized American resilience: in times of Depression, of war, she rolled up her sleeves and got to work, using her position as First Lady to hammer out policies that would lead to greater opportunities for women. Feminists rightly claim her as a leader and a pioneer. Yet many people still don't know, or won't admit, that Mrs. Roosevelt did pursue a personal life even while she was in the White House. In fact, her heart belonged to one woman: her lover and lifelong confidante, Lorena Hickok.
Terry Baum's one-woman play, Hick: A Love Story: The romance of Lorena Hickok and Eleanor Roosevelt, now playing through March 6 at the Theatre Project in Baltimore, complicates and enriches our understanding of this American heroine's private emotional life. And, like the best biographies, it offers us another hero who has been invisible, but was there all along: Lorena Hickok, or Hick.
The play's frank assertion that Hick and Eleanor were lovers represents a departure from earlier dramatizations of their relationship that maintained a high-minded ambiguity. In 2000, another one-woman show by Pat Bond (a friend of Baum's who died in 1990) came to Baltimore and garnered this review in the Sun: "Lorena Hickok, dead 32 years, will step onto a stage in Fells Point tomorrow evening and tell how she came to befriend and love Eleanor Roosevelt. She'll say just so much and no more, leaving the question open: What really went on between her and the woman who was once the most powerful in America?" In removing this ambiguity and claiming the couple's relationship as part of America's queer history, Hick: A Love Story raises more interesting and salient questions, both about Eleanor's image as a selfless public servant and about Hick as a historical figure in her own right.
In 1932 when she met Eleanor, Hick was a journalist with the Associated Press in New York, the highest-paid and most celebrated woman reporter of her time. Hick had worked hard to get the coveted assignment of covering FDR's first campaign for president-but Eleanor's charisma and their flirtatious meetups on the campaign trail derailed Hick's plan to deliver a hard-hitting profile of the candidate. As Eleanor's lover, Hick made a series of professional compromises, ultimately leading her to dismantle her career in journalism. Within a couple of years, Hick was working full-time for the Roosevelts, documenting the hardships people were facing in the Great Plains as a result of the Depression and feeding Eleanor material for her daily syndicated newspaper column.
Despite such sacrifices, Baum, who wrote and stars in the play, doesn't portray Hick as embittered. Instead, Eleanor's unabashed love gave her the sense of self-acceptance she had been missing as a closeted lesbian. Her earlier self recriminations-"I'm a monster, a pervert"-give way to a compassion and self-respect that make it almost easy for her to throw over her career out of devotion to Eleanor.
The 2336 letters from Eleanor to Hick that prove the affair happened did not surface until 1978. That year, according to Baum's program notes, Eleanor Roosevelt biographer Doris Faber "found 18 filing boxes willed to the [FDR Presidential] Library by Lorena Hickok, a close confidante of Eleanor's, with the instructions, 'Not to be opened until ten years after my death.' Hick had died exactly ten years earlier."
The letters, written during and long after their affair until Eleanor's death in 1962, provide the textual basis for the play. As Hick, Baum swaggers and vamps around the stage, showing us all the conflicting forces that must have been at work inside Hick. Still, the play is strongest when Hick reads Eleanor's letters, with a voice-over narration by Paula Barish as the voice of Eleanor. This dedication to the biographical facts does feel cumbersome at times; but it pays dividends later, as we see Hick slowly grow into her role as the keeper of the truth about Eleanor as a sexual and emotional human being.
Eleanor understood what it cost Hick to devote herself to the First Lady and tried to ease this by providing a room for Hick inside the White House (!), and later by entrusting Hick with her letters and confidence. Eleanor, a master of public relations, never asked for the letters back before her death, even though they were no longer together as a couple and Hick could have easily exposed her. Indeed, Hick was conflicted about keeping the letters and said she burned the most explicit of them. The letters that remain are stunning in their intimacy: "I want to put my arms around you" and "it is all the little things, tones in your voice, the feel of your hair, gestures, these are the things I think about and long for. "
Even as Eleanor made history as the first ambassador to the United Nations, as the co-architect of many of the New Deal programs that brought the United States out of the Depression, she also became self-actualized as Hick's lover.
Baum's ambitious narration skips across the decades, touching like a stone on the surface at certain points in time. Through Baum's monologues, we witness the couple's meeting and first lovemaking during the campaign for the presidency in 1932; their "honeymoon," a remarkable three-week train trip into Canada alone-without the Secret Service–during the Roosevelts' first term in office; and an inauspicious later trip to Yosemite that was marred by Hick's jealous demand that Eleanor choose between her and the public that loved and needed her almost as much as Hick did.
The play, though overly sentimental and nostalgic at times, presents Hick as a hard-working person who happened to fall for someone who was making history and who thus became swept into the stream of history herself. Though she has been invisible in history textbooks, Hick at the end of her life performed an important national service in donating to the library the cache of letters she had received from Eleanor over the years. Because of this one act of bravery, Americans must learn to understand their beloved Eleanor Roosevelt as a complicated, emotional, and sexual woman who met and fell in love with another woman. Hick's leap of faith-and Baum's honest interpretation of their story-finally lets us see Eleanor Roosevelt as part of the still-emerging history of LGBTQ people in the U.S. Instead of shocking or scandalizing the audience, Hick's revelations about Eleanor push us further along the path toward accepting our American icons as full human beings.
HICK: A Love Story
The Romance of Lorena Hickok and Eleanor Roosevelt
Thu February 25 – Sun March 6
Baltimore Theatre Project, 45 West Preston St., Baltimore MD 21201 Box office: 410-752-8558
Photo: Lorena Hickok. FDR Library.