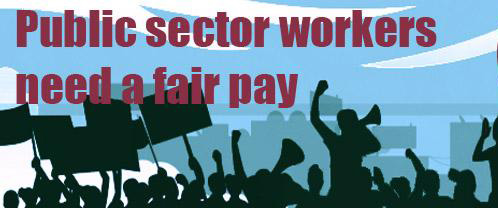 (Morning Star) Striking workers rally today in what could be the largest walkout since 1926, demanding an end to government-imposed pay freezes and attacks on pensions.
Nurses, firefighters, transport workers, teachers, local government clerks and many more will join picket lines a day after Tories threatened to impose new anti-union laws if they win the next election.
Public-sector workers are speaking out on the pay rise they need to keep their families fed and sheltered.
Thousands of schools will close, scores of council services will be halted and emergency services will rely on a skeleton staff.
TUC [Trade Union Congress] general secretary Frances O'Grady, who will join pickets in London, damned the government for leaving public-sector staff "locked out of the recovery."
She said: "Workers are on strike today to say enough is enough. Year after year pay has failed to keep up with the cost of living.
"Nearly half a million local government workers earn less than the living wage. But even as the economy starts to grow, ministers have told them that the pay cap will last until at least 2018."
She spoke as new research from the TUC revealed that pay freezes and below-inflation pay rises have left workers £2,245 [$3800] worse off in real terms. And a new report has poured scorn on government claims that the pay freeze is beneficial to the economy.
Former Institute of Fiscal Studies senior economist Howard Reed has used IMF figures to demonstrate that every 1 per cent increase in public-sector pay would generate between £710 [$1200] million and £820 [$1400] million in tax receipts.
A public sector pay rise could also create up to 18,000 full-time jobs, the report also reveals.
National Union of Teachers general secretary Christine Blower warned that low teacher morale was being exacerbated by the stubbornness of Education Secretary Michael Gove. She said: "The profession is on its knees. Michael Gove can avoid further disruption by engaging in serious negotiations and making changes to policy."
But privileged Prime Minister David Cameron pinned the blame on low-paid teachers for "disrupting" children's education.
And he ended Prime Minister's Questions by saying: "The time has come to look at setting thresholds in strike ballots.
"It's time to legislate and it will be in the Conservative manifesto."
A spokesman for Ed Miliband [currently the leader of the Labour Party] told journalists that the Labour leader is clear Chancellor George Osborne's pay freeze is the cause of today's strike.
When challenged on Tory hypocrisy over ballot turnouts, a spokesman for Mr. Cameron said: "Let's not pretend disruption caused by a strike is the same as low turnouts in an election."
RMT [National Union of Rail, Maritime and Transport Workers ] general secretary Mick Cash branded Mr. Cameron's administration "an aggressive, anti-union government that is mired in its own cesspit of scandal."
"We will take no lectures in morality from them," he added.
In London, members of six unions marched from BBC Broadcasting House at 11.30 a.m., to rally at 1 p.m. in Trafalgar Square.
This article is reposted from Morning Star.
Photo: TUC.org.uk/