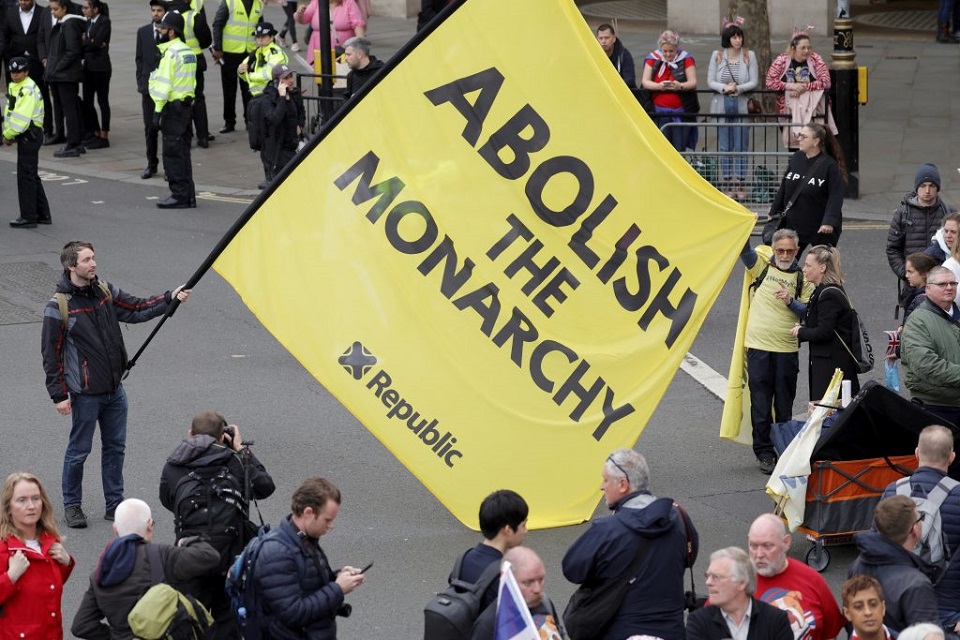 LONDON—Peaceful protesters were given a foretaste of what to expect under draconian new public order laws on Saturday when police arrested dozens for "offenses" including wearing campaign T-shirts and carrying megaphones.
As London ground to a halt for Charles Windsor's lavish taxpayer-funded coronation, republicans and environment campaigners were among 52 people arrested and detained by the Metropolitan Police to prevent "disruption."
The actions were condemned by human rights groups, MPs, and by protesters targeted for arrest, but were defended by the government, which introduced the new powers just days before the extravaganza.
Supporters of campaign group Republic gathered in Trafalgar Square having declared their intention to protest peacefully, but their numbers were reported to be greatly reduced by preventative action by police who stopped supporters from reaching the square.
Republic had expected 2,000 supporters to turn out. In the event, around 800 managed to reach Trafalgar Square. Police appeared to be targeting demonstrators wearing distinctive yellow T-shirts bearing the words "Not My King" and also confiscated megaphones from protesters using or carrying them.
Republic chief executive Graham Smith was arrested early in the day and detained for 16 hours before being released at 11pm. He said:
"These arrests are a direct attack on our democracy and the fundamental rights of every person in the country. Each and every police officer involved on the ground should hang their heads in shame. They showed no judgement, no common sense, and no basic decency. This was a heavy-handed action which had the appearance of a pre-determined arrest that would have occurred regardless of the evidence or our actions."
He said there was "no longer a right to peaceful protest in the U.K."
They were arrested for being equipped for locking on, a new offense under the controversial Public Order Act that came into force last week. The new laws mean protesters who have an object with the intention of using it to "lock on" are liable to a fine, with those who block roads facing 12 months in prison.
At about 9:30 am, around 20 people wearing T-shirts bearing the "Just Stop Oil" slogan were arrested. Video footage from The Mall showed them being handcuffed and taken away by a large body of police.
A Just Stop Oil spokesperson said:
"What a dystopian nightmare this country has become. While we gather to celebrate putting a sparkly hat on a billionaire, this week the government enacted draconian legislation effectively banning legitimate dissent in this country. As this morning's events demonstrate, we are living in an authoritarian police state.
"As the world looks on in horror, the government brings in laws that would make a dictator blush. The British people's fundamental democratic right to march and make our voices heard has been stripped from us. This affects every one of us, regardless of our political persuasion."
Among Just Stop Oil protesters arrested was Kush Naker, a 33-year-old doctor of infectious diseases. She said:
"The government is bringing in new laws cracking down on our rights to peaceful protest. They say this is to protect the British public, but we know that is a lie. If they cared about the British public, they would end all new oil and gas. I never thought in my life that I would be terrified that the police might arrest me for protesting peacefully in the U.K. But that is now the state we are in."
Animal welfare campaign Animal Rising said some of its supporters were arrested at a training session "miles away from the coronation." Spokesman Nathan McGovern said the arrests were "nothing short of a totalitarian crackdown on free speech and all forms of dissent."
Liberal Democrat deputy leader Daisy Cooper said: "What worries me is that the Conservative government have now increased these sorts of wide-ranging powers. What they haven't done is enshrined the sort of legal responsibility and the duty on the police to actually facilitate peaceful protest."
Human Rights Watch labelled the arrests "incredibly alarming," and said: "This is something you would expect to see in Moscow, not London."
Amnesty International's chief executive Sacha Deshmukh said police were reportedly given instructions to apprehend people with megaphones. But government representatives praised the police actions, and one Conservative Party MP said that dissenters who opposed the monarchy should emigrate.
Lee Anderson, MP for Ashfield in Nottinghamshire, wrote on Twitter: "Not My King? If you do not wish to live in a country that has a monarchy the solution is not to turn up with your silly boards. The solution is to emigrate."
But critics on social media condemned his "anti-democratic" remarks.
The Labour Party's Jess Phillips, who is a shadow home office minister, wrote: "Our nation and our King is not so fragile as to not be able to take harmless protest of a different view."
Tory Culture Secretary Lucy Fraser defended police and said: "What they have to do is balance the right to protest, which is important in a democracy. At the same time there's the right of all those other people to enjoy what was a fabulous day. I think, overall, they managed to get that balance right."
She said she trusted police with the new powers the government has given them.
But a former police chief constable warned against a "totalitarian police state."
Sue Sim, a former chief constable of Northumbria Police, said she expected "this sort of thing was going to happen" when the Public Order Act was rushed through Parliament, but that she was "very, very disappointed that [it] did happen."
Morning Star
We hope you appreciated this article. At People's World, we believe news and information should be free and accessible to all, but we need your help. Our journalism is free of corporate influence and paywalls because we are totally reader-supported. Only you, our readers and supporters, make this possible. If you enjoy reading People's World and the stories we bring you, please support our work by donating or becoming a monthly sustainer today. Thank you!