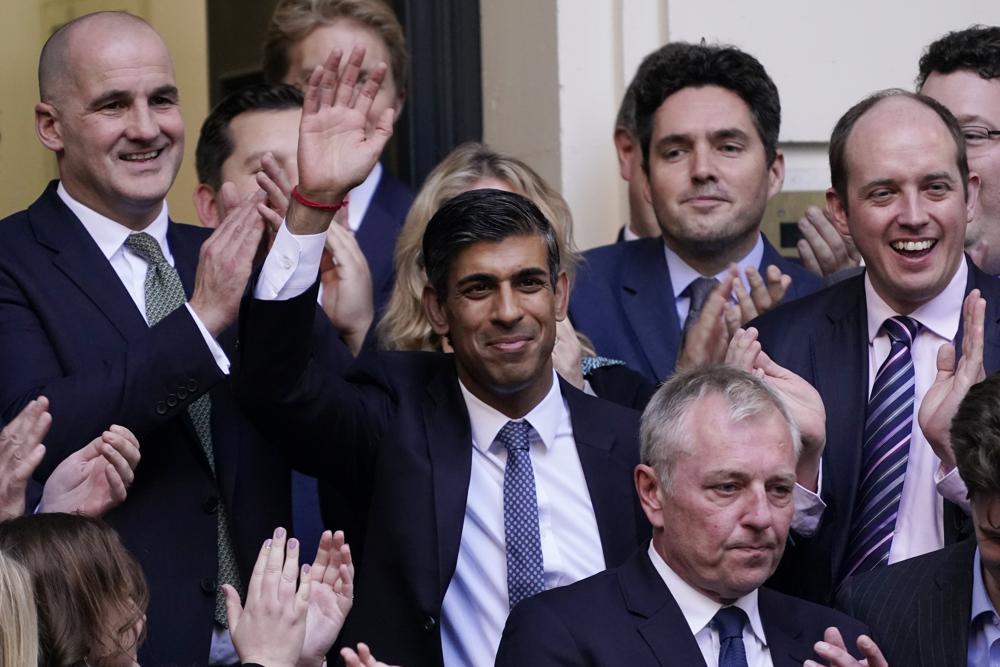 LONDON—The British labor movement demanded an immediate general election to end the "musical chairs at the top of government" Monday night as multimillionaire Rishi Sunak prepared to be sworn in as the third Conservative prime minister in just two months.
The former chancellor, whose resignation in July helped force Boris Johnson to resign in disgrace, was confirmed as the party's fifth leader in six years after his only challenger, Leader of the Commons Penny Mordaunt, withdrew from the contest.
Sunak will take office on Tuesday, becoming the country's first British premier of Indian heritage. King Charles III has accepted the resignation of six-week PM Liz Truss, whose disastrous mini-budget focused on unfunded tax cuts on Sept. 23 sparked a run on the British pound.
Conservative Party chairman Jake Berry urged colleagues to "unite four-square behind" the new leader following the calamitous premiership of his predecessor, who beat Sunak in a vote by party members over the summer.
But the opposition Labour Party stressed that the MP for Richmond in north Yorkshire would come to power "without him saying a single word about how he would run the country and without anyone having the chance to vote."
Deputy Labour Party leader Angela Rayner said: "This is the same Rishi Sunak who, as chancellor, failed to grow the economy, failed to get a grip on inflation, and failed to help families with the Tory cost-of-living crisis."
"And it's the same Rishi Sunak whose family avoided paying tax in this country before he put up taxes on everyone else."
His wife, Indian-born Akshata Murty, was forced to start paying British taxes in April after it emerged that she had "non-dom" status.
Rayner also accused the incoming PM of "dodging scrutiny and lacking a mandate," insisting: "We need a general election."
Unison union general secretary Christina McAnea warned that changing leaders "won't make a shred of difference.
"The public have had enough of the musical chairs at the top of government. If Rishi Sunak is so confident he has the answers to the U.K.'s problems, he should go to the country now" to seek a popular mandate via election.
The new Conservative leader, who was privately educated at the elite private Winchester College, must cancel "inhumane" plans to send asylum-seekers to Rwanda and reverse proposals to cull 91,000 Civil Service jobs, the Public and Commercial Services union demanded.
PCS general secretary Mark Serwotka said his members, who are currently voting on whether to go on strike across the country, should also be given an inflation-busting salary increase after years of plummeting take-home pay.
"Our members, who are already struggling, now face higher bills, mortgage increases, and a cost-of-living crisis," he pointed out.
National Education Union joint general secretary Dr. Mary Bousted noted that the "country and its priorities have been rather forgotten during several months of interminable navel-gazing and dangerous economic experiments."
Bousted demanded action on public-sector pay and education funding after headteachers warned that they faced a £2 billion cash shortfall by 2024 amid spiralling energy prices.
She said: "These are the challenges which face the nation. The incoming PM needs to look with fresh eyes at the education sector and recognize the strains it has been under for far too long."
Liberal Democrat leader Ed Davey said Tory MPs had "installed another out-of-touch prime minister with no plan to repair the damage," while Scottish First Minister Nicola Sturgeon demanded that Sunak call an early general election and not "unleash another round of austerity."
Scottish Greens co-leader Patrick Harvie said ministers had "crashed the economy and now they will try to make the most vulnerable pay for it," adding: "Rishi Sunak's appointment will be music only to the ears of his super-rich friends."
Morning Star