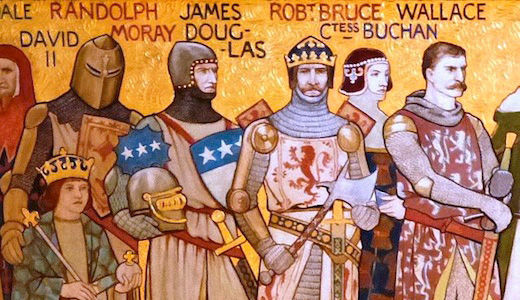 Britain's three main party political leaders – among the most unpopular in British political history – crawled up to Scotland yesterday to beg that the nation votes against independence.
Prime Minister David Cameron, his Lib Dem (Liberal Democrats) deputy Nick Clegg and Labour leader Ed Miliband ditched PMQs (Prime Minister's Questions) in desperation to make the trek across the border urging Scots to vote No with just one week left before Britain could be divided for good.
The move comes as the pro-independence Yes campaign appeared to be gaining last-minute popular support, with opinion polls showing it is increasingly difficult to determine which side will triumph in next Thursday's referendum.
Mr. Cameron said he would be "heartbroken" if the vote results in Britain being "torn apart" in an emotional plea to a nation where he is widely regarded to be hated.
In an equally stomach-turning speech from Mr. Miliband, the Labour leader said the case for a No vote came from the "head, heart and soul."
The scenario gave SNP (Scottish National Party) leader Alex Salmond yet another occasion to gloat as he accused the three party leaders of being stricken with panic, saying that "collectively, they are the least trusted Westminster leaders ever."
Mr. Salmond said their pathetic attempt would only serve to galvanise support for a Yes vote on September 18, claiming the No camp was in "disarray."
Meanwhile in its final A Just Scotland report, the STUC (Scottish Trades Union Congress) argues that both the Yes and No camps also "have little to say" on employment rights such as pay, better-quality jobs and employment regulation.
Scotland's biggest trade union body, which has refused to take sides in the referendum, criticises both sides in the debate for "overblown" claims and counter-claims in the report.
It describes the case for a formal currency union in the event of Scottish independence as "weak" and argues that the question of how tax might be used for redistributive policies has been "largely absent" from the debate on both sides.
Grahame Smith, STUC general secretary, added: "We have spent much of the last two years urging both sides of the debate to recognise and to bring forward arguments to address the fundamental inequalities of wealth and income in society.
"But this report concludes that neither of the mainstream referendum campaign groups, nor the respective governments, has been willing to consistently challenge the orthodoxies which have led to the prevailing conditions."
Photo: Detail from a frieze by British artist William Brassey Hole in the entrance hall of the Scottish National Portrait Gallery, Edinburgh, of notable figures in the first Scottish War of Independence. (Wikimedia)