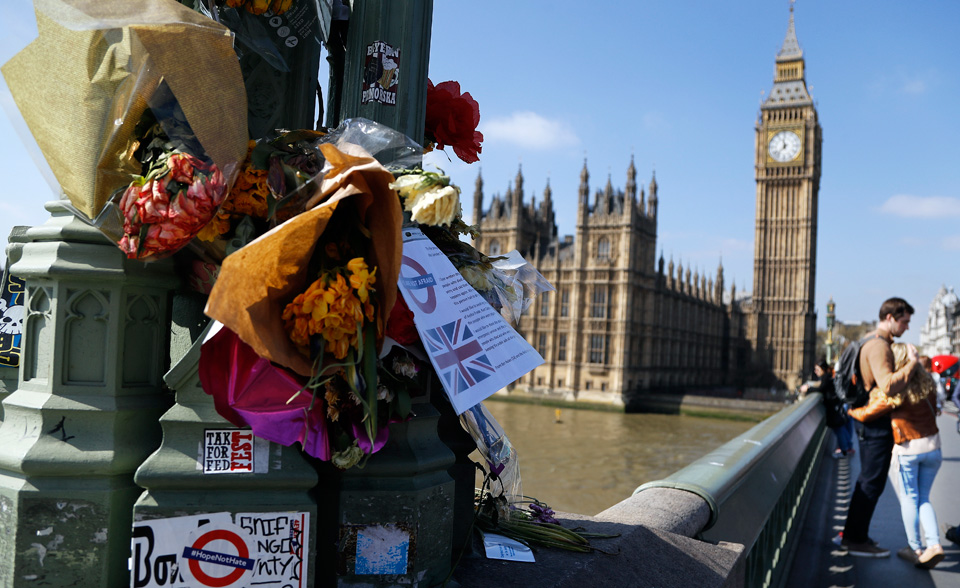 British prime minister and Conservative Party leader Theresa May violated an agreement yesterday to suspend election campaigning, made out of respect for those killed and injured in Saturday's London Bridge attacks, with a heavily politicized speech on terrorism.
All parties except UKIP had promised to pause campaigning until last night after seven people died from the attack and 21 people had been put in intensive care out of 48 people injured in total.
On Saturday night at about 10pm, the driver of a hired van steered onto the pavements of London Bridge and hit pedestrians before three men with long knives got out of the vehicle and started stabbing people.
The three were shot dead by police within eight minutes of the first 999 call. They were found to be wearing fake suicide vests.
Prime Minister May accused big internet companies and apps such as Google, Facebook, Twitter, and WhatsApp of giving terrorist ideology "the safe space it needs to breed" through encrypted and anonymous messaging services.
She echoed the Tory manifesto pledge to have stricter regulation of the internet to clamp down on terrorism – an idea dismissed by experts as "politically convenient" and "lazy."
Speaking outside the prime minister's residence at 10 Downing Street, May called for international agreements to curb freedom of internet use and claimed they would "prevent the spread of extremist and terrorism planning."
But International Centre for the Study of Radicalization (ICSR) director Peter Neumann used a series of posts on Twitter to criticise May's speech.
"Few people radicalized exclusively online. Blaming social media platforms is politically convenient but intellectually lazy.
"In other words, May's statement may have sounded strong but contained very little that is actionable, different, or new."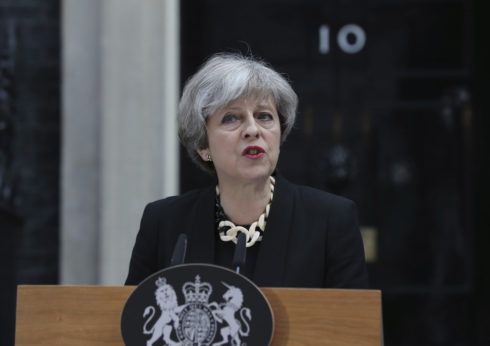 May's speech did not address allegations that in 2011, while she was home secretary, Libyan Islamists previously under surveillance in Britain were given back their passports and helped by the government to fly to Libya to fight Muammar Gadaffi's regime.
Nor did she say why the government is refusing to publish a report on jihadist funding – allegedly because it fingers Saudi Arabia, Britain's arms industry's biggest customer.
And former Metropolitan Police officer Peter Kirkham told Sky News that May's six years as home secretary had resulted in heavy cuts to the number of vital police officers needed to properly control the threat of terror.
He said: "We hear of extra police officers on the street, they're not extra. They are officers that have had their rare leave days cancelled, they have 12-hour shifts routinely extended to 16 hours, they have been drawn from other areas."
He added that Defense Secretary Michael Fallon was wrong to claim that there are more armed police officers on the streets than ever before.
Kirkham said: "The people that are alleging that are lying."
Head of counter-terrorism Assistant Commissioner Mark Rowley said 12 people have been arrested in connection with the atrocity after an armed raid in Barking, east London, and police activity in East Ham.
He added that "significant progress" had been made in identifying the attackers. Rowley said that the white Renault van used to target pedestrians on London Bridge had been "recently hired" by one of the terrorists.
Labour leader Jeremy Corbyn said: "My thoughts are with the families and friends of those who have died and the many who have been injured. We will all grieve for their loss.
"I would like to thank the police and emergency services for their bravery and professionalism in acting to save lives and deal with these appalling acts of terrorism, as well as NHS staff and members of the public who sought to protect others.
"The Labour Party will be suspending national campaigning until Sunday evening, after consultations with other parties, as a mark of respect for those who have died and suffered injury. Those who wish to harm our people, divide our communities and attack our democracy will not succeed."
Muslim Council of Britain secretary general Harun Khan said he strongly condemned the attacks. He added: "Muslims everywhere are outraged and disgusted at these cowards who once again have destroyed the lives of our fellow Britons.
"That this should happen in this month of Ramadan, when many Muslims were praying and fasting, only goes to show that these people respect neither life nor faith.
"My prayers are with the victims and all those affected. I commend the work of our emergency services working hard to keep us safe and cope with the ensuing carnage.
"As ever, we urge everyone to assist the authorities so that these criminals can be apprehended and brought to justice."
This story originally appeared in Morning Star.