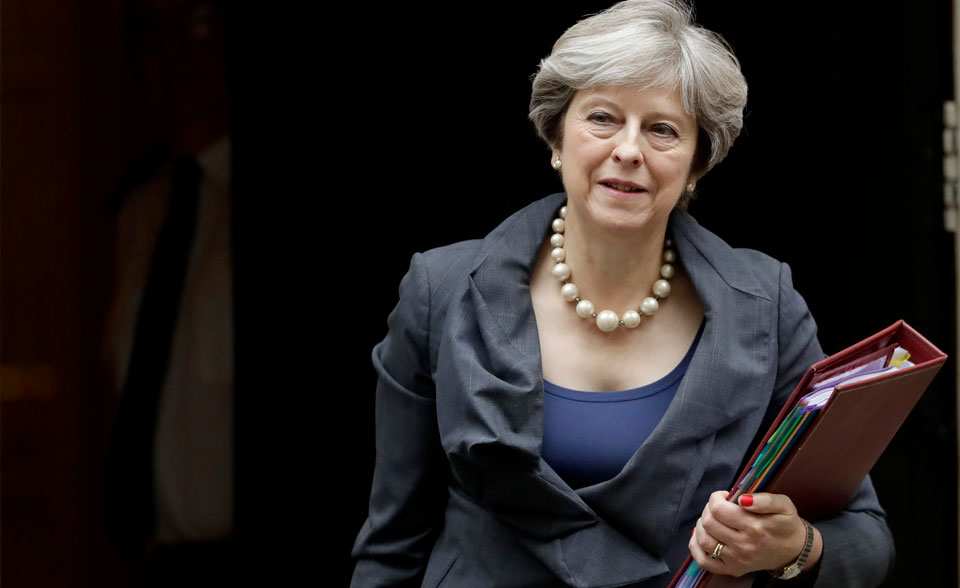 In a surprising, rather calculated turn of events, before yesterday's Brexit vote in the House of Commons, May confirmed to British lawmakers she would allow Parliament to vote on whether to delay Brexit or secure a no-deal divorce if a European Union (EU) withdrawal agreement isn't reached in the next few weeks.
With the guarantee of a meaningful vote on Brexit March 12, lawmakers gave the PM the go-ahead to continue with her current course of action.
Along with a vote on May's neutral Brexit motion, Members of Parliament (MPs) debated and voted on four other non-binding Brexit amendments.
The Labour Party's Amendment (a), calling on the government to alter the UK/EU Brexit Political Declaration and include the five demands laid out in Labour Leader Jeremy Corbyn's letter to the PM, was rejected 323 votes to 240 votes.
Labour's five demands for the Brexit deal are:
A permanent and comprehensive customs union with the EU;
close alignment with the single market underpinned by shared institutions and obligations;
dynamic alignment on rights and protections;
commitments on participation in EU agencies and funding programs, including in areas such as the environment, education, and industrial regulation; and
unambiguous agreements on the details of future security arrangements, including access to the European Arrest Warrant and vital shared databases.
Scottish National Party (SNP) MP Ian Blackford's Amendment (k) calling for the UK not to leave the EU without a deal, was also defeated 324 votes to 288 votes.
Labour's Yvette Cooper and the Conservatives' Sir Oliver Letwin's joint amendment to hold a vote to extend Article 50 if May's Brexit deal is defeated March 12 passed 502 votes to 20 votes. And Conservative MP Alberto Costa's amendment protecting EU citizens' rights while living in Britain passed as part of May's compromise.
May's risky move, which could have led to further backlash from the Eurosceptic, pro-Brexit members of her Conservative party, paid off with only 20 members of the pro-Brexit European Research Group (ERG) voting against the compromise.
Meanwhile, more than 80 Conservative MPs abstained from voting, and it remains possible May's tactics have only delayed a final confrontation in Parliament.
Labour Party backs second public vote
In a shift of party policy, Corbyn announced Labour would support a second referendum on Brexit.
He said the party would "put forward or support an amendment in favor of a public vote to prevent a damaging Tory Brexit being forced on the country."
The move is important because supporters of the second referendum in Parliament, up to this point, had little chance of achieving their goal without the backing of Labour's front bench MPs. After their amendment's defeat, Labour reaffirmed their support for a second referendum.
"Disappointed the government has rejected Labour's alternative Brexit deal," said Labour's Brexit spokesman, Keir Starmer. "That's why Labour will put forward or support an amendment in favor of a public vote to prevent a damaging Tory Brexit."
Labour MPs Peter Kyle and Phil Wilson submitted an amendment calling for the second Brexit vote, and the Labour Party is likely to table its own amendment to that motion.
For the second referendum to move forward, Parliament would need new primary legislation, as with the EU Referendum Act of 2015. The entire legal framework for a second public vote—spelling out details like the question's wording, voting day, and eligibility to vote would also need development.
Under the Political Parties, Elections, and Referendum Act of 2000, the UK Electoral Commission must also carry out "question testing" ensuring the question presented to voters is the best one.
It would not be a quick process or vote. And Article 50 would need an extension.
A recent second Brexit referendum timeline assessment by University College of London found legislation would take 11 weeks, with eight weeks of "question testing," one week of transition between legislation and campaigning, and finally, a 10-week election campaign.
A grand total of 22 weeks puts the earliest voting day in late May.
If a second public vote is held, the Labour Party will campaign to remain, because "that's all we can do," said Labor's Shadow Foreign Secretary Emily Thornberry.
Where do UK voters stand
If a Brexit delay is unavoidable, UK voters will support it—if it lasts no longer than three months. While plenty of skepticism exists about the intentions to delay the EU divorce, 47 percent of voters are in favor with 26 percent opposed, according to a recent poll by Hanbury Strategy and Politico.
The poll also found that while May's deal is still unpopular, there are signs people are warming up to it: 30 percent of voters said the deal should be approved by MPs, while 37 percent said no—quite an improvement from November 2018, when the original Brexit divorce agreement was struck, which saw only 28 percent of voters supporting it and 45 percent against.
With only 29 days to go before Brexit, March 12, 13, and 14 are shaping up to be crucial dates. And with a delay firmly on the table, May might have a slim chance of pulling off a win.
"The choice is no longer perhaps between an imperfect deal and no deal, but between an imperfect deal and no Brexit," said  Conservative MP Edward Leigh, a long-time Eurosceptic and hardline Brexiteer.
All we can do now is sit and wait and watch.