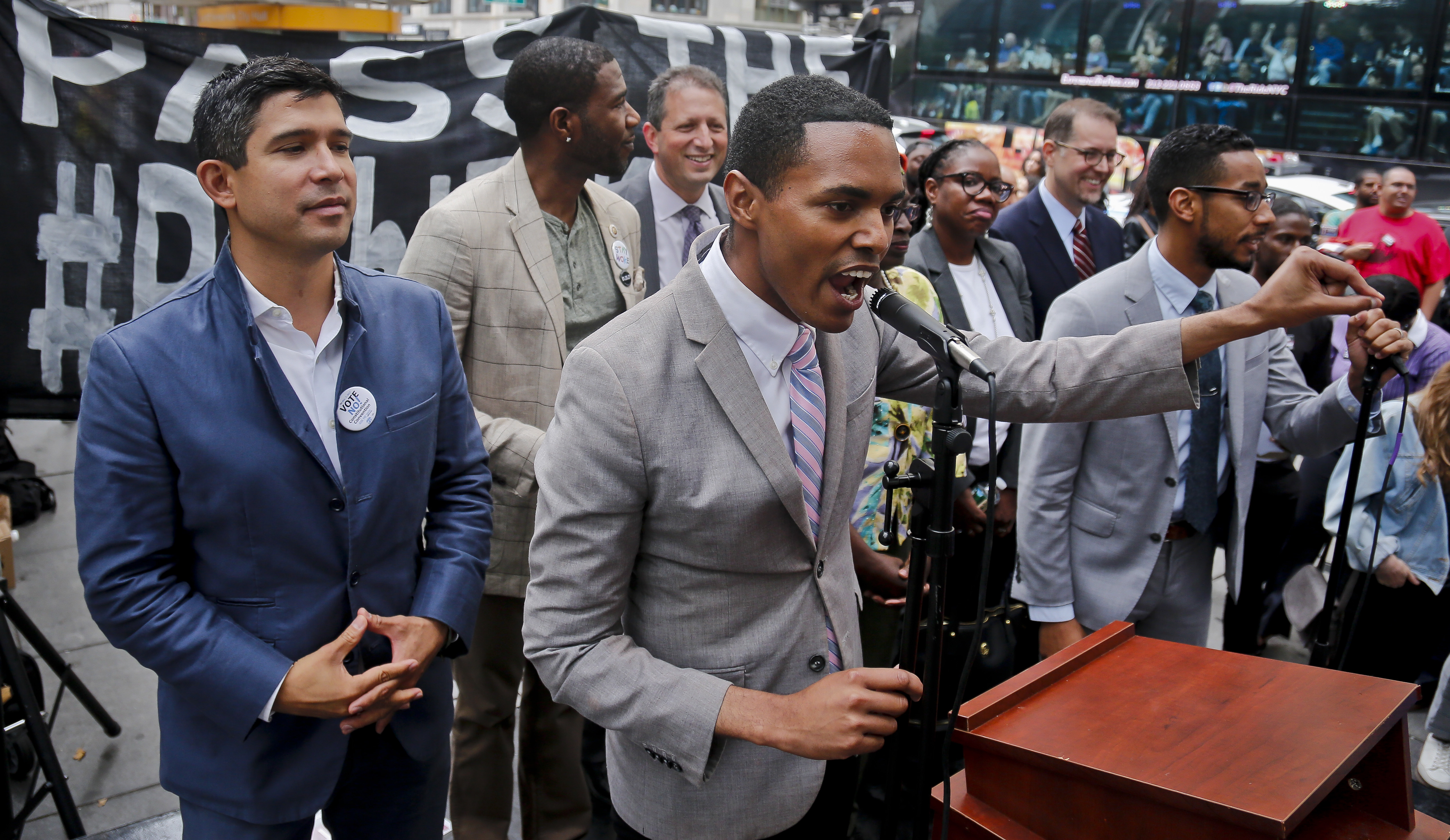 Progressives and liberals in the NY-15 congressional district can take a deep breath. Self-identified "conservative Democrat" Rev. Rubén Díaz, Sr., probably will not succeed Rep. José Serrano and destroy his legacy. Instead, the new representative probably will be Ritchie Torres, the youngest and first openly gay Bronx member of the City Council.
Rep. Serrano has Parkinson's disease and is retiring. Since incumbents win about 90 percent of the time, the open seat was a golden egg. Twelve candidates crammed onto the ballot. Four were elected officials with progressive credentials, accomplishments, and endorsements. Another three to five, one with Left progressive backing, ran to the left of those four.
Many analysts feared this would open a path for a Díaz victory. For it to happen in the nation's poorest and bluest House seat would have been terrible for the residents and a major lesson to all progressive candidates and organizations involved in elections. Some might complain that the winner, either Torres or possibly State Assembly Member Michael Blake, is not progressive "enough." Compared to Díaz, this is a silly position. And the risk of allowing Díaz to squeak through should not be dismissed simply because it did not happen this time.
The preliminary results are based on early voting and voting at the polls Tuesday. Because of the coronavirus, more people than ever voted absentee, but these cannot be counted until July 1. If NY-15's absentee votes slightly resemble the preliminary results, a Torres victory is highly likely.
Serrano is the longest-serving Latino in the House. He has earned extremely high ratings on domestic issues across the board: labor unions, workers' rights and protections, affirmative action and civil rights, reproduction freedom and women's equality, immigrants, programs aiding the poor, climate change and the environment, education, seniors' rights and protections, LGBTQ equality, campaign finance and election reform, health care, civil liberties, and gun regulations.
Moreover, he is one of the few anti-imperialists in Congress. He has expressed solidarity with the goals and progress of the Cuban and Venezuelan revolutionary movements and calls Puerto Rico, his birthplace, a colony. Conservative organizations, military-industrial firms, and their lobbyists have always given the congressman terrible ratings.
Díaz, an evangelical minister who rejoined the City Council in 2017 after being a state senator for 14 years, has a history of obnoxious and hurtful statements about gays and lesbians. Likewise, he has terrible positions on abortion, sexual harassment, and stem cell research. His electronic newsletter, reproduced in several Bronx news websites, criticizes progressive and liberal elected officials while applauding more conservative ones.
Many of Díaz's voters also live in NY-15, which enhanced his chance for victory. As shown below, 90 percent of the minister's state senate election districts—smaller than what are elsewhere called precincts—were inside NY-15, and so were nearly 73 percent of his current city council EDs. Only Blake shared a higher percentage of territory inside the congressional district, but his assembly district is smaller than Díaz's old senate district.
Díaz leads the New York Hispanic Clergy Organization, comprised of 150 evangelical ministers from Connecticut, New Jersey and New York. Another of his outfits, the Christian Community Benevolent Association, oversaw the development of at least three buildings of low-income housing, all with "Rev. Rubén Díaz" in their names. The Association also employed many in a variety of senior citizen outreach programs. A toxic brew of name recognition, patronage, organization and a base in the congressional district.
Torres, winning 30.5 percent of the in-person voting, has focused on housing, reflecting his concern over people who live in conditions he did as a child. In his words, by a single mother, with three children, in "conditions of mold and vermin, lead and leaks." He was endorsed by several members of Congress and the City Council and a variety of unions (Hotel Trades Council, Machinists, Communications Workers of America, laundry workers, and others). A potpourri of social change PACs also supported him, including LGBTQ groups, environmentalists, and End Citizens United.
Coming in second with 19.4 percent was Blake, who originally won his state seat without the backing of the Bronx Democratic Party. A Vice Chair of the Democratic National Committee, one base of his support was the city's powerful trade union movement. The Service Employees International Union 32BJ, 1199 SEIU and the Transport Workers Union, as well as other public workers unions and some skilled trades locals, endorsed Blake. So did the Congressional Black Caucus, many other members of Congress, and state assembly members and senators.
Díaz, whose namesake son is the Bronx Borough President and was presented on the ballot as simply "Rubén Díaz," without the "Sr." suffix, came in third with a distant 14.8 percent. On at least six occasions since May 8, he and his clergy organization distributed free food and masks to the people in the district.
He has matched his harsh rhetoric with a conservative voting record. And worse, he has been a leading renegade Democrat. In 2009 he worked with Republicans to keep GOP control of the senate though the Democrats had won a majority. Two years later another group of Democrats similarly colluded with Republicans, and Díaz mustered nothing but praise of its leader.
In 2005, the Reverend refused to endorse Fernando Ferrer, who would have been the city's first Puerto Rican mayor. Díaz hosted Republican presidential candidate Sen. Ted Cruz for a Bronx visit in 2016. When asked in June if he would vote for Trump or Biden, he replied, "I don't know yet."
Samelys López, who previously ran for only (state Assembly) District Leader, finished a very respectable fourth with 13.2 percent. She thus nearly eclipsed Díaz and was ahead of two elected officials–candidates. López was the Democratic Socialist in the race, racking up endorsements from Bernie Sanders, Alexandria Ocasio-Cortez, Naomi Klein, Zephyr Teachout and other notable progressives and social democrats. Supporters also included Citizens Action, the Democratic Socialists of America, Our Revolution and its state and local affiliates, and the Working Families Party. Left-progressive groups on the issues of women's equality, climate change, peace, and racial justice also backed her.
Next came current City Council member Ydanis Rodriguez and former Speaker of the City Council Melissa Mark-Viverito. Rodriguez's district is in Manhattan, not the Bronx, and for this he caught provincial criticism. (Members of the House are not required to live in their districts, but it seems highly advisable.) Winning 11.4 percent, he was the most prominent Dominican in the race in a district that now has a plurality of Dominicans. Rodriguez did not gather endorsements like other candidates did, and his campaign website drew a security warning to viewers.
Mark-Viverito was the first member of the Black, Latino and Asian Caucus to hold the position of council speaker. She was also the founding co-chair of the caucus itself. Teachers unions, the United Auto Workers, several women's organizations, Latino Victory and Cynthia Nixon all endorsed her. But she won only 3.9 percent of the preliminary vote. To finish behind López, who began with little name recognition among common voters, and Rodriguez, who has never represented the Bronx, and is a sound defeat for Mark-Viverito.
Pre-election polling
There was little public polling in the race. The Data For Progress issued its "The State of the Democratic Primary in NY-15" in June that contained a survey of 323 likely voters. Though some candidates rejected the poll for its small sample size and sole reliance on online contact, the poll was at least partially correct. Díaz, Torres, and Blake were the top three finishers. Overperforming were López, Blake, Rodriguez, and Torres.
Torres and Blake raised far more funds than did the other candidates, an advantage with many effects. It may be that winning a congressional seat requires a certain level of spending, though spending does not guarantee outcome. López, on mainly small donations and no corporate, landlord or development money, outperformed on this measure and was the "most efficient" in cost per vote.
Many worried that a crowded field would help Díaz's chances. Some millennial activists in the district, however, argued the opposite, even though there are few if any examples to show how more progressives have a better chance of defeating a conservative in a single district. Indeed, they agreed that Trump squeaked by in the Republican primaries of 2016 because the vote was terribly split. GOP primaries, like primaries for most offices in the country, are won by whoever has the most votes. Meaning, awful candidates can win with relatively few votes.
Strategizing for preventing bad election outcomes should not be seen as interfering with the near purity of some candidates and movements. Isn't the goal to improve the lives of the people? If what we do results in harm to their lives, haven't we failed by supporting only the "most" progressive choice, regardless of the specific circumstances of each race?
Various activists countered that most of the progressive candidates in the race were not truly progressive. Taken to its logical conclusion, only Democratic Socialist (or beyond) candidates would be worthy. What about other members of the Democratic Party—will you even ask for their votes on progressive legislation? Or, are you concerned primarily with agitation against non-progressive candidates?
These contradictions are stoked by the fact that social democratic victories take place in the bluest districts in the country. What remains to be developed are strategies for progressives to campaign and win in lighter blue districts, where the rhetoric will be different. Or simply to win without downplaying a broader coalition that must work to defeat Trump and the Republican Party, on the federal and state levels, in November.