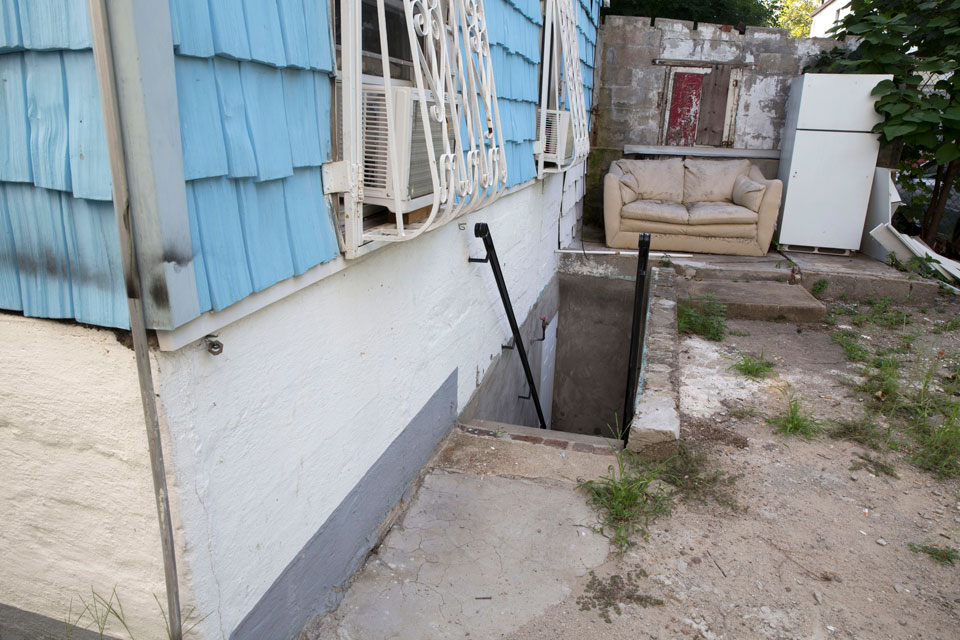 On April 2nd, 2022, in East Flatbush, Brooklyn resident Khadija Haynes (co-author of this article) passed out while inside her basement apartment as a result of carbon Monoxide poisoning. Long before this, the conditions within her apartment were deteriorating.
In the weeks preceding her hospitalization the air quality in the apartment was already poor due to inadequate and illegal entrances and her landlord leaving her pets litter outside her apartment. Haynes tried innumerable times to tell the landlord about the unsafe conditions, but the landlord threatened to throw her out and refused to fix anything in the poorly-ventilated basement apartment.
On August 28th, 2018, when she moved into the basement apartment, she was told she could not receive rent receipts and had to pay in cash. It was an instant alarm, but with exorbitant rents and little money, she felt there was no choice.
Haynes described the poisoning episode: "I started to feel really weak, I started having cramping in my stomach. I couldn't make it to work because I was in too much pain, it was really horrible. Saturday after I went to take a shower I fell down, I couldn't stand up anymore. I kept falling and I passed out. A couple minutes later I got up and crawled to the bed, I called 911. I managed to crawl out of the apartment and EMS met me, they told me I was lucky to be alive. They put a sheet over me and when they examined me, they said I had a lot of carbon monoxide in my lungs. I was on oxygen at Mt. Sinai; I spent the whole day in the hospital on April 2."
Long before this, there were multiple complaints the landlord refused to address over the span of months. Although this individual landlord is particularly abusive, the tendency for a landlord within the capitalist system to abuse working class people is not uncommon.
The Haynes case represents the abuse working people face at the hands of the housing system. As U.S. cities become more unaffordable, there will continue to be dangerous living conditions that lead to instances of injury and death. When real estate moguls use capital to expand markets and increase the cost of living, individuals will be subject to increasingly deteriorating apartments.
Working-class tenants who are the most vulnerable to eviction. In East Flatbush there have been 1,167 eviction filings since 2020. In Flatbush, a neighboring working-class neighborhood, there have been 2,952 evictions since 2020, with 129 total eviction proceedings since April 17, 2022.
Additionally, the system is unable to adequately house people who end up dispossessed. For example, as the recent NYCHA budget outlined, NYCHA placements for homeless families went down, with the overall number of homeless households placed in housing for the first four months of Fiscal 2022 (511) 42 percent lower compared to the same period in Fiscal 2021 (877). The number of homeless individuals and families placed in public housing dropped from 554 to 331 and the number of homeless individuals and families placed through Section 8 decreased from 323 to 215. The downwqrd trend in  placements was reflective of the decrease of available apartments as noted for NYCHA's overall placements.
For the 2022 and 2023 budget NYC Mayor Adams called for a three percent cut in departments such as Housing Preservation and Development (HPD), while the overall staffing for HPD is down 5 percent and the Office of Development, which manages affordable housing production, is down 13 percent. He also cut $615 million from the Department of Homeless Services, which is a fifth of its budget and leaves 131 positions unfilled.
Police criminalize poverty
The capitalist system which not only engages in the privatization of housing, but uses the police state to ensure working class people are removed from their homes. The presence of the police is not a small factor when analyzing how capitalism attacks the most vulnerable New Yorkers.
The area where this attack occurred was East Flatbush, Zip Code 11210. This area shows how the intersection of racism, capitalism, and the state all converge to ensure that working class people are removed. East Flatbush (67th precinct) is made up of working-class Black residents and has been the recipient of one of the highest earning police precincts in NYC. In 2022, The 67th precinct received a budget of $25,870,991 and provided over 330 positions within its force. Not only this, but the 67th precinct received the sixth most complaints of any neighborhood in the city.
In 2021, 4,636 complaints were made against the police precinct, with 98.6% of those affected being people of color. The area with the most complaints came from another working class Black area, East New York, (the 75th precinct) with 8,431 complaints. The police continue to be financially supported by the city in order to terrorize citizens.
Although this would hopefully lead to a certain amount of accountability, it has proven difficult for any complaint to be taken seriously by the police force. Of 12,980 complaints against the police within the city, 8,697 (67 percent) resulted in no discipline at all. Although the Civilian Complaint Review Board (CCRB) recommends certain measures be taken, the NYPD can choose to fully ignore any request. This is even if the CCRB found that an individual cop abused a citizen from the public.
These attacks on working class communities are being upheld through administrative policy as well. Currently the Adams administration is carrying out a resurgence of Broken Windows Policies. In fact, on March 26, 2022 Adams reported an initiative to enforce so-called "Quality of Life Offenses,"calling back to the early repressive techniques under Mayor Rudy Giuliani and then Police Commissioner William J Bratton. These current offenses that the Adams administration hopes to curb mimic the earlier Broken Windows policy of criminalizing individuals for being poor. According to Adams, these offenses include public drinking, public urination and "dice games that lead to disputes and shootings."
The city is in  alliance with the individual landlord instead of the tenant. Recently the Rent Guidelines Board took a vote to increase rents from 2.7% to 4.5% on one-year leases and 4.3% to 9% for two-year leases. The mayor justified the change by saying he is 'supporting small landlords.'.It is also worth noting that Adams has maintained an intimate relationship with real estate, where he had his own baggage of investigations by the Department of Buildings for an illegal conversion of a basement unit into his purported residence. Additionally, one of the members of the RGB board, Christina Smyth, who owns a real estate legal service that defends landlords, named Smyth Law P.C., was one of the members that voted for the increase in rent for working class New Yorkers.
Although small landlords are at risk of being destroyed by monopoly housing, they also have the ability to increase rent, and understand that accommodation is increasingly difficult for the average renter. This is in comparison to the individual tenant who has nothing but their labor power to sell as a means of survival. This is decisive when considering the difference between even the small landlord and the individual tenant.
A number of organizations are fighting back in solidarity with tenants that are victims of mismanagement from small and large landlords, as well as the Capitalist system as a whole. On June 7, organizations focusing on tenant rights will rally outside Hayne's previous apartment to demand accountability from the city and make sure this abuse does not continue.
A coalition will be present at the previous residence of 1008 East 40th street, Brooklyn, with groups including Flatbush Tenant Coalition (FTC), Brooklyn Eviction Defense (BED), the Young Communist League (YCL) and members of the US Communist Party to rally and defend community tenant interests and fight against the interests of capital.