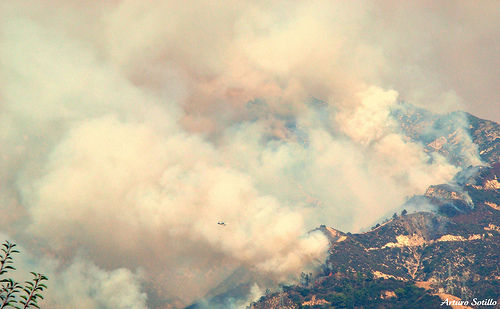 LOS ANGELES – In the latest indication of how local budget cuts, due to the Great Recession, endanger public services and safety, the president of the United Fire Fighters of Los Angeles (UFLAC) said the mayor's slashes hampered the department's response to the huge Station Fire in the Angeles National Forest in September.
L.A. Mayor Antonio Villaraigosa, a Democrat, had to hastily reopen 28 fire companies, ambulances, paramedic supervisory units and battalion command teams he unilaterally shut on Aug. 6, after the large fire broke out several weeks later. Until then, the department was short-staffed in battling the blaze, UFLAC President Pat McOsker adds.
The Station Fire burned for weeks in early September, destroying 161 square miles of woodlands and watershed and thousands of homes before it was finally brought under control by L.A. County (Fire Fighters Local 1014), L.A. City (IAFF Local 112) and other fire fighters. One pointed picture shows smoke billowing down a mountain in back of city Fire Station 74, one of those stations closed for budget cuts.
Two Los Angeles County firefighters, Capt. Ted Hall and Fire Specialist Arnaldo Quinones, died during the blaze, while trying to lead evacuation of 70 people from the hills. Thick smoke engulfed their vehicle, and they couldn't see. It ran off the road and plunged 800 feet down a ravine. The two were memorialized in a mass service at Dodger Stadium, led by Vice President Joseph Biden, who said Hall and Quinones "went above and beyond the call of duty" in rescuing others.
McOsker said the response of his firefighters was hampered because Villaraigosa closed the stations and other units in an attempt to get Local 112 members to yield to his demands for sharp pay cuts – cuts the mayor did not seek elsewhere.
Villaraigosa also told the City Council he wanted to save $10 million – the city budget shortfall is several hundred million dollars – "by eliminating the 10th member at selected fire stations" as well. Local 112 is resisting, saying it is willing to "share sacrifices" if other city workers also do so, McOsker says. For his local, those sacrifices to deal with the recession should be in deferred pay raises and savings in LAFD overhead, not in services, the union president adds. That's not what Villaraigosa wants.
The local "has a simple strategy … that has not changed since the very beginning" of bargaining, McOsker said in the Los Angeles Firefighter. "The safety of human lives is non-negotiable. We will not agree to staffing cuts as part of any contract deal. No amount of money is worth risking firefighter lives or the lives of the people we protect. If city leaders continue to insist on balancing the budget by reducing LAFD emergency responders, we will push back as hard as we can. It's that simple. If nothing else, at least our consciences will be clear when the inevitable happens."
Photo: Smoke billows in last fall's giant Station Fire. (http://www.flickr.com/photos/whappen/ / CC BY 2.0)