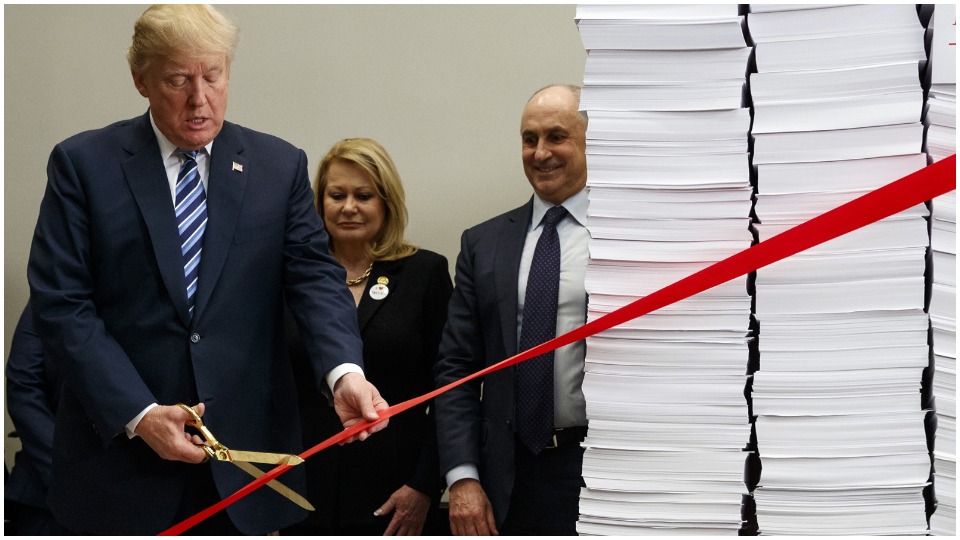 WASHINGTON—If proposed federal budgets are political documents—and they are then—President Donald Trump's budget for fiscal 2020, which starts Oct. 1 and ends just before next year's election, is a right-wing wish list, with a trillion dollars of red ink, tailored to appeal to his base.
From $8.6 billion more for his racist Mexican Wall, to a nationwide voucher program for parents of private school kids—couched in language that disguises it—to billions more for "defense" but a 32 percent cut for the Environmental Protection Agency, Trump's spending scheme fulfills the dreams of his radical right base and his corporate cronies.
Trump's budget is dead on arrival on Capitol Hill, though pro-Trump Republicans dominate the GOP and Republicans overall control the Senate and the White House. That's because House Speaker Nancy Pelosi, D-Calif., and her caucus staunchly oppose his plan and because in many cases Trump will need 60 senators to get items through, not 51. The GOP has 53 of the 100 senators.
Overall, Trump's budget would cut all domestic discretionary programs by five percent, though some agencies like EPA would suffer more. A few, notably the Department of Veterans Affairs (nine percent), would get increases. The Defense Department would rise from $716 billion this year to $750 billion.
But it's the fine print in Trump's $4.7 trillion spending plan that shows its right-wing tilt. Some examples:
The Wall. Congress didn't kowtow and give Trump the $5.7 billion he wanted last year to build part of his "great, big, beautiful" wall along the U.S.-Mexico border. So he declared an ersatz "national emergency" and grabbed money from the Pentagon for it. He even shut down one-third of the government—half of the 800,000 workers were on the job without pay and the other half were locked out—to get Congress to yield.
Now he wants 50 percent more money for the wall, which hasn't been started yet. "The same thing will happen" if Trump tries for wall money again, Pelosi and Senate Minority Leader Charles Schumer, D-N.Y., said. "We hope he learned his lesson last time." Comments from Trump aides indicate he hasn't.
School vouchers everywhere.  Congress tossed right-wing Education Secretary Betsy DeVos out on her ear when she tried a limited voucher plan last year, and that Congress was GOP-run. The GOP big giver, who has never met a public school teacher she liked, published another voucher idea on March 8 and it's in the budget, too.
"Rather than increase funding for kids with special needs or for those who live below the poverty line in both rural and urban America, or addressing the issues raised in their own (school) safety report" on how to prevent more gun massacres, "DeVos once again seeks to divert funding for private purposes in the name of 'choice,'" said Teachers (AFT) President Randi Weingarten, a middle school teacher from New York. "However, if they listened to parents, they would hear that, overwhelmingly, parents want well-funded public schools as their choice. By assaulting public education again, Trump and DeVos are defying the will of parents, educators, and the American people who continue to march, rally and even strike to secure the investment our children and their public schools desperately need."
"The good news is that Congress—who soundly rejected a similar proposal during the 2017 tax debate—isn't likely to give this reboot a serious look. Still, the corporate interests who have doggedly pursued school privatization for more than a decade are nothing if not persistent, which is why public education activists aren't about to let down their guard," added National Education Association President Lily Eskelsen-Garcia, a K-6 teacher from Utah.
Trump "offers up another devastating overall cut to the Department of Education—this time a whopping 10 percent," said School Administrators President Ernest Logan. "Once again, his budget also proposes to bolster his and DeVos's school 'choice' agenda by increasing funding for charter schools and, in a new twist on an old theme, putting $5 billion towards an as-yet-unpassed tax scholarship program. This last proposal is in reality just a backdoor voucher scheme to divert public dollars to private schools."
When it comes to higher education, Trump's budget would end subsidized interest for student loans. Currently, most student loans only begin accumulating interest once students graduate and begin working to pay back their debt; Trump would start charging interest immediately. Also, a popular student loan forgiveness program for those who enter public service jobs after graduating from college would be killed off by this budget.
"This budget looks a lot like his previous two budgets—a lot less money for public schools and greater support for private education," Logan said. "But I do not despair because I am a student of recent history." In prior years, "Congress received the president's budgets, considered them—and ignored them."
Medicare, Medicaid, and food stamp cuts. Save Our Care, a pro-recipient group, alerted its members by e-mail about Trump's cuts to the two key medical programs. It urged members to start lobbying lawmakers now against Trump's moves.
The budget "would cut $1.5 trillion from Medicaid and $845 billion from Medicare. And continue his war on the Affordable Care Act," by forcing anyone who gets subsidies for joining the ACA's health care exchanges to pay into them, too, Save Our Care said. "This is a major escalation in the Trump administration's war on our health care, and it must be stopped immediately."
And his budget also not only cuts food stamp money by $1.74 billion but also imposes a "y-u-u-ge"—to use his words—work requirement on food stamp beneficiaries, millions of whom are single mothers with young children. And he does it for Medicaid, too, while again proposing converting the program into a state-run block grant. That's yet another right-wing wish. It also panders to prejudice, since when Trump's backers see the words "Medicaid" and "food stamps," they think "Blacks."
Privatize, privatize, privatize the Southwestern, Western, and Bonneville Power Administrations, which sell low-cost power, generated from federally built dams, to consumers, most of them rural. And in 2021, Trump would dump the Tennessee Valley Authority's transmission lines—undoing one of the great achievements of FDR's New Deal, bringing electricity to much of the then power-poor South. Private power companies would be the buyers, or so his budget says.
Trump also wants to give veterans "greater choice"—another euphemism for privatization—in health care. National Nurses United, among others, says that's no choice at all.
"We know the best place for our veterans to get care is at the VA, the only fully integrated health care system in the country and the only health care system designed specifically for veterans," Irma Westmoreland, RN, a VA nurse and NNU board member, told a rally last month at the VA hospital in San Diego.
"Study after study has found the VA provides care that is equal to or superior to care in the private sector, and that VA care is less expensive. It stands to reason that patient outcomes are better, in part because of the VA's expertise, and also because decisions about patient care are based on a patient's medical needs, not by the bottom line."
And while the budget doesn't say so in so many words, the Office of Management and Budget and a Trump-named commission of Cabinet officers want to cut pay and pensions at the Postal Service, turn more of it over to the "private sector" and—postal unions contend—ultimately privatize it. USPS is also heavily female, minority, or both.
Trump touted his tax cut—though he didn't admit its tilt to the corporate class – but House Budget Committee Chairman John Yarmuth, D-Kent., said it's a big contributor to the budget's red ink. That red ink will be $1.09 trillion this fiscal year, and $1.101 trillion next year, the budget forecast.
"President Trump added nearly $2 trillion to our deficits" over the next decade "with tax cuts for the wealthy and large corporations, and now it appears his budget asks the American people to pay the price," said Yarmuth. "With severe cuts to essential programs and services that would leave our nation less safe and secure, the Trump budget is as dangerous as it is predictable."