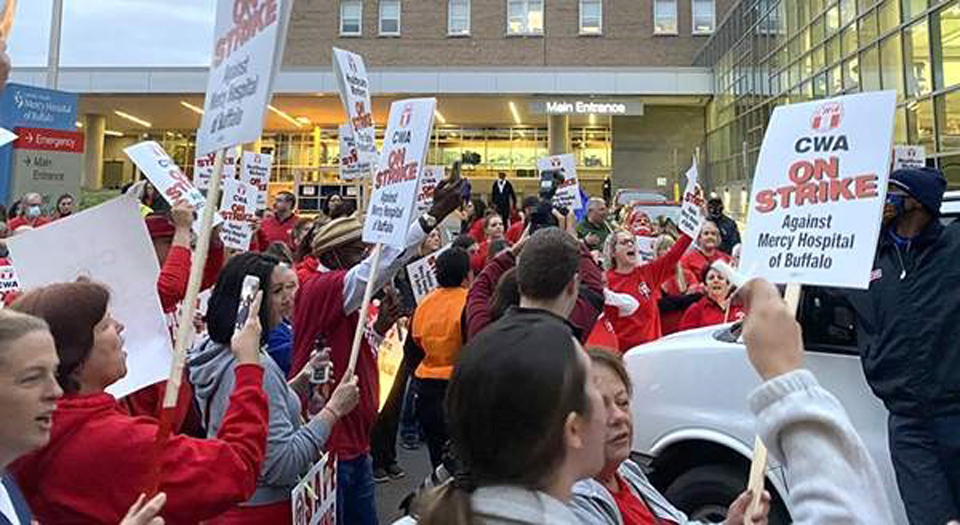 SOUTH BUFFALO, N.Y. —Some 1,900 nurses, members of Communications Workers Local 1133, are hanging tough—despite pain from months of dealing with coronavirus victims—as their forced strike against South Buffalo's Mercy Hospital neared three weeks.
But they're not there all alone. The strike, which began Oct. 1, has drawn wide community support. On its 13th day, the nurses drew political support from New York Attorney General Letitia "Tish" James. Six days afterwards, CWA President Chris Shelton lauded them.
"The hospital system failed to reach a fair agreement on a new contract. Issues on the table include understaffing, equipment shortages, low wages, and healthcare costs," CWA said. Local 1133 has had other problems with the hospital, recently winning a National Labor Relations Board ruling that Mercy's ban on peaceful leaflet distribution outside the facility broke labor law.
"The workers had a transition plan in place for the strike, handing off patient care to managers on duty, and Local 1133 executive officers personally checked to make sure every patient was covered before the walkout," CWA said.
At the union's virtual convention, Shelton cited the nurses as one of several groups of workers who are standing up to bosses. In this case, the nurses face management that first refused to provide needed personal protective equipment  (PPE) against the galloping plague.
And James not only addressed the picketers on Oct. 13 but also sent a letter to Huffmaster, the Michigan-based security firm Mercy Hospital bosses hired to bring in rent-a-cop security guards and find temp nurses, too, to get out of town and take their hires away.
Her letter informed the company president his firm isn't licensed in New York to provide either temp workers or security guards, thus breaking state labor law.
The strike, and even more the virus, have not been without pain for the nurses, Western New York Labor Today reported. The nurses erected a "Wall of Heroes" memorializing colleagues who died. It also has photos of nurses on the job against the virus.
"It became so emotional at times that the bodies of some of those who shared their stories shook so noticeably several of their fellow nurses moved forward and wrapped their arms around them in not only a sign of physical and mental support but as a renewed commitment to make sure what they have already and continue to experience will never happen again," the paper reported.
"I saw a whole lot of suffering," Local 1133 President Jackie Ettipio, RN, a 30-year veteran at the hospital, told the paper.
Put it in a plastic baggie
"We had to put a phone in a (plastic) baggie so our Covid (coronavirus) patients could say goodbye to their loved ones. But we came together and did everything we could for each other and our patients, and it was incredible. We stuck together.
"Now, looking at this wall, we want everyone to know what we are fighting for," she added. The community "is with us and we are doing this for the love of other people," said a tearful Ettipio.
"This has been an emotional time," offered Cori Gambini, President of CWA Local 11668, whose union represents Catholic Health System Caregivers at Mercy's Suburban St. Joe's Campus, a hospital transformed into a Covid-only facility during the pandemic.
"You were 'all amazing,'" Gambini heard from the public. He reported residents "heard the cries of our members, and I've been left thinking: 'How the hell do we help these people?'"
"'We are standing by you,'" they tell us. "I look at these photos and see the marks (pressure sores) on their faces." Local 1133 Vice President Catholic Carrie Dilbert said the sores also show "Catholic Health was not providing what we needed and this is proof what is going on behind their closed doors."
But it's a lot worse than that through the pandemic's 18 months and the pressure bosses put on the nurses to perform, even without protective gear, others added.
"We didn't know if we were going to die or not, but we worked through it. We went to work, every day. We agreed to extend our contract, but hospital administrators turned their backs on us. We're fighting not only to keep our patients safe, but ourselves," Gambini said.
"A number of these nurses on this wall are in my unit," said Corey Webb, an RN at Mercy. "We begged Catholic Health 'for help, but we were told it was a logistical nightmare" to provide PPE.
"This is why so many (nurses) have quit. This is why so many (nurses) have had (mental) breakdowns," said Webb. But Catholic Health "didn't care. It fell on deaf ears." Bosses said "we are done with you…I am a Member of the (CWA) negotiating team and we will fight for all of you."
"For every mark I see" on the photos of the faces of the Nurses on the wall, "We're not going back until you guys get what you want,'" Gambini, an RN herself, concluded.