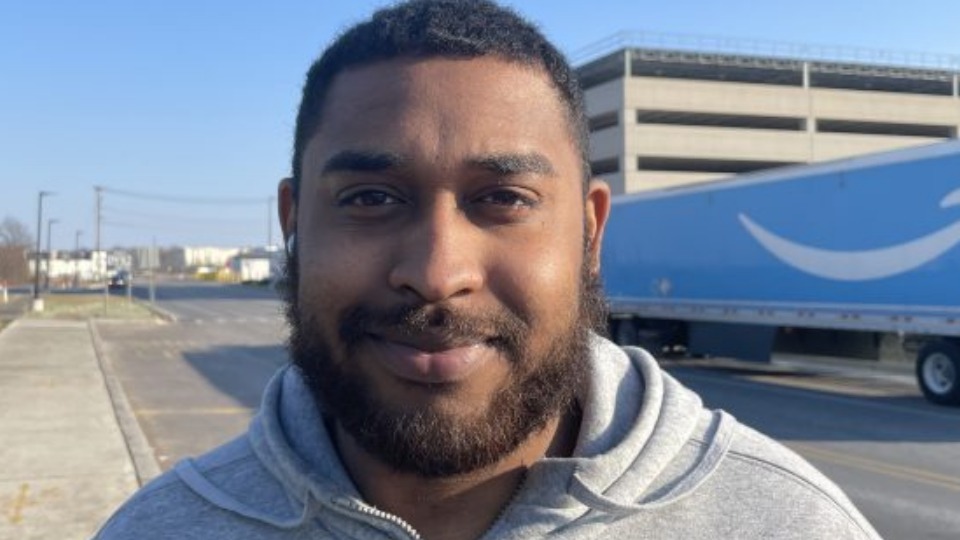 The historic union victory won by Amazon Labor Union (ALU) at the retail giant's JFK8 fulfillment center on Staten Island has shaken the entire labor movement. In this interview, People's World reporter Jacob Buckner talks with Jordan Flowers, one of the co-founders of The Congress of Essential Workers (TCOEW), the organization that preceded the ALU.
Jacob Buckner: It's the two-year anniversary of the Congress of Essential Workers. How did that start, and how did it develop? 
Jordan Flowers: Well, The Congress of Essential Workers is Chris Smalls, Derrick Palmer, Gerald Bryson, and myself. You know, a congress is a bunch of people together, and with Amazon, we are supposed to be seen as "essential workers," so that's where the name came from—The Congress of Essential Workers. We're actually all best friends, and we wanted to be the megaphone for workers and let workers know that if they're scared to speak out, we'll speak out for them.
I remember hearing that it also came out of the atrocious conditions at Amazon during the pandemic. Was 2020 when the organizing effort started?
Yeah, around this time I was actually home dealing with my illness. I have lupus nephritis. Chris, Derrick, and Gerald were actually the main ones in the office. I was doing outside organizing, getting the media ready. They were making statements that the JFK8 facility wasn't safe. We're talking about almost 20, maybe 25 people a day testing positive for COVID. Then, that number started rising, where 20 to 25 became 40 to 45.
Then by the end of the week, you already had 100-plus people testing positive right there. There are 8,000 workers in that facility. Then they went and put Chris Smalls on leave. They said that he tested positive, which he never did. Then he got fired…they fired him using the COVID protocol, saying that he was positive and broke the rules. That shows you right there that Amazon wasn't taking care of the workers. The dude you apparently said had COVID—you fired him because he was raising awareness! You know, that just sounds crazy.
Then they had the smear campaign, claiming Chris Smalls is "inarticulate."
So the company brought racism into the mix?
Chris is our leader, and Derrick, Gerald, and I are all Black men, and we took offense to that. Speaking for the Black community, we all took offense. That's when we continued the march. That's when TCOEW came about, where four Black men walked out and started a revolutionary thing. We knew the company wasn't going to take care of us. We were going to keep speaking out until we made a change.
At some point, TCOEW transitions into the Amazon Labor Union. Were there things that you carried over from the original organization? How did that end up happening?
Honestly, it's the main four members, and then we got Brett, Jason, and Connor Spence. It just stuck with us seven, then we started building ALU.  I remember we used to work at JFK8, so we already know some of the workers. Then I call it the domino effect. Once we told our friends, their friends start telling their friends. They start telling co-workers, and again. That's how we started branching out.
Then we started building social media platforms to speak out. Workers started vouching for ALU, even when we weren't an official union yet, saying if they got fired by Amazon we would be able to get their job back. It showed that even if we weren't an official union, we were there for a change, and we took a stance. Even if you lose your job, we'll offer a spot to get your job back. That kind of shook the room for workers at JFK8.
What lessons would you take, looking back over the two years?
For one thing, this was true self investment. Before we really got to where we were, we would travel using unemployment money. That was a lot of self investment. When you really put the work to it, you'll see a great outcome. Me being 21, I could have been spending that money on anything, but I used that for myself, I self invested, spoke up on my story.
If it wasn't for The Congress of Essential Workers and now ALU to make this change, I wouldn't be in the position I am in now. Chris put out his own money, Gerald was putting his own money, Derrick was working but still putting his money to travel to these states to speak out on the situation that Amazon was not speaking out on.
I know Seattle City Councillor Kshama Sawant; I've been working for her for three years doing this. I was supposed to meet her, but I never got the chance to until one of our press conferences. She actually flew out here and donated $20,000 to us. That felt great because I made that connection to this elected official, and they donated this money. That meant a lot to me, personally. As much work as we are putting in, people are actually watching and everyone is listening. The fight doesn't stop here.
Looking back to the founding of The Congress of Essential Workers and then to where the ALU is heading, it seems there's a long future ahead of this movement, and it's galvanizing all of organized labor. May Day demonstrations this year were the largest in 10 years, for instance. Do you think that's a testament to your work?
Jordan Flowers: If it wasn't for TCOEW, the ALU wouldn't be here. The people came together, and we speak for all workers now. There are workers in other companies that are scared to speak out, and the Congress is there and will help them. We're recruiting and building leaders now. We're going to speak for workers, and whoever wants to lead we're gonna be there and support them every step of the way.