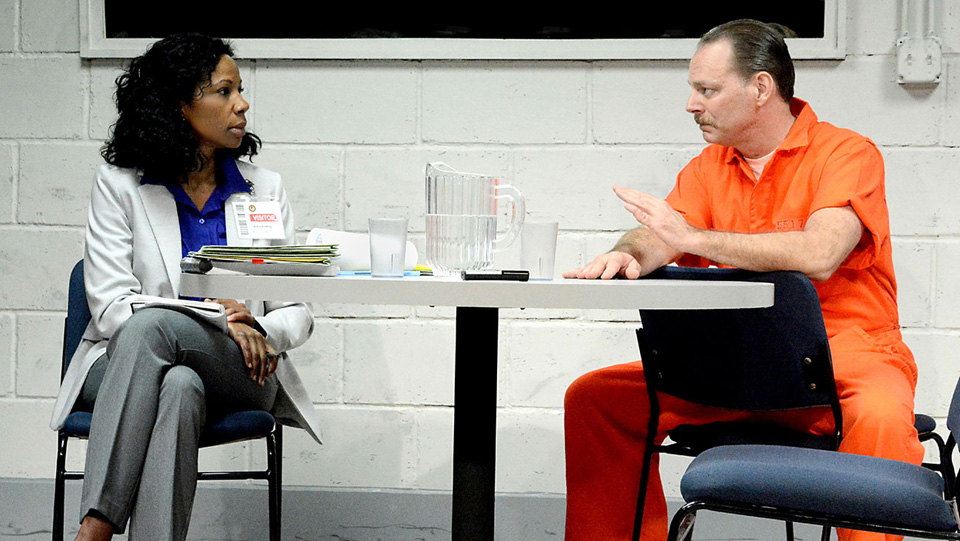 LOS ANGELES—"Donald Trump is not unusual or extraordinary," observed playwright Robert Schenkkan in a recent interview with BBC Newshour. "This is the playbook of authoritarianism. The question, of course, is not what Donald Trump will do. It's what we, as citizens, will do to respond."
Robert Schenkkan is the author of The Kentucky Cycle, winner of the Pulitzer Prize for Drama–the first play in Pulitzer history to win before its New York premiere. He has written and published fourteen other full-length plays. His play about LBJ, All The Way, premiered in 2012 and moved to Broadway in January 2013, winning two Tony Awards for Best Play and Best Actor. The Great Society, a sequel to All The Way, premiered in July 2013. Schenkkan co-wrote the feature films The Quiet American and Hacksaw Ridge, which was recently nominated for six Academy Awards, including Best Picture.
Schenkkan's newest play is Building the Wall, written in direct response to the immigration policies of the Trump administration. It opened last weekend at the Fountain Theatre here, the first in a series of productions set to take place at theaters across the U.S. as part of a National New Play Network Rolling World Premiere.
It is 2019, and we find ourselves for 80 minutes in a spare prison meeting room furnished with only a table, a couple of chairs, and a pitcher of drinking water. The Trump administration has fulfilled his campaign promise to round up and detain millions of immigrants. Gloria (Judith Moreland), a Black writer and historian, interviews Rick (Bo Foxworth), the former supervisor of a private prison in Texas, who has been convicted of carrying policy directives out to a horrific, dystopian, yet inevitable conclusion. Gloria seeks to understand that moment of change that sent history off into another direction.
In the immortal words of novelist Sinclair Lewis, whose 1935 book was translated to the stage the following year, It Can't Happen Here. Of course, in 1935 even Sinclair Lewis could not imagine the depths to which humanity could sink within the next decade.
"This is an urgent cry of warning from a leading voice in the American theater," says Fountain co-artistic director Stephen Sachs. "It's an opportunity for the Fountain to make its voice heard through our art. This project is more than a play. It's already ignited a national firestorm with theaters across the country signing up to produce it."
Director Michael Michetti keeps his cast of two on a short leash. Gloria is a no-nonsense professional who won't waste her time on any further BS from Rick such as the slimy defense his lawyers put up for him in court, but allows him the space to tell his story if he wants the world to know it. She does reveal important personal details that define her own life, but mostly she devotes her attention to him. What she is able to extract, painstakingly and suspensefully, is nothing less than the gradual education and indoctrination of an American fascist, a more or less lumpen casual worker with little education who rises to ever greater positions of authority as he proves his willing complicity.
The point is made and remade that profit and greed are the motivators in this privately contracted prison system: With the Trump election, stock in private prisons has skyrocketed. And also that, unsurprisingly, it's the little guys at the bottom who take the fall, not the prison owners and officers. No wonder the directives to tighten the noose were always made orally in person, never in traceable writing or electronic form. When Rick called for help and more resources from the corporation, more medical staff and facilities, he was simply told, "Figure it out."
Gloria barely ever gets up from her chair. It's a small interrogation room, and neither does Rick stray far from his seat. His bravura acting comes mostly in the reluctant narrative that Gloria pulls out of him. She has the trial record in front of her and knows where she is going with this; and so does he. It's for us to witness how a relatively guileless man could be turned into a monster under the right conditions, and to learn just how far this tale unravels. After all, Rick believed, he may have compromised himself, but "You were either with the American government and people or against them."
The relatively static staging makes me think that aside from the other scheduled world premiere productions of this play (the Curious Theater in Denver, the Forum Theater in Silver Spring, Md., the Borderlands Theater in Tucson, Ariz., and the Adobe Rose Theater in Santa Fe, N.M.), other community groups could well sponsor staged readings in order to get this warning out more widely.
It's not necessary to accept that Nazi-like death camps are right around the corner. The point is to consider what small roles faceless, nameless people are performing every day that construct a mass mentality of indifference to suffering. That is the "wall" in this play, not so much a physical structure along the Mexican border, but an impermeable barrier between human beings that blocks all empathy. "What we built was so much more effective," says Rick, "because who would want to come here now?"
"Audiences can expect to be very rattled by this play," notes Michetti. "Robert lays out a clear path of where we could all too easily end up if we don't change course. But the idea is not for people to go home depressed. It's a call to action. We've got to stop this from happening. We need to step up and exercise our rights as citizens to create positive change."
The team for Building the Wall includes set designer Se Hyun Oh, lighting designer Elizabeth Harper, sound designer John Nobori and costume designer Naila Aladdin Sanders.
It's a rough-going 80 minutes but well worth the investment if it leads to greater effort to dismantle the incipient apparatus of fascism in America. The Fountain supplied stamped postcards addressed to the president for audience members to communicate their views.
See it while you can.
Building the Wall plays through May 21 on Sat. at 8 pm, Sun. at 2 pm, and Mon. at 8 pm, at the Fountain Theatre, 5060 Fountain Ave. (at Normandie), Los Angeles 90029. For further information and tickets: (323) 663-1525 or www.FountainTheatre.com. Every Monday night is pay-what-you-can.