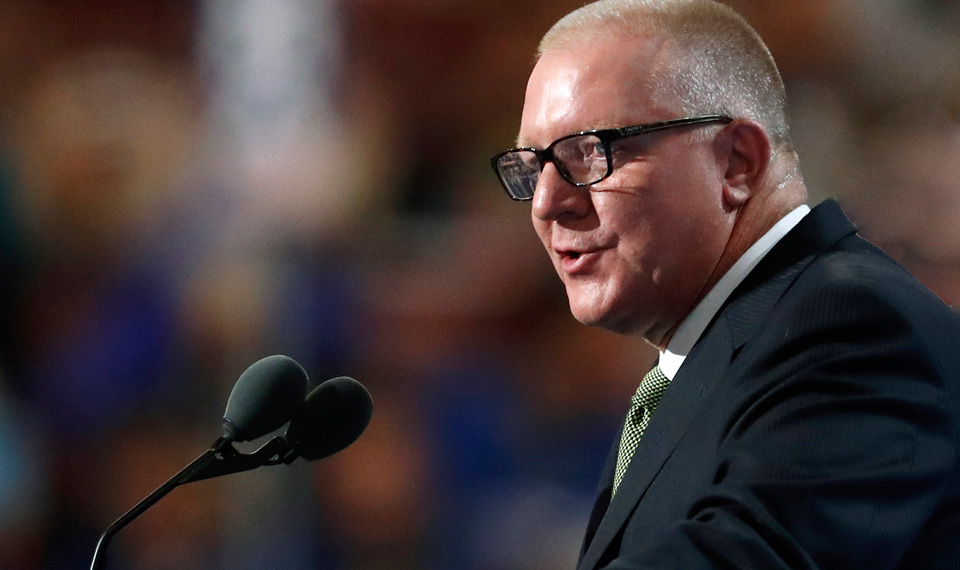 WASHINGTON—Building Trades Unions President Sean McGarvey heavily pushed political contrasts in his keynote address to the 3,000 delegates of construction unions' legislative conference, with powerful praise of pro-worker Democratic President Joe Biden and his administration and big blasts at his GOP predecessor, including that man's "attempted coup" on Jan. 6, 2021.
Opinion polls show McGarvey has reason to highlight such contrasts: Off-year elections often are referendums on the incumbent president. They also depend on motivating supporters to vote, and many workers and their allies, worried about inflation and gas prices, rather than creating jobs and beating the coronavirus pandemic, feel let down by the Biden administration, at least right now, despite excellent jobs numbers.
The weighted average of polls at 538.com gives Biden a 41.2% approval rating and 53.1% disapproval. On Inauguration Day in 2021, Biden led the comparison, 53%-36%. He slowly slid until late August, when the withdrawal from Afghanistan sent his ratings plummeting—and Democratic gloom up.
This means McGarvey, AFL-CIO President Liz Shuler, Biden Commerce Secretary Gina Raimondo, and House Speaker Nancy Pelosi, D-Calif., had a selling job to do—to get the delegates, when they go home, to rev up their members to turn out for pro-worker nominees this fall, despite lies and GOP voter repression.
McGarvey's biggest pro-Biden selling point: The five-year $1.2 trillion Infrastructure And Jobs Act, approved last year, and which McGarvey says provides enormous opportunities for construction unions to train apprentices, provide well-paying jobs and recruit new members, and the administration's overall enormously pro-worker record.
And that act was bipartisan, the only GOP speaker at the April 5 conference, Alaska Sen. Lisa Murkowski, reminded delegates. The Alaskan, a bill negotiator, said its GOP backers overcame internal pressure demanding they refuse to work on it, much less vote for it.
"There were some who said it would contribute to inflation," she told the crowd. "Some said it was the Green New Deal all over again and others said, 'Oh, no, no, no, you can't support it. You're a Republican.'"
McGarvey said Biden's achievements also notably included the rescue of financially ailing multi-employer pension plans, which are common in the construction industry, among other sectors. The 2008 Wall Street-caused crash hammered them. A 2014 GOP rescue let pension trustees reduce current pensioners' and heirs' payouts.
This rescue, which McGarvey said is worth $86 billion, bans such cuts and centers on federal loan guarantees to plans that qualify by showing complete and detailed strategies on how to raise funds to get out of their holes. And while Sen. Sherrod Brown, D-Ohio, led the rescue legislatively, crafting, backing, and building trades lobbying were all bipartisan.
McGarvey's other pitch: Remember what the other party, especially former Oval Office occupant Donald Trump, schemed to do to workers, unions, and the U.S. Constitution with that White House denizen's coup try.
"When certain news outlets minimized civil unrest, when false claims undermined the election outcome, when it became apparent to us and the rest of the world that our so-called leader could not accept defeat, and the people had spoken and the votes were counted, and a serious coup attempt, for the first time in our history, began to be rolled out….You were not fooled," McGarvey told the crowd. "And it did not end on January 6th.
"You stood up for what was right. The building trades have been in the political arena for well over 100 years," he said. "We know the process is sacred. And we always do our part to ensure all casted ballots are counted, no matter the outcome, so that America remains a democracy."
He also pulled no punches about Trump's anti-labor record, without mentioning Trump addressed the 2017 Building Trades conference in the same D.C. hotel ballroom. Trump pledged to enact infrastructure legislation, using his background as a developer.
Trump didn't. Biden did, McGarvey said. And construction union members and families can claim the credit for "the critical votes" that elected Biden and Vice President Kamala Harris. Both, he said, are "forward-thinking leaders" who kept their promises.
"And let me make one thing clear: North America's Building Trades members and their families support democracy, full stop," he declared, to applause.
McGarvey brought in the war in Ukraine but incorrectly hinted that Putin's Russia is similar to what the Soviet Union was in years past.  McGarvey said; "But now workers and their allies must fight current political polarization…fueled by misinformation, much of it emanating from the very same thug who attacked Ukraine. We cannot allow Putin or his American comrades to detract Americans from the truth." McGarvey did not identify those pro-Putin backers who he described as "American comrades."
"We knew Joe Biden would be the true president of the working people, and he is…Their actions have matched their words" in everything from jobless benefits during the coronavirus-caused depression to the child care tax credit to the pension relief, he said of the administration.
"The former administration tried to cripple Davis-Bacon," the nation's 91-year-old prevailing wage law. "They tried to kneecap registered (union) apprenticeships. They had the most anti-union NLRB General Counsel"—the board's top enforcement officer and staffer—"in history. They tried to devastate our ability to achieve Project Labor Agreements" on federally funded construction "and (to) upend collective bargaining in the construction industry."
"Biden fired that NLRB General Counsel," McGarvey said, to cheers and whistles. "And when he tried to place his deputy in the General Counsel position, Biden fired her, too."