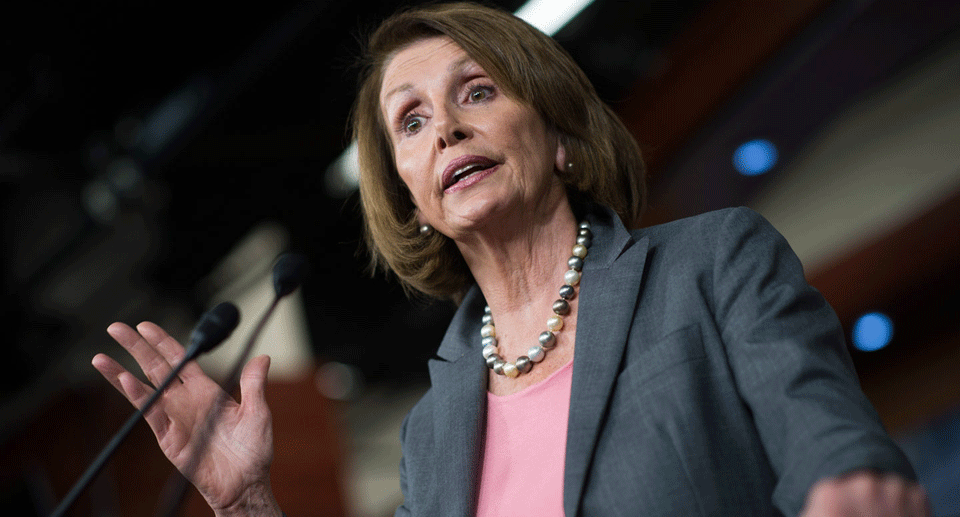 WASHINGTON— Seeking to bridge a gap between construction workers and environmentalists, House Speaker Nancy Pelosi keynoted a parade of political speakers who marched to the podium on April 9 to address the 3,000 delegates to the legislative conference of North America's Building Trades Unions – the old AFL-CIO Building and Construction Trades Department. One-third of the nation's building trades workers now toil on building or rebuilding the nation's energy infrastructure of electric grids, pipelines, and utilities, according to a conference speaker, and these workers and their unions have real concerns about their jobs.
Pelosi followed NABTU President Sean McGarvey, who made plain the construction unions' deep unease with what he fears would be a key outcome of the "Green New Deal" — killing energy construction projects. For McGarvey, killing energy construction projects means killing high-paying jobs of union construction workers. McGarvey's comments highlight a real challenge to building a consensus within the labor movement in support of the concept of the Green New Deal.
McGarvey praised the new Democratic-run House for turning its attention to electoral reform, and for a commitment to infrastructure: "What we need is a real deal that strengthens our economy," preferably by investing at least $1 trillion in infrastructure, McGarvey said. Congress keeps talking about it, but doesn't do it, he added. McGarvey's concerns reflect a common misperception about the Green New Deal, which does, in fact, include provisions for a massive infrastructure rebuilding.
The environmentalists and their congressional allies, led by Rep. Alexandria Ocasio-Cortez, D-N.Y., a Democratic Socialist, and Sen. Edward Markey, D-Mass., a longtime champion, say oil and coal, in particular, produce the greenhouse gas emissions which lead to global warming and its threat to the Earth.
They have union allies, too, led by the Steelworkers, National Nurses United and transit unions. All argue that retrofitting the nation's schools, public buildings, houses, and plants to be energy-efficient will provide building trades jobs, too, they add.
Urging such a massive investment was one of the top lobbying causes the delegates carried to Capitol Hill this week. Another is preserving Project Labor Agreements and the Davis-Bacon Act's prevailing wage protections on federally funded construction. The last two have been longtime targets of the GOP and anti-worker, anti-union construction contractors.
Delegates also lobbied lawmakers to solve the financial problems of troubled multi-employer pension plans – which affect construction workers, shipbuilding workers, meatpacking plant workers, grocery workers, and miners, among others. Congress has repeatedly kicked the can down the road on the issue.
Pelosi started by reminding the delegates that in her first stint as Speaker, from 2007-2011, doing something about climate change was one of her top priorities and that labor and the environmentalists joined together to achieve that goal.
And Pelosi made the point that regardless of the outcome, unionists will have a big share of coming job creation, as far as she's concerned. "America's middle class has a union label on it," Pelosi declared. She also set a goal of "at least $1 trillion" infrastructure spending (her emphasis).
That means federal spending, she added, since states and cities can only scramble to patch crumbling roads, creaky railroads, and buckling bridges. As one other speaker noted, that's "like putting a Band-Aid on an open wound."
Then, still seeking to bring all parties together, Pelosi declared "I think we should have a Green Ideal – rebuilding the infrastructure in the best way."
"We've had conversations" with construction union leaders, as well as others, "about that," she added without elaborating. She did not take questions afterwards.
Potential ways to create a "Green Ideal" – McGarvey called it "the real deal" when Pelosi turned to him to check during her speech – include improving mass transit and constructing facilities to boost U.S. energy exports, Pelosi said. "The point is jobs, jobs, jobs, jobs."
"If we invested in energy efficiency alone – just retrofitting public schools and industrial buildings – it would create millions of jobs and would prioritize communities and promote the middle class," McGarvey said.
Besides Pelosi, other speakers included new Gov. J.B. Pritzker, D-Ill., who got a big roar as he approached the podium to talk about his pro-worker initiatives in the Land of Lincoln, Catholic Rev. Cletus Kiley – chaplain of the Chicago Federation of Labor and a top Unite Here official – AFL-CIO Secretary-Treasurer Liz Shuler and Reps. Fitzpatrick and Abby Finkenauer, D-Iowa. All received hearty applause.
It was Kiley's second consecutive invocation at NABTU. He used it, among other things, to promote the right to organize, by quoting Pope Francis on the importance of unions and denounce so-called right to work bills and "political leaders who make things up" and make living hard for workers.
Shuler, an Electrical Worker, urged Congress and the Trump administration to "Let's get in a room and get it done!" on infrastructure. The building trades, unlike Trump – who wants to turn over much of the financing and responsibility to so-called "private-public partnerships" — are campaigning for federal financing of the projects.
Finkenauer, a first-year U.S. representative and daughter of a Plumber, jokingly called herself "the other 29-year-old in the House of Representatives." Finkenauer keeps her retired father's outer protective jacket – full of holes from where his blowtorch's backfires burned through – as a reminder of who she represents and where she comes from.
"Now, in Iowa, when you're a Democrat, you're a labor Democrat," she said, adding union – and building trades — commitment helped her defeat a multimillionaire GOP foe in a district that stretches from Dubuque and Cedar Rapids to the Minnesota border. She won by 4.9%.
The sole Republican in the NABTU lineup, Trump's Labor Secretary Alex Acosta, received polite applause, and endorsed infrastructure construction, without mentioning Trump's private-public scheme.
Acosta spent much of his speech touting increased enforcement figures in terms of fines, but without mentioning Occupational Safety and Health Administration inspections – or the administration's efforts to promote "compliance assistance" at OSHA and elsewhere at DOL That lets cut-rate construction contractors off the hook.
Acosta got one ovation though, prompted by flashing of the hotel ballroom's lights. "I said it in the Senate committee and I'll say it here: Infrastructure (legislation) will include Davis-Bacon." After the applause died down, he quipped, "I thought that'd get your attention."