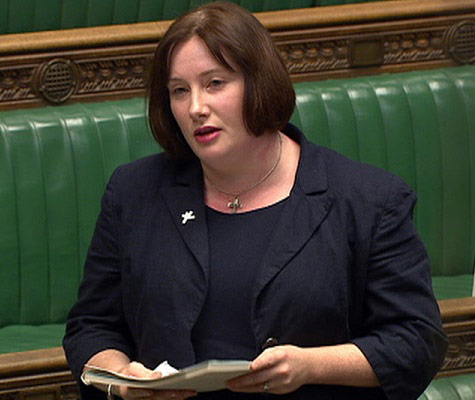 LONDON — Families have been forced to bury loved ones in their back gardens amid an upsurge in "paupers' funerals" caused by rising costs and grant cuts, a Labour MP warned yesterday.
Emma Lewell-Buck told Parliament that people are holding "do-it-yourself funerals" because of an 80 per cent rise in fees over the past decade.
The average cost of a dignified send-off has soared from £1,920 [$3000] to £3,551 [$5600] – and government grants called "funeral payments" now cover less than a third of the bill.
The South Shields MP said one constituent sought help when she fell behind on repayments for a payday loan that she took out to cover the cost of her brother's headstone.
"Sadly her story is not an isolated one," said Ms Lewell-Buck.
"As well as rising debts, we are also seeing people turn to alternatives to the traditional funeral.
"Some people are holding do-it-yourself funerals, and even burying relatives in their back garden."
A fifth of families bereaved each year – 110,000 of 500,000 – struggle with funeral debts, according to the Royal London Funeral Index.
The Down to Earth funeral poverty campaign group said yesterday that 30,000 applicants are turned down for government support each year.
James, a former Down to Earth client, explained how he was initially turned down for a grant when his wife lost her battle with cancer.
"I had been left with four school-age children and, because I'd been my wife's main care giver and had to give up work, our savings were almost all gone," he said.
"I appealed and eventually after six months I was awarded £1,650 [$2600] to help clear the debt I've been left with.
"I've still been left with a hefty debt which I'm paying off at £12.50 [$20] a week."
Ms. Lewell-Buck's Funeral Services Bill calls for the government to establish standards for a "simple funeral" which all directors must offer.
It also calls on the government to carry out a national review of funeral affordability.
The MP asked for the 10-minute rule Bill to have a second reading on January 23. It is unlikely to be passed without government support.
A Department for Work and Pensions spokesman said its average funeral payment is £1,225 [$1900], which has risen by more than 30 per cent over the past decade. The amount paid for funeral directors' fees is capped at £700 [$1000].
Awards for funeral payments are dependent upon individual circumstances but are available to those on low income and recipients of universal credit, income support, employment and support allowance, jobseeker's allowance, pension credit, child and working tax credits or housing benefit.
"They cover the cost of a simple, respectful funeral and include the full costs of a burial and purchasing a plot or a cremation," he said
Photo: Emma Lewell-Buck MP