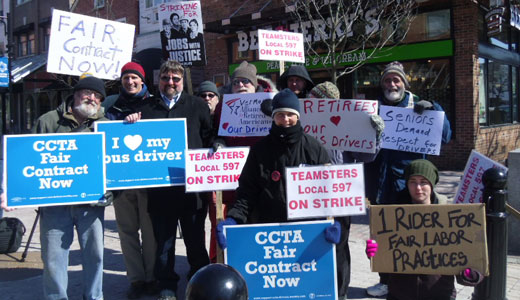 BURLINGTON, Vt. – As public transit ridership continues to reach ever higher user levels, Chittenden County Transportation Authority (CCTA) has opted to cripple a community by refusing to bargain in good faith with its bus route drivers. The drivers, all members of International Brotherhood of Teamsters, local 597, struck Mar. 17 after working without a contract since June, 2013.
While the company and the 13-person Board of Commissioners stall contract talks, workers are left without a ride to work, students are left without a ride to school, seniors are left at home without access to meals, medical treatment and social activities and drivers are left out in the cold.
In the press, CCTA is portraying the drivers as greedy. While the drivers are indeed trying to negotiate a modest pay increase, the union has repeatedly stated that the primary reason for the strike is the increasing driver intimidation and arbitrary disciplinary harassment by management. They finally struck after experiencing months of unwillingness by CCTA to address any of these work condition issues.
Drivers were instructed not to use the rest room facilities located in a management break area along a popular route, and are also forbidden from scheduling their own rest room breaks.
Another concern of both the drivers and community is how CCTA will grow as ridership continues to expand. CCTA management wants to increase the use of part time workers, reducing the availability of family-supporting jobs to the people of Vermont.
The use of "spread" or "split" shifts to withhold pay due to workers is another bone of contention. A worker is expected to arrive at his or her station prepared to service a route for several hours. He or she is then forced to take an extended break and then return to work later in the day to finish the shift. During this extended break in service the driver is not paid. Going home to relax is not an option, however. If a driver lives 20 miles out of the area, for example, Vermont winter weather could make it impossible to return to work on time.
The time that can lapse from the beginning of the first part of the shift to the end of the second part is 12.5 hours, making for what amounts to a long day for anyone assigned to such a split shift.
Both the drivers and CCTA agree the 12.5 hour spread is unreasonable but not for the same reasons. CCTA actually says it's not a long-enough spread and is seeking to extend the spread by another hour to make the workday 13.5 hours long. The CCTA position flies in the face of national safety standards concerning driver fatigue, and destroys drivers' family life.
Federal regulations for maximum time allowed behind the wheel don't apply to municipal transit, so the terms of the contract are the only way limit to unsafe spread times. Drivers contend that the sheer exhaustion resulting from a 13.5 hour workdays will lead to unsafe conditions with more fatigued and overworked drivers on the road.
The CCTA drivers are standing against these trends, and the local community is responding in support to prevent CCTA from destroying good full-time work, to limit unsafe spread time, and reverse the deteriorating working conditions.
The Vermont Central Labor Council (AFL CIO), UE Local 597, Vermont Federation of Nurses and Health Professionals, Vermont State Employees' Association, Faculty Union of the University of Vermont, Champlain Valley Teacher Leaders, and the Vermont-National Education Association have all expressed solidarity and issued statements calling upon the CCTA Board of Commissioners to bargain in good faith.
Among local elected officials, the Vermont Progressive Party is taking action, while thus far the Democrats have been silent. On the very first day of the strike, Progressive City Councilors Vince Brennan, Rachel Siegel, Max Tracy, and Progressive Councilor-elect Selene Colburn issued an open letter to CCTA management in support of the bus drivers.
Rep. Susan Hatch Davis (P – Orange County), who is co-chair of the Legislative Working Vermonters Caucus, wrote to CCTA General Manager Bill Watterson: "Vermont needs more full time workers who can support families without having to juggle multiple jobs, not more part-time workers without benefits." She also called on management, "to deliver a fair contract that improves public safety and working conditions."
In a near-unanimous vote, Burlington school board members voted to stand with the drivers in their efforts, rather than to hire non-union workers during the strike. And Burlington high school students have delivered a petition to City Council in support of the drivers. In one day they amassed 500 signatures – almost half the student body. Later, more than 70 students joined the drivers on the picket line.
Jane Osgatharp, president of the Vermont Alliance for Retired Americans,sent a strong message to CCTA. In her press release, Osgatharp denounced CCTA management and the Board of Commissioners alike. Vermont Alliance for Retired Americans members may need more transportation services than other Burlington residents, but for now they are willing to support the picket line. Several members braved the cold to stand with the drivers at the beginning of their second week on strike.
The CCTA Drivers' have a support site at: http://support-ccta-drivers.weebly.com/
Photo: Jennifer Kenny/PW