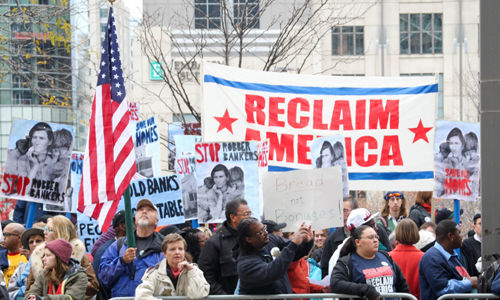 Included in the new defense law signed by President Obama on Oct. 29 is a provision that ends, by 2012, the anti-labor "National Security Personnel System" started by President Bush.
Under the NSPS more than 100,000 workers at the Department of Defense lost traditional civil service pay and protections, including the right to unionize. The new law signed by Obama, restores all of those protections.
The fight to restore those rights was led by both the Government Employees and the Machinists, both of which praised the new law.
The teachers unions, women's groups and lesbian, gay, bisexual and transgender groups praised the signing of the new law for yet another reason, however. Another section of the law expands federal hate crimes to include crimes against people for their sexual orientation and it expands federal and state ability to prosecute for those crimes.
"NSPS, created in a poisonous atmosphere by idealogues seeking to destroy collective bargaining, federal unions and employee rights and protections, has been proven through Government Accountability Office studies and by DOD's own reviews to be opaque, obscure and discriminatory," said American Federation of Government Employees President John Gage.
In addition to striking down right-wing policies and laws, labor and progressive forces are coming closer to winning some new laws, particularly in the area of financial reform.
As 5,000 union members and their allies marched through Chicago last week, demanding tough regulation of the finance industry, there were clear signs that Washington lawmakers have been forced to listen.
Rep. Barney Fran, D-Mass., chair of the House Financial Services Committee, unveiled a package of consumer-oriented bank regulation laws, over fierce republican and Chamber of Commerce opposition.
The measures passed by Frank's committee include one that speeds up already enacted laws curbing what credit companies can charge and measures that regulate the trading off the entire range of financial instruments on the market, including hedge funds and derivatives.
The unionists on the march last week at the conference of the American Bankers Association were led by AFL-CIO President Richard Trumka, Change To Win Chair Anna Burger and SEIU President Andrew Stern.
Burger sent a letter to Frank urging his committee to reject weakening amendments pushed by Republicans, banks and the Chamber of Commerce.
Frank's committee passed HR 3818 on Oct. 27. The bill regulates private investment advisers, including hedge fund traders.
During debate the Republicans tried hard to weaken the bill but for the final vote they were fearful of being seen as supporters of the finance industry. The measure sailed through the committee, therefore, on a vote of 67-1.
"HR 3813 will force many more financial providers to register with the Securities and Exchange Commission," said sponsoring Rep. Paul Kanjorski, D-Pa. "The past year has shown that the deregulation or in many cases, lack of regulation, of financial firms is an idea of the past. Advisers to financial firms must receive government oversight and we must understand the assets of financial firms, including hedge funds, private equity funds, and other private pools of capital. Under this legislation, private investment funds would be subject to more scrutiny by the SEC and take more responsibility for their actions."
Frank and Kajorski said the bill requires all types of financial advisers to register and submit their records, including sources of their capital to the SEC, making it easier to regulate them and to identify areas of investment that need special attention due to potential impact on the entire financial system.
"This will give regulators the information needed to evaluate both individual firms and entire market segments that have until this time largely escaped any meaningful regulation, without posing undue burdens on those industries," a committee statement read.