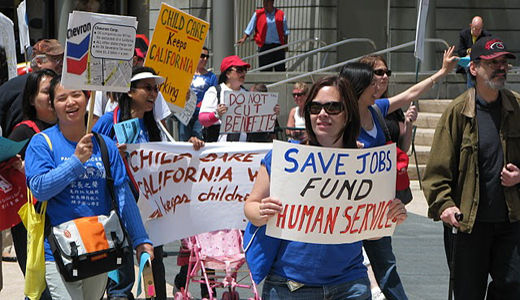 As the November elections get closer Republicans have another reason to worry.
Democrats are warning that if the GOP uses a scheduled September vote in the Senate to try to continue the Bush tax cuts for the rich that are set to expire, it will pay the consequences in the elections.
"If you can't get it out of the Senate, then you take it to the election," Rep. Chris Van Hollen, D., Md., told the Wall Street Journal today, July 26.
"You say to the American people that Republicans want to continue to hold middle-class tax relief hostage for an extension of tax breaks for the rich. That will be the debate."
Even Treasury Secretary Tim Geithner, not particularly known for taking an aggressive approach to eliminating the privileges of the well-to-do, is pushing for an end to the Bush tax cuts.
In two different TV news appearances this weekend, Geithner said that allowing tax cuts to expire for those who make $250,000 a year or more would affect only two to three percent of all Americans.
He dismissed concerns that such a move could push the economy back into deeper recession and argued that it would demonstrate America's commitment to addressing its trillion-dollar-budget deficit."
Progressives have attacked Republicans for holding up an extension of jobless benefits that costs $35 billion while supporting a tax cut for the rich that adds hundreds of billions of dollars to the deficit each year.
The revenue from ending the Bush tax cuts could alleviate pressure the recession has put on the nation's municipalities. The New York Times reported this weekend that cities and towns, desperate for tax revenue, are resorting to extreme measures.
Dayton, Ohio, Grafton, Ill., and Beatrice, Neb., are among many towns that are actually giving away land at no cost in the hope that it will boost tax rolls.
Towns all across the nation have stopped cutting grass in public locations and on city streets.
In Boca Raton, Fla., the city council is debating proposals to expand the city's size and annex neighborhoods in order to enlarge the tax base.
Manchester, N.H., and Concord, Mass., are studying a proposal to begin taxing non-profit organizations that have long been tax-exempt.
States, in their desperation to make up for a lack of tax dollars, have, in addition to slashing basic services, actually enacted cuts that observers describe as almost totally absurd.
Tax collectors laid off in California, for example, would have earned the state an estimated seven times what they cost in salary.
New Jersey and six other states canceled funds to help people quit smoking, despite the fact that tobacco-related illnesses in New Jersey alone cost $4.7 billion a year.
Photo: Ending the Bush tax cuts for the rich would help state's avoid budget cuts. (Marilyn Bechtel/PW)