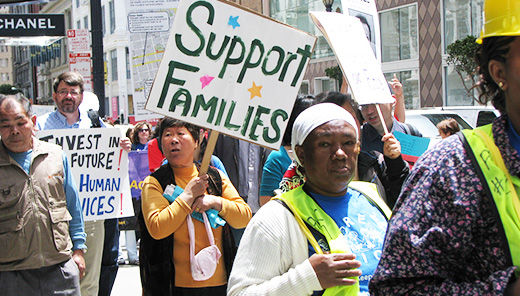 As Labor Day approaches, business groups are throwing big money into ad campaigns to undermine pro-labor candidates. Thehill.com reports that the National Federation of Independent Business and Associated Builders and Contractors are targeting "Senate Majority Leader Harry Reid (D-Nev.), Sen. Michael Bennet (D-Colo.), Rep. Paul Hodes, the Democrat running for Senate in New Hampshire, and Kentucky Senate Democratic candidate Jack Conway in their states over their records on labor-related issues."
Democratic support for the Employee Free Choice Act is a key point in the negative ads to be aired during the Labor Day holiday.
The U.S. Chamber of Commerce is in the vanguard of big business efforts, already spending some $2.6 million on the fall campaign, and has pledged to spend $75 million before November.
The labor movement and other forces in the democratic coalition plan a massive get-out-the-vote campaign as well, targeting some 400 contests.
The AFL-CIO is working on the shop floor as well as in communities, according to federation President Richard Trumka. AFL-CIO Executive Vice President Arlene Holt-Baker also announced the labor federation's support for the Oct. 2 One Nation Working Together jobs rally.
NAACP leader Benjamin Jealous said that already 6,000 buses have been reserved for the event.
A Gallup poll recently showed a generic GOP advantage in voter preference, with independents giving right-wing candidates an advantage. Public opinions polls have gone back and forth over the summer.
President Obama is set to appear with Trumka at a Wisconsin Labor Day rally on Monday. The president recently lambasted House Republicans for blocking a jobs bill aimed at assisting small business.
The AFL-CIO is planning a half-million-dollar ad buy Labor Day weekend to kick off its fall drive.
House Republicans, underlining their anti-worker program, have announced that if they are successful in winning a House majority, their first act would be to extend tax cuts for the rich.
Photo: PW/Marilyn Bechtel