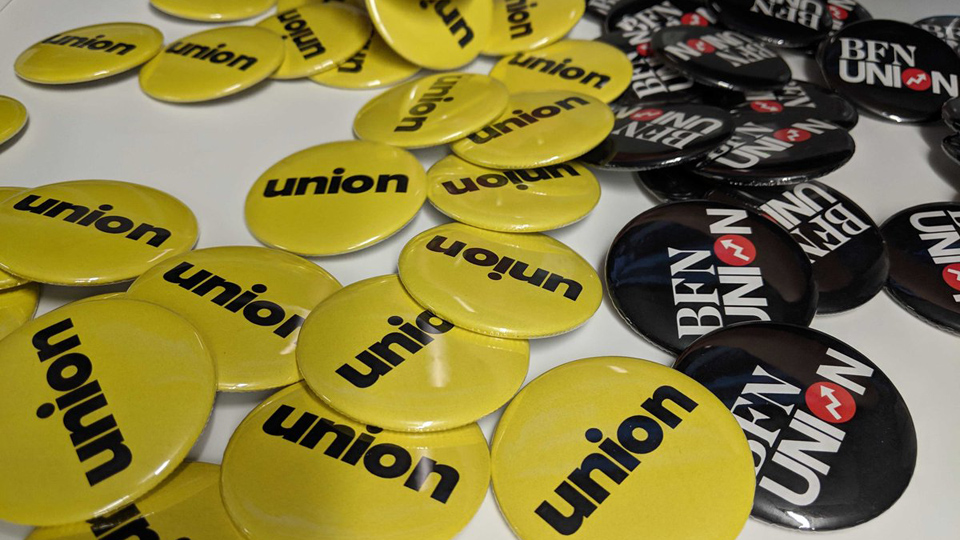 This article won a second place Saul Miller Award in the Organizing category at the 2020 Labor Media Awards, presented by the International Labor Communications Association.
There has been much talk around what the age of new digital media means for the future of news reporting and print publications. The internet media, news, and entertainment company Buzzfeed has been at the center of this discussion, as it is a popular news and pop culture site that often caters to those belonging to the millennial age group. Yet a bout of recent layoffs and fights for proper compensation by the employees of Buzzfeed has led to workers on the job there voting to unionize, showing that new school media still requires the "old school" protection of workers' rights on the job.
This past January Buzzfeed laid off 15 percent of its workforce. A little over 200 employees were let go. This was in the midst of other layoffs happening at digital media companies such as, Verizon Media Group, which includes Yahoo, AOL, and HuffPost, that eliminated 800 positions. Buzzfeed CEO Jonah Peretti made the decision to lay off workers despite the company's revenue gain of more than 15 percent in 2018. At the time of the layoffs Peretti stated, "Unfortunately, revenue growth by itself isn't enough to be successful in the long run." It would appear that the employees of Buzzfeed are pushing back against by making demands for job stability and proper compensation.
Initially, after the layoffs in January, BuzzFeed refused to pay out earned Paid Time Off (PTO) for almost all the United States employees who had been fired. This led 600 of them to sign an open letter urging management to give laid off workers the PTO earned. The public letter and pressure resulted in the company agreeing to pay the earned and unused PTO to the laid off employees. Now, the current employees are taking their initial victory one step further in unionizing their workplace.
NewsGuild of New York, the union with which BuzzFeed workers are organizing, announced that more than 90 percent of "eligible editorial employees" signed on to unionize. The NewsGuild of New York also represents the Los Angeles Times, New York Times, and The Daily Beast. Shortly after the announcement, the organizing committee of Buzzfeed workers issued a statement entitled, "BuzzFeed News Is Unionizing And Honestly It's About Damn Time."
The statement noted, "BuzzFeed News is a critical player in the American news landscape thanks to our tireless staff… it's not all fun and memes. Our staff has been organizing for several months, and we have legitimate grievances about unfair pay disparities, mismanaged pivots and layoffs, weak benefits, skyrocketing health insurance costs, diversity, and more." The statement also listed some of the workers' demands, such as "a contract that guarantees paid time off is actually paid. We demand an agreement that requires due process for termination, a diverse newsroom, reasonable severance amid layoffs, a competitive 401(k), rights to our creative works, and affordable health insurance."
This would not be the first time Buzzfeed employees have tried to unionize. This was noted in the organizing committee's statement, explaining that employees had been meeting "for years," and after BuzzFeed laid off video staffers and their podcast team last fall, their efforts "ramped up."
CEO Jonah Peretti's anti-union sentiment for Buzzfeed became public in 2015 when his speech at a company staff meeting was leaked. Peretti stated that he thought "unions have had a positive impact on a lot of places, like if you're working on an assembly line," but that unions "wouldn't be very good for employees at BuzzFeed — particularly people who are writers and reporters, because the [compensation] for writers and reporters" is "much less favorable than [compensation] for startup companies and tech companies."
The organizers for Buzzfeed employees have stated that if the company does not recognize the union, they will hold an election with a National Labor Relations Board official present to facilitate a secret ballot.
Since the beginning of this year alone, there have been major cuts in the news media industry, with a reported 2,200 people losing their jobs. A 2018 Pew Research Center report noted that a total of 5,000 media jobs left the market between the years 2014 and 2017. It is clearly a tumultuous time for those that work in journalism, and it's clear that workers in this sector, including the new digital arena, see the benefits of having union representation.
A recent Harvard Business Review report detailed how 30 digital news sites and newspapers have recognized unions since 2015, and that unionized workers in internet publishing have grown 20-fold since 2010. This shows that no matter the terrain, virtual or non-virtual, concrete, and tangible fair working conditions still lie with unionizing.