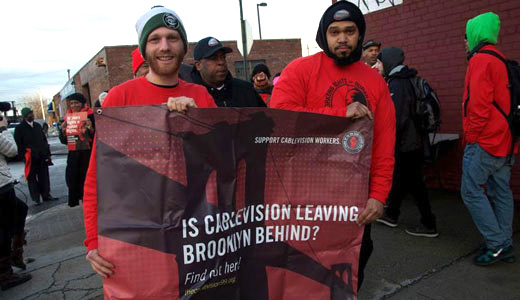 It's been more than three years since Brooklyn Cablevision technicians stood together and voted to unionize. But Cablevision still won't agree to a contract that recognizes their hard work and treats them with basic dignity and respect.
In honor of Labor Day, the workers released a new music video, called "Strike."
You can view it here:
Nearly 300 Brooklyn Cablevision technicians voted to become the first union workers at the company. Instead of the company negotiating in good faith to provide the workers with a fair contract, it has run an intense anti-union campaign.
A trial on the National Labor Relations Board's sweeping accusations of Cablevision's illegal labor conduct – in the Bronx and in Brooklyn – took place between September and December of last year. Cablevision and its CEO James Dolan have been charged with threatening and spying on workers, illegally firing 22 workers and bargaining in bad faith. An administrative law judge will rule on the case shortly.
The company has spent millions of dollars on executive compensation and union-busting attorneys – far more than it would take to settle a fair contract. It has also given illegal raises of $2 – $9 an hour – as much as $18,000 a year – to nearly 17,000 workers outside of Brooklyn to send an intimidating message about unionization. The Brooklyn workers continue without a contract and are paid less than their counterparts outside of Brooklyn.
Photo: Facebook page – Forum on Cablevision Labor Dispute with Congressional Democrats.