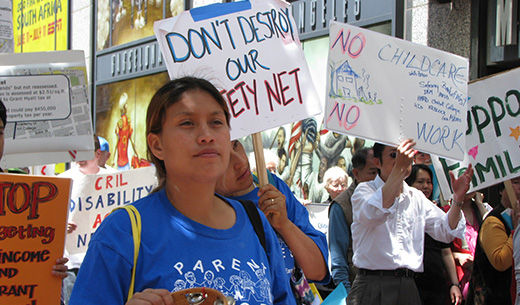 California Democratic legislative leaders have released a budget plan they say avoids the worst of Republican Governor Arnold Schwarzenegger's slash-and-burn cuts while potentially lowering total taxes for many individual taxpayers.
With the state budget more than a month overdue, California Senate President Pro Tem Darrell Steinberg, D-Sacramento, and Assembly Speaker John Perez, D-Los Angeles, released a conference committee budget proposal Aug. 3 to close a nearly $18 billion budget gap. It replaces earlier, somewhat divergent proposals offered by the Democratic Party majorities in the state Senate and Assembly.
The plan would:
protect over 430,000 private sector, local government and school jobs that would be eliminated under the governor's budget;
restore funding the governor seeks to cut, for child care, class size reduction and other programs;
fully fund community colleges and double the funding to retrain tens of thousands of unemployed Californians;
maintain adult day health care, mental health and other Medi-Cal (state Medicaid) programs Schwarzenegger seeks to slash or end, while restoring some public health and clinic funding the governor vetoed last year;
keep a bare-bones welfare-to-work program the governor seeks to end, and lessen his proposed cuts to In-Home Supportive Services for poor seniors and people with disabilities;
block the governor's attempt to shift billions of dollars in safety net responsibilities to local governments.
The proposal would also depend on achieving savings in collective bargaining with state worker unions.
California is the only state requiring a two-thirds legislative majority to pass a budget and to raise taxes. Though Democrats control both legislative houses, their majority falls short of that, and most Republican legislators have signed a no-new-taxes pledge.
In an effort to skirt those obstacles and still increase revenue, the Democrats would cut the state sales tax nearly in half while hiking state personal income taxes by 1 percent for all tax brackets except the highest, and raising the vehicle license fee. The conference committee claims an "average tax filer" making $60,000 per year would come out slightly ahead, and could deduct the state income tax and vehicle license fee when filing an itemized federal tax return.
The budget also includes an oil severance tax and delays previously scheduled corporate tax breaks.
Calling the proposal "a budget of necessity," Steinberg told reporters that while it includes some $8 billion in "painful cuts," including to education, it rejects Schwarzenegger's "gratuitous cuts that would devastate our economy, our people, and eliminate hundreds of thousands of jobs."
Responses have ranged from outright rejection to sharp questioning.
Gov. Schwarzenegger immediately declared the proposal "dead on arrival" and legislative Republicans defended his plan for devastating cuts.
California Budget Project head Jean Ross called the revenue plans "upside down," pointing out that less than 40 percent of California taxpayers – mostly higher-end taxpayers – itemize their federal returns.
The basic problem with the Democrats' plan "isn't its structure, which has some merit, but the fact that it is upside down," Ross wrote on californiabudgetbites.org. "A 'right side up' proposal would raise taxes at the top end" on taxpayers who are more likely to save part of their income, rather than targeting low- to middle-income people who spend what they earn, keeping money moving through local communities, she said.
Meanwhile, Schwarzenegger's latest scheme to force state workers to bear the brunt of the budget mess ran aground Aug. 9, when an Alameda Superior Court judge temporarily barred the governor from imposing new mandatory furloughs before a Sept. 13 court hearing.
And Controller John Chiang is warning that if a new budget isn't agreed, the state could run out of cash by October.
Photo: Marilyn Bechtel