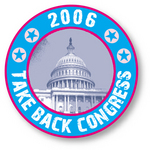 Two northern California Republican congressmen are increasingly vulnerable, with polls showing their Democratic challengers running neck-and-neck. President Bush visited their districts this week to bolster their sliding fortunes.
In the 4th Congressional District, running from the Sacramento suburbs through the Sierras to the Nevada and Oregon borders, incumbent John Doolittle and Democratic challenger Charlie Brown are in a statistical dead heat, according to a poll released last month by the Washington-based Benenson Strategy Group. In the 11th CD, largely in the Central Valley but with portions near the San Francisco Bay Area, a recent poll by the Defenders of Wildlife Action Fund found Democratic challenger Jerry McNerney leading Republican incumbent Richard Pombo by 48 percent to 46 percent. Republicans outnumber Democrats in both districts, and both incumbents have won previous elections handily.
Asked how he views the challengers' chances, state Democratic Party chairman and former state Senator Art Torres said in a telephone interview, "I wouldn't have said this a month ago, but today I can say, extremely positive." He added, "The fact the president is worried enough to come and help both Pombo and Doolittle is a good message for Democrats."
The migration of moderate and progressive Democratic voters into the two districts is part of the story. But so are the links of both Republican incumbents to the scandals whirling around convicted lobbyist Jack Abramoff, and rising concerns over the Iraq war. While Pombo backs the war, both Brown and McNerney advocate a timetable for gradual redeployment of U.S. troops from Iraq.
Sandra Carter, head of the San Joaquin-Calaveras Counties Central Labor Council, said she is "very confident" McNerney can defeat Pombo in the 11th CD. Besides walking precincts and phone-banking, she said, area unions are reaching out to workers on the job through their union stewards. She emphasized the importance of "talking to the worker next to you," or "standing in the grocery line, talking about how much food costs, getting them to go and vote." While Carter said Pombo is "very bad" on most issues, she called McNerney an "outstanding" candidate with a positive program.
"I think [the Republicans] are freaking out," said McNerney campaign spokesperson Rob Caughlin. He said the campaign knew, some weeks ago, that the Republicans were taking a poll. "When they didn't release the numbers, and then suddenly all this nasty mail and the radio ads started coming in, we figured we knew what the polls said," he added. "When we saw George Bush was coming, we said, these guys are really nervous."
Charlie Brown campaign spokesman Todd Stenhouse echoed Caughlin's views on Bush's visit. He, too, expressed optimism about Brown's chances, emphasizing that Doolittle's involvement in the Washington scandals contrasts sharply with Brown's positive program for meeting human needs, protecting the environment and overcoming corruption.
While Republican Gov. Arnold Schwarzenegger remains substantially ahead in the polls, Democratic challenger Phil Angelides' supporters are confident they can win. The important thing to notice, said Chloe Osmer, communications organizer for the California Labor Federation, is that Schwarzenegger's poll numbers have stayed stable at below 50 percent, despite $30 million in television ads and the publicity from elaborate bill-signing ceremonies. With the challenger's TV ads beginning in earnest, she said, "fully one-third of voters don't know Phil Angelides yet." Osmer noted that intensive labor-led campaigns reversed ominous-looking poll figures for anti-labor Prop. 75 in last year's special election, and in Angelides' own Democratic primary campaign last spring.