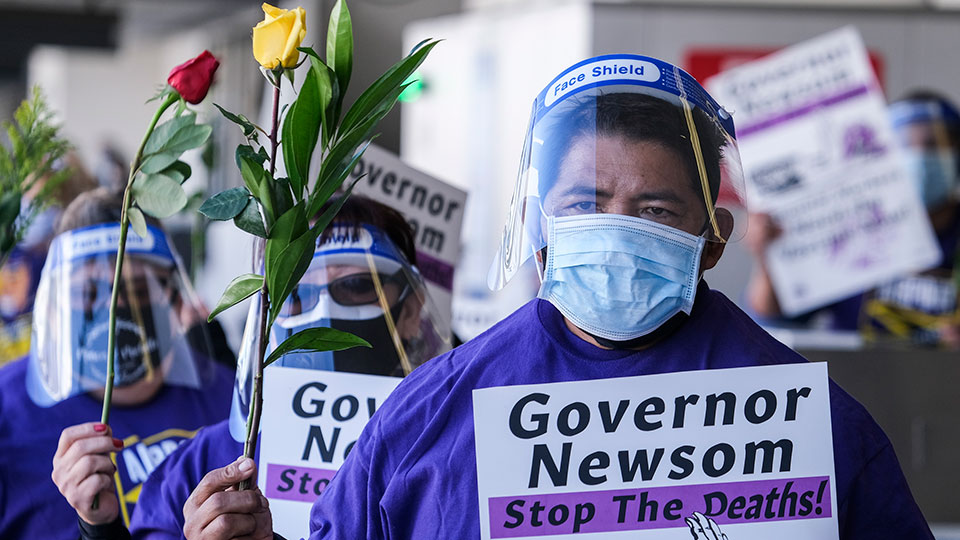 Essential workers, labor advocates, and legislators are joining together to urge the California legislature and Gov. Gavin Newsom to act immediately to expand emergency paid sick days and paid family and medical leave protection for workers in the state's 2021-2022 early action budget.
Both federal and California emergency paid sick leave mandates on employers expired Dec. 31, 2020, leaving many workers with inadequate or no leave for themselves if they become ill, or must care for sick family members.
At the same time, in industries that keep life going during the pandemic, essential workers in low-income jobs – many of them workers of color and immigrants—have borne the brunt of illness and death from COVID.
Participants in a Feb. 24 virtual press conference stressed that besides being an issue for worker justice, pandemic-related sick leave is vital to public health and can also be important for the survival of smaller businesses. And in a press release issued the same day, California labor leaders indicated their wholehearted support.
Assemblymember Wendy Carrillo, D-Los Angeles, told the press conference she represents a district "completely impacted" by COVID-19, with many low-income Californians of color mourning the loss of loved ones and having no option but to go to work sick, because they are essential workers living paycheck to paycheck.
"California needs to extend and expand sick leave protections, provide stability for working families who struggle to stay afloat," Carrillo said, "to prevent the spread of COVID-19 and ultimately to save lives—especially the lives of people like those I represent, whose race, immigration status and lack of car or internet connection, or lack of English literacy, can make them the least vaccinated among our communities."
She said she and her colleagues are proposing expanding paid sick leave to workers previously covered by Assembly Bill 1867, which expired Dec. 31, 2020, and extending it until Sept. 30, 2021. Their proposal would also ensure that workers can take paid sick leave no matter where they work and guarantee that a parent or primary caregiver gets paid sick leave to care for a family member or because their school or childcare center has closed.
"Unless we act, essential workers and other working Californians could have inadequate or no rights to paid sick leave," she said, noting that the ongoing statewide requirement of three days' paid leave is totally inadequate during the pandemic.
McDonald's worker Bartolome Perez, speaking in Spanish, illustrated the issues essential workers face every day. "Many of us, like those in fast food, face twin dilemmas—continuing to risk exposure to COVID-19 because of the nature of our jobs, and employers who fail to adequately protect us. When emergency paid sick leave protections ended, many workers like me were faced with a difficult choice: go to work sick or lose out on income our families need to survive."
A coworker came down with COVID on Dec. 16, he said, but his employer didn't inform Perez or his coworkers until Dec. 20, and Perez became ill the next day. "They waited four days because they didn't want to quarantine any of us…. And unfortunately, because so many of us live with families or are close to our families, we spread the illness. My wife, kids and grandkids all got sick as well." Fortunately, he said, all have survived the illness.
With employers choosing not to respond to the public health crisis in a way that keeps workers and their families safe, Perez said, workers need emergency paid protections because quarantining is one of the principal ways to combat the virus.
Assemblymember Lorena Gonzalez, D-San Diego, called the protections "necessary today…and not only for these workers. This is about the safety of our communities, and actually protecting small businesses."
Workers who don't have paid sick leave, "especially undocumented workers or workers who are very vulnerable, will go to work anyway if they're not feeling well," Gonzalez said. "They have to. Sometimes they have no safety net, or they're afraid to not be paid for a day of work, and not know where their rent will come from."
When a workplace outbreak occurs, she said, it results in higher costs for small businesses, which may have to shut down, and must deal with workers' compensation claims.
In the long run, Gonzalez said, providing paid sick leave "makes sense for the businesses, for the workers and for our surrounding communities."
Katherine Wutchiett of Legal Aid at Work noted that since the earlier pandemic-related protections expired at the end of December, just as COVID cases were surging in California, previously existing protections only offer partial and delayed benefits to those who qualify.
"While important," she said, "these protections are inadequate in the face of COVID, and extremely confusing to workers who must decide, on a moment's notice, whether to quarantine when they or a loved one are sick or exposed. Two weeks of paid sick leave is easy to understand, and it meets that need."
Wutchiett said workers need to know that if they stay home because of COVID, they will be paid and their jobs will be safe. "This measure would give them that security. Without it, workers will continue to have no choice but to keep working while contagious, or to send sick kids to school, and COVID-19 will continue to spread. Californians needed these protections on Jan. 1 and they definitely need them now."
In a Feb. 24 press release, Executive Secretary-Treasurer Art Pulaski indicated the California Labor Federation's wholehearted support.
"Health and safety on the job is the most pressing issue facing California workers as the pandemic continues," he said. "Extending emergency paid sick leave is the least we can do to protect the essential workers who have helped us all weather this crisis by showing up to work, despite the risk, day in and day out."
Pulaski was joined by SEIU California President Bob Schoonover, who declared, "We can't ask people to stay home after exposure when staying home means not being able to eat," and by Amber Bauer, executive director of UFCW's Western States Council, who added, "Paid sick leave benefits only make our workers and communities safer. Gov. Newsom and our elected leaders must include paid sick leave in the early action budget so workers don't have to choose between looking after their health and putting food on the table."