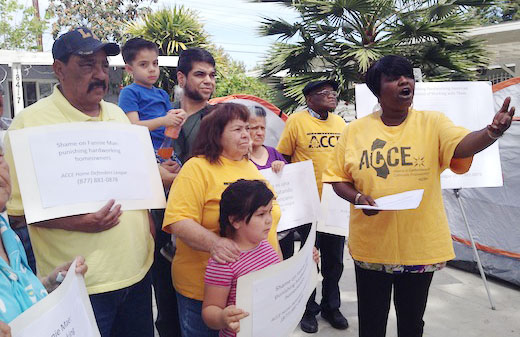 AZUSA, Calif. – Jaime and Juana Coronel should not have been foreclosed on in 2010, but they were. Now they have been paying rent for three years, and are pre qualified for a loan to buy back their home, of 25 years, at current market value.
But Fannie Mae refuses to sell at market value – around $200,000 – even though that's the price they are going to sell it to anyone else. Fannie Mae has a special price for the Coronels – almost twice the current value – $400,000!
The Coronels are taking a stand to end Fannie Mae's policy of punishing homeowners who were impacted by the housing crisis that Fannie Mae helped create.
Their family, neighbors, and members of the Alliance of Californians for Community Empowerment joined with the couple to let Fannie Mae know that they will not be moved without a fight
In this video, Juana tells (in Spanish) how her son recently bought a home one block away to be close to his parents. Her grandchildren enjoy the ability to be close to their grandparents. She asks that Fannie Mae have a heart and do the "human thing."
A real estate agent from Century 21 was on hand to verify that the Coronels do in fact qualify for a loan under the current market value of the home and that Fannie Mae's current offer is excessive.
Juana Cornel ends by telling Fannie Mae, "You are taking our American dream away from us, because you do not want to be fair to us and sell this home at the fair market value."
In related news, on April 10, Democracy Now reported, "The Blackstone Group, a private equity firm, is now the largest owner of single-family rental homes in the country. In one day alone, Blackstone bought up 1,400 houses in Atlanta. And as private equity firms gobble up huge swaths of the housing market, they are partnering with big banks to bundle the mortgages on these rental homes into a new financial product known as "rental-backed securities," reminiscent of the "mortgage-backed securities" that helped cause the last financial crisis."
Photo: The Coronels and their supporters call on Fannie Mae to do the right thing (PW/Rossana Cambron).