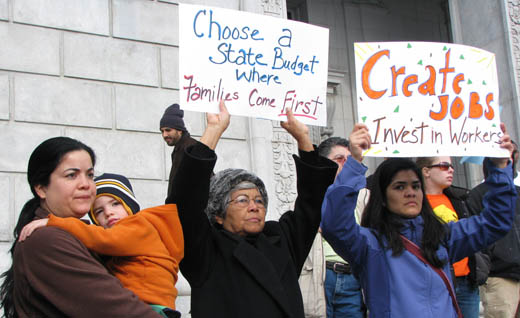 Once again, Californians most needing their government's help are being told they must bear the brunt of a $19 billion budget gap, aggravated by the Republicans' refusal to consider any increased taxes.
Declaring that no more "low-hanging fruits" remain to be plucked from the budget tree, Republican Governor Arnold Schwarzenegger May 14 revealed his "May Revise" proposals for the coming fiscal year. To continue his metaphor, it's also apparent that neither he nor his party will consider watering or fertilizing the earth in which the tree is rooted.
Overall, the "May Revise" calls for $12.4 billion in further cuts to general fund budget items most of which have suffered repeated cuts in recent years, along with additional federal monies and borrowing from other state funds.
The MediCal health care program (California's Medicaid) and In-Home Supportive Services for the elderly and disabled would be slashed. Cuts to the Healthy Families program serving children of low-income parents would mean monthly premiums would rise to $42 per child. A 60 percent cut in state funds for county mental health programs would force already struggling counties to absorb hundreds of millions in additional costs.
The proposed health care cuts would "limit and place financial barriers on medically necessary care for 8 million Californians," Anthony Wright, executive director of the Health Access consumer advocacy coalition, said in a statement. Besides increasing the economic strain on families, the cuts would "turn back hundreds of millions of dollars in federal matching funds resulting in significant job loss," he said.
Repeating a move the legislature rejected last year, Schwarzenegger also wants to completely eliminate the CalWORKS welfare-to-work program, which serves 1.4 million Californians – the overwhelming majority of them children. This would make California the only state in the union without such a program.
Though the budget proposals don't include further cuts to the University of California or California State University systems, California Teachers Association president David Sanchez pointed out that public school funding would be cut by $3 billion, on top of billions in cuts in previous years. With 16,000 teachers losing their jobs last year, and thousands more just laid off, he said in a statement, "Our teachers and students are very clear about what's happening because our school system is at the breaking point and the cuts are devastating our communities."
State workers again face cuts including a mandatory unpaid "personal day" each month, a 5 percent pay cut and an increase in pension contributions.
Democrats in the legislature came out swinging. "We will not pass a budget that eliminates CalWORKS, outright," said state Senate president pro tem Darrell Steinberg, D-Sacramento. "We will not be party to devastating children and families. We need revenue, and we will fight for revenue."
Said state Senator Leland Yee, D-San Francisco, "I have opposed and will continue to oppose all budgets that are balanced on the backs of our students, elderly and working poor … Democrats need to stand strong and say draconian cuts to education and other critical services will not be tolerated."
California Labor Federation head Art Pulaski said the May proposals accelerate the governor's "slash-and-burn cuts to vital services into an all-out scorched earth campaign," adding that under conditions of continuing joblessness and recession, the cuts "would choke off any hope of economic recovery."
California is the only state requiring a two-thirds legislative majority to pass budgets and to raise taxes. Though Democrats lead both the Assembly and Senate, their majority falls short of that level, and virtually all Republican legislators have signed a "no new taxes" pledge. Legislative efforts and ballot initiatives are underway to change that requirement.
Photo: Marilyn Bechtel