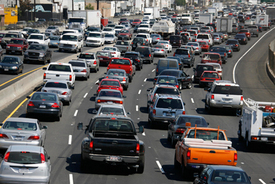 As it wrapped up its session late last month, the Democratic Party-led California Legislature reached an agreement with Republican Gov. Arnold Schwarzenegger on the first-ever state measure to cut global warming by limiting emissions of carbon dioxide and other greenhouse gases.
Schwarzenegger, campaigning for re-election, has sought to reinvent himself after his across-the-boards defeat in last year's special election, presenting himself as an environmentalist and as working cooperatively with the Legislature. He has pledged to sign the bill, despite opposition from his fellow Republicans.
Assembly Bill 32, The California Global Warming Solutions Act, was authored by Assembly Speaker Fabián Nuñez (D-Los Angeles) and Assemblymember Fran Pavley (D-Agoura Hills). It was supported by a number of environmental organizations, with some helping in its development. Opponents included the state Chamber of Commerce and many in the business community, although utility giant Pacific Gas and Electric Co. backed the bill.
The measure requires the state's Air Resources Board to prepare a plan to cut state greenhouse gas emissions by about 25 percent, reaching 1990 levels by 2020. Reductions must start in 2012. Besides carbon dioxide, the bill lists as greenhouse gases methane, nitrous oxide, hydrofluorocarbons, perfluorocarbons and sulfur hexafluoride. All major polluters would be affected, including power plants, refineries, cement kilns and factories. A 2002 measure to reduce auto emissions, authored by Pavley, is being challenged in court by the auto industry.
Sticking points in negotiations between legislative leaders and the governor reportedly included the option to set up a "cap and trade" provision allowing a company cutting emissions below the required level to trade emission "credits" to a company still above the limit. Also at issue was an "escape clause" letting the governor suspend regulations for up to a year and perhaps longer in the event of "extraordinary circumstances, catastrophic events or threat of significant economic harm."
Democrats reportedly prevailed on their wish to have the rules set and enforced by the Air Resources Board rather than by officials in the governor's administration.
While major environmental organizations including the Natural Resources Defense Council (NRDC), Environmental Defense and the Sierra Club lauded AB 32 across the board, others expressed caution.
"There's the potential for a lot of good things to happen; there's also a potential for a lot of bad things to happen," Joseph K. Lyou, executive director of the California Environmental Rights Alliance, said in a telephone interview. While AB 32 marks the first time a greenhouse gas reduction bill includes environmental justice provisions, he said, his organization had remained neutral, though it did work with the governor's office on wording.
"The two things we're most concerned about," Lyou said, "are that trading provisions, if adopted, would allow the consolidation of pollution in local communities" and that some efforts to cut carbon emissions could actually increase local air pollution.
Calling the latitude the "escape clause" gives the governor "unfortunate" though understandable in such a new proposal, Lyou added, "we want to make sure those escape clauses aren't used except in the most dire circumstances."
In a joint statement issued as AB 32 reached the governor's desk, the NRDC and Environmental Defense — both of which worked with Nuñez and Pavley to develop the bill — called it "a historic deal that will jump-start America's fight against global warming."
"AB 32 sets a firm, enforceable emission cap that addresses all major sources of global warming pollution," the Sierra Club California said.
However, observers pointed out the limited effect of a bill dealing with only one state, including the possibility that more of California's power could be purchased from neighboring states with less strict rules.
mbechtel@pww.org