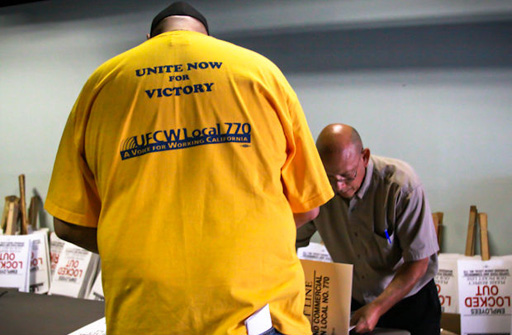 LOS ANGELES – Today grocery workers across Central and Southern California approved a contract with the companies which own Ralphs, Vons, and Albertsons stores, according to a statement from the United Food and Commercial Workers (UFCW). The new contract affects around 47,000 workers.
The contract contains raises of nearly a dollar an hour over three years, retirement security, and improved notice of scheduling. "Just in time" scheduling has been a recent trend that means workers can't control their schedules, and often don't know whether they must work a shift until they show up for work that day.
"This contract represents a significant victory for our members, and secures their wages, retirement security, and control over their schedules," said Rick Icaza, President of UFCW Local 770.
The union said the contract, negotiated with Kroger Company and Cerberus Capital, the corporation and hedge fund owners of Ralphs and Vons/Albertsons, was overwhelmingly approved by grocery union members during two days of voting. Though exact numbers were not yet available, the union told the San Diego Union Tribune that it would have vote totals later this week.
The deal goes into effect immediately.
"Thanks to the support of our members, community allies and consumers, we were able to stand strong and deliver for our members," said John Grant, Secretary-Treasurer of UFCW Local 770.
Photo: UFCW Local 770 members assemble picket signs, which now, fortunately for grocery workers, won't be needed. | SCPR.org