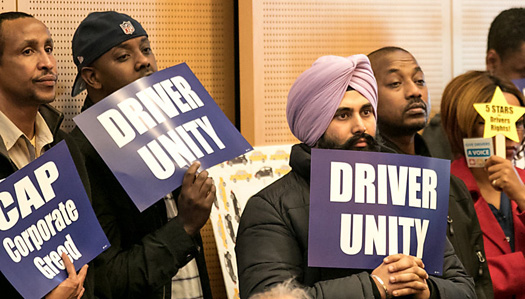 SACRAMENTO (PAI) – In a move anticipated by the AFL-CIO a month before, an influential California state lawmaker has introduced legislation to give workers in the so-called "Gig Economy" – notably Uber and Lyft drivers – the right to organize.
The measure, by new state Assembly Appropriations Committee Chair Lorena Gonzalez, D-San Diego, would let 10 or more gig economy "platform" workers legally negotiate as a group, communicate as a group with customers and call boycotts and issue critiques of platforms' business practices. The workers would not have to vote in a union to do so.
And Gonzalez' bill would let the gig platforms' workers "report publicly or to law enforcement any practices which an independent contractor" – the status of those gig workers now – "reasonably believes" are illegal, or hurt workers or clients.
Gonzalez' measure is important because California alone has hundreds of thousands of workers in the new "Gig economy" including at least 160,000 Uber and Lyft drivers. Other "gig" or "on-demand economy" workers in California include DoorDash and Postmates food delivery drivers, Handy house cleaners and Amazon "flex" workers who deliver packages.
The two unregulated ride services, whom customers summon by apps and other electronic devices, compete with – and undercut – regular taxis while underpaying drivers and refusing to pick up workplace expenses, such as phones. Other gig firms follow similar unregulated business models.
As a result, the drivers have filed class action suits against the firms, seeking to be declared employees and getting the right to organize and bargain for themselves. Gonzalez' bill, the California 1099 Self-Organizing Act, AB1727, would give it to them.
"California has led the way in innovating our economy through technology, and our laws must catch up to that innovation in order to do right by the workers in this state," Gonzalez said. "Obviously, our economy is changing. It's time our labor laws catch up with that reality," she told reporters. Her committee helps dole out funds for California state agencies.
"This bill ensures the millions of Californians who aren't treated as employees, including workers in the evolving gig economy, simply have the option to organize and collectively bargain for better pay and working conditions for themselves for the work that they perform," her prepared statement added.
Recent polls show the gig economy workers agree, by a 2-to-1 ratio, that their "platforms" – companies – exploit the lack of state and local regulation. The same ratio of workers agree they lack the safety net available to full-time workers, while 70 percent believe they should receive more benefits.
"While AB1727 doesn't mandate benefits or institute any new regulation on hosting platforms, it does empower working people facing a new economic landscape with the legal tools to help themselves as they see fit," a legal analysis from Gonzalez' office says.
In its winter meeting – coincidentally in San Diego – just before Gonzalez introduced her bill, the AFL-CIO Executive Council said gig economy workers should be legally "employees," with all worker rights and protections, including the right to organize, under federal labor law.
But it envisions organizing gig workers into unions, while Gonzalez' bill leaves that out. Instead, it gives workers the right to organize, in groups of 10 or more, with legal protection.
"Making the right policy choices begins with ensuring people who work for on-demand companies enjoy the rights and protections of employees," the council said. "Under current law, only workers who are defined as 'employees' are protected by the National Labor Relations Act and enjoy minimum wage, overtime, unemployment insurance, workers' compensation and family and medical leave.
"Unions have long been fighting back against employers who misclassify working people and create precarious, vulnerable work. This is what we do. The AFL-CIO is committed to ensuring new technology-and new forms of employer manipulation-do not erode the rights of working people. Rest assured that if employers get away with pretending their workers aren't employees, your job could be next."
Federation Secretary-Treasurer Liz Shuler said then the fed will work with allies, community groups and businesses "to enact policies that will prevent gig economy workers from falling through the cracks. If we act now, we can build a future of work that promises working people a better life."
Photo: Uber and Lyft drivers demonstrate for collective bargaining. | Clay Showalter/Labor Notes