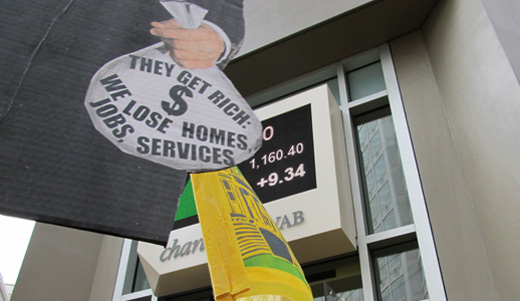 With the legislature's passage July 2 of a far-reaching Homeowner's Bill of Rights, California is moving to lead the country in the fight against foreclosure abuse. Governor Jerry Brown is expected to sign the legislation.
Some 500,000 California homeowners are said to be going through the foreclosure process now.
The Homeowner's Bill of Rights – part of a package of foreclosure relief bills – would ban "dual tracking," the practice of banks foreclosing on homeowners at the same time they are negotiating a modification. It would assure homeowners a single point of contact with their bank, bar fraudulent signing of foreclosure documents (robo-signing), and give homeowners the right to take legal action when banks violate the law.
The community, faith, labor and consumer rights ReFund California Coalition launched a campaign for the Bill of Rights earlier this year after Californians won an estimated $18 billion as part of a $25 billion multistate settlement with Citibank, JP Morgan Chase, Bank of America, Wells Fargo and Ally Financial.
State Attorney General Kamala Harris co-sponsored the legislation, and said she hopes banks will voluntarily implement the law's protections before it becomes effective Jan. 1.
The twin bills, SB 900 and AB 278, are the result of months of intense negotiations after banks and their allies strongly objected to the earlier, stronger legislation. The final product was negotiated by a Democrat-led two house conference committee.
Harris called passage of the bills "a significant step forward for struggling homeowners," and said the "common-sense reforms" will give "responsible homeowners … a better shot to keep their homes."
Banks, and Republicans, continue to be opposed. A coalition including the California Chamber of Commerce, Banking Association and Financial Services Association complained that the law needs more work, and Republicans said allowing homeowners to take legal action would lead to "a field day" for trial attorneys.
While recognizing that the law doesn't contain everything they originally sought, coalition members celebrated its passage.
"The banks fought this legislation with everything they had," the Alliance of Californians for Community Empowerment (ACCE) said in a statement. "Together, we fought back with a strategic, coordinated and powerful campaign that ultimately prevailed."
California Labor Federation head Art Pulaski called the bills' passage "a clear victory for the hundreds of thousands of California families currently under the threat of foreclosure. While the big banks and their GOP allies fought this much-needed reform tooth and nail, in the end the legislature chose common-sense reform over the banks' special interest power."
The just-passed bills are part of a legislative package which also includes measures for blight prevention, tenant protection, and strengthening enforcement of mortgage and foreclosure law.
Attorney General Harris earlier established a Mortgage Fraud Strike Force to investigate and prosecute misconduct at all stages of the foreclosure process.
ACCE, Causa Justa/Just Cause, and labor, faith, occupy and community organizations have held repeated protests around the state this year, protesting bank abuses and urging a moratorium on foreclosures.
Photo: At a Make Banks Bay demonstration in Sept. 2011. Marilyn Bachtel/PW