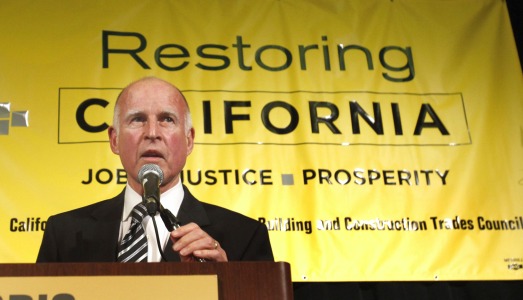 California's Republican legislative minority, March 25, released a list of 53 specific demands in response to the efforts of Democratic Governor Jerry Brown and legislative Democrats to place proposed tax hike extensions on the ballot in a June election.
After weekend negotiations failed to bring progress, the legislature was slated to reconvene March 29.
Brown and the Democrats seek to give voters the last word on proposals to deal with a $26.4 billion budget gap by some $12.5 billion in cuts – mostly devastating slashing of human needs programs – and $14.5 billion in revenues, including a five-year extension of earlier temporary increases in vehicle license fees, income and sales taxes.
Among the Republicans' demands:
• A "hard" cap on state spending, adjusted for population changes and inflation, until budgetary debt is paid down and a reserve fund built;
• Shifting state workers' pensions from guaranteed-benefits to a mixed system including 401(k) accounts, raising risks for workers' retirement benefits;
• Increasing workers' contributions to their health care and retirement benefits;
• Limiting the Democrats' tax extensions to 18 months instead of five years;
• Basing teacher layoffs and reassignments on performance rather than seniority, and other changes affecting their job security.
Some demands clearly had nothing to do with the budget, such as calls to weaken regulations affecting businesses, including environmental regulations, and to change the presidential primary to March.
The governor's spokesperson, Gil Duran, said the Republican demands amounted to "basically trying to ram through an agenda that does not reflect that we have a Democratic governor and Democratic majorities in both houses of the legislature." He called on the Republicans to "narrow the scope, be reasonable and move forward on what is possible."
State Assembly Speaker John Perez, D-Los Angeles, said the two parties are now farther apart than ever. He said the Republicans' expanding demands were making it more likely that Democrats would have to push forward on unilateral solutions.
As the deadline for scheduling a June election looms, Democrats are reportedly considering acting with a simple majority, but observers say a court challenge would be certain since a two-thirds majority is needed to act on taxes and ballot measures. Another alternative could be placing an initiative for the tax extensions on the ballot next fall, which would throw the state's finances into chaos in the meantime.
Brown has warned that if the revenue proposals do not pass, an all-cuts budget would be "extremely difficult, even draconian." He has not proposed new taxes, though others have called for an oil severance tax, raising property taxes on corporations, and returning income tax rates on the wealthy to 1990s levels under Republican Governor Pete Wilson.
Photo: Gov. Jerry Brown addresses Labor's 2011 Joint Legislative Conference in Sacramento, Calif., March 21. While talking about the on going negotiations on his state budget plan, Brown criticized Republican lawmakers as being obstructionists. (AP Photo/Rich Pedroncelli)