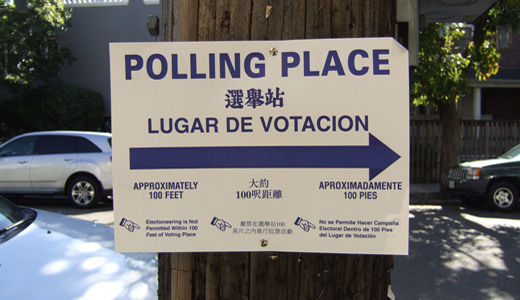 Three of five propositions on the June 8 California primary ballot are an assault on the voting rights of the people, and on their pocketbooks.
Advertised as the "Taxpayer Right to Vote Act" by for-profit private energy giant Pacific Gas & Electric (PG&E), Proposition 16 is anything but what the ads claim.
Prop. 16 would require a two-thirds majority vote of local voters before a local community could form or expand a public electric power utility, or purchase power from an independent operator.
The measure, being promoted by PG&E, would make it harder for a local government to establish or expand a public utility or a community-wide electricity district called a Community Choice Aggregator (CCA).
Unlike for-profit private utilities controlled by the largest shareholders, a municipal public utility is owned and operated democratically by the people through their local government.
Different from a public utility, the CCA program, set up in 2002, allows communities to purchase blocks of power to sell to residents from sources other than the local privately-owned utility while using its delivery system.
Obviously, a local public utility or CCA program is in direct competition with its privately owned counterpart.
In a lawsuit filed in April, a coalition of local public utilities charged that PG&E Chairman Peter Darbee acknowledged before an investor conference that Prop. 16 aims to relieve the private utility from "having to spend millions" to campaign against competitors and to "greatly diminish" voting.
The lawsuit calls for Prop. 16 to be removed from the ballot, as does an earlier suit charging the initiative's language is misleading.
Plaintiffs in the lawsuits include the City and County of San Francisco, the Sacramento Municipal Utility District, the San Joaquin Valley Power Authority, and the Merced Irrigation District.
John Geesman, former commissioner with the California Energy Commission, testified before the California Public Utilities Commission in March that "Prop. 16 would embed in the state Constitution the requirement that any utility other than PG&E be approved by a super-majority of voters in the territory to be served."
Geesman said the requirement could hamper the efforts of existing municipal districts to create clean, green and affordable energy.
Proposition 14, dubbed as the initiative that "Increases (the) Right to Participate in Primary Elections," would deny a political party the right to nominate and choose the preferred candidate who would represent the party in the general election. This would apply to candidates running for congressional, statewide and legislative offices.
The constitutional amendment would also knock out third parties and write-in candidates in general elections.
The measure would require that candidates, regardless of party affiliation, run on a single ballot in the June primary open to all registered voters regardless of their party preference. Candidates could choose whether or not to display their party affiliation on the ballot.
In the November runoff, the top two vote-getters would then be the only candidates on the ballot, and write-in votes would be disqualified.
While the measure would prohibit political parties from nominating candidates in the primaries, it would allow them to endorse, support or oppose candidates.
The American Civil Liberties Union (ACLU) of Northern California Board of Directors voted overwhelmingly in February to oppose Prop. 14 "based upon the ACLU's strong interest in the value and rights of political parties, including third parties, (and) the potential infringement upon these parties' First Amendment rights of association."
Prop. 14 backers, including Gov. Arnold Schwarzenegger, say the measure would discourage partisanship.
The claim is disputed by opponents, including the California Democratic and Republican parties.
"Candidates who ask for your vote shouldn't be allowed to conceal their political party," argues Nancy Brasmer, president of the California Alliance of Retired Americans.
California voters defeated a similar measure by 54 to 46 percent in 2004.
Proposition15, unlike Prop. 14, would tend to expand voters' rights.
Prop. 15 would create a public financing apparatus for the secretary of state races in 2014 and 2018. The measure is seen as a pilot program with potential for expansion to other state offices in future elections.
The measure would be funded by a biennial fee on lobbyists, lobbying firms, and lobbyist employers.
"This would make it possible for candidates to reject big money from special interests and still run a competitive campaign," said Derek Cressman, Western states regional director for Common Cause.
Proposition 17 looks good at first sight.
The measure would reward you, the car owner, with the "continuous coverage" discount when you switch from another car insurer, which current state law prohibits.
The catch comes when continuous coverage lapses, say because you lost your job or took ill. If you have a break in coverage for more than 90 days during the previous five years, you'll be penalized with a surcharge once you resume coverage – a practice currently illegal in California.
In states where insurance companies are permitted to surcharge drivers, it results in hefty higher premiums.
Prop. 17 is funded by Mercury Insurance, which was caught "charging discriminatory rates," according to the Los Angeles Times.
Non-controversial Proposition 13 would exempt earthquake safety improvements on unreinforced masonry (like brick) buildings from higher property taxes until the buildings are sold.
If you have questions about how to vote on the propositions, you may want to take the lead from the following recommendations of the California Labor Federation: Prop. 13 Yes, 14 No, 15 Yes, 16 No, 17 No.
Photo: http://www.flickr.com/photos/joebeone/ / CC BY 2.0