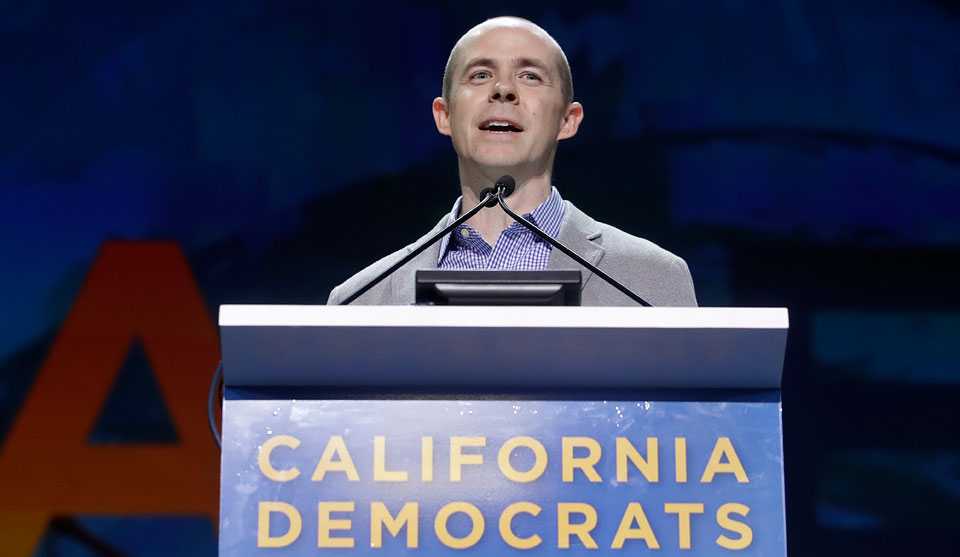 SAN FRANCISCO—A low-key effective "union organizer to the core," Rusty Hicks, is now running the California Democratic Party, an important post heading into the 2020 elections.
Hicks "believes the only way we can give working people a fair shot is by old-fashioned organizing," adds California Labor Federation Communications Director Steve Smith, who knows the players in both the state party and the state labor federation.
Hicks put that knowledge to good use in campaigning for the party chair. He won 57% of the vote on the first ballot at the party convention on June 1 in San Francisco. Smith attributed that to Hicks's talent for organizing.
"Everyone, including me, thought that with seven candidates running for party chair that the race would result in a runoff," Hicks said in a statement. "I believe the positive nature of our respective campaigns has been and will prove to be a positive step to a bigger, better, stronger Democratic Party. Let's get to work."
They'll have to do so quickly. To maximize its influence on next year's Democratic presidential nomination, the Golden State switched its primary from mid-June to "Super Tuesday," March 3, just after the first four small states—Iowa, New Hampshire, South Carolina, and Nevada—vote. California will send approximately 500 of the Democrats' 4,400 or so delegates to the national convention.
That potential drew 14 of the Democrats' 24 presidential hopefuls to the state convention. Its delegates gave boisterous cheers to Sens. Bernie Sanders, Ind-Vt., Elizabeth Warren, D-Mass., and hometown Sen. Kamala Harris, D-Calif.—in that order—for their policy proposals.
Meanwhile, news reports said Sanders and Warren criticized the front-runner in the polls, former Vice President Joe Biden, for not showing up, though they didn't name him, or their foe next year: Donald Trump.
At least two hopefuls, former Rep. John Delaney, D-Md., and former Colorado Gov. John Hickenlooper, drew some boos, reports added. Delegates razzed Delaney for opposing Medicare for All, a top cause of California-based National Nurses United. Hickenlooper said talking about "socialism"—as Sanders does and as the GOP characterizes both the Medicare plan and the Green New Deal—could give next year's election to Trump.
Hicks' closest challenger, Bernie Sanders supporter and party activist Kimberly Ellis, finished almost 20 percentage points behind in her second run for the top job. And this time, Smith says, there appears to be no bad blood over the voting and the process.
That wasn't the case, he added when Ellis lost to Eric Bauman last time. Bowman was forced to resign over evidence of his personal sexual harassment of male state party staffers.
Bauman's resignation and the race left the state party—in arguably the bluest, and biggest, state in the union—in some disarray. Smith expects Hicks to use his organized labor experience to fix that.
"He's able to translate what he's learned about organizing to build the party structure," which will be important for 2020, Smith explains. "He knows how to build from the ground up."
In Los Angeles, Hicks succeeded Maria Elena Durazo, a Unite Here vice president who is now a state senator, too. A member of AFT Local 1521, Hicks used his L.A. Federation post to help organize, build coalitions for, and lead progressive L.A. campaigns to raise the minimum wage, and to promote affordable housing and good jobs. Hicks is also an Afghanistan war veteran.
He's also the county labor federation's political director. Its success, along with that of workers and their Democratic allies statewide, is reflected in state politics: The state's 53 U.S. representatives include House Speaker Nancy Pelosi and 45 other Democrats, progressive Democrats hold super-majorities in the legislature, and Democratic former San Francisco Mayor Gavin Newsom easily won the governor's chair last year.