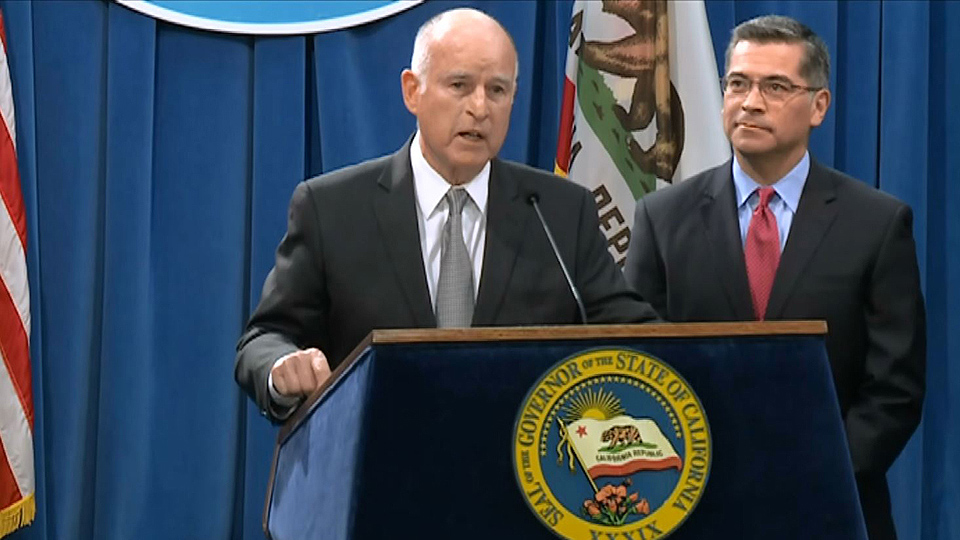 California's elected officials, and immigrant rights, civil rights and labor organizations, are issuing powerful challenges to the lawsuit filed March 6 by the Trump administration, claiming last year's "sanctuary state" laws violate the U.S. Constitution and interfere with enforcement of federal immigration laws.
The suit takes aim at three California laws passed last year, limiting cooperation with federal Immigration and Customs Enforcement (ICE) by state and local law enforcement and employers, and barring cities and counties from making new contracts to hold undocumented people solely over immigration violations.
The legal action also names California Governor Jerry Brown and the state Attorney General Xavier Becerra – both Democrats – as defendants. Observers predict the legal action will ultimately reach the U.S. Supreme Court.
The U.S. Department of Justice contends the Constitution gives the federal government control over enforcement of immigration laws and says California's laws limiting those efforts can pose a threat in and beyond California.
The day after the suit was filed, U.S. Attorney General Jeff Sessions came to California's capital city, Sacramento, to address the California Peace Officers Association. Hundreds of protesters massed outside the downtown hotel where the meeting took place.
Gov. Brown quickly slammed the administration's lawsuit with a sardonic retort: "At a time of unprecedented political turmoil, Jeff Sessions has come to California to further divide and polarize America. Jeff, these political stunts may be the norm in Washington, but they don't work here. SAD!!!"
At a press conference after Sessions' speech, Brown and Becerra upheld the legality of the challenged laws.
Brown said the lawsuit threatens innocent people, and "is about dividing America." He called on Sessions to apologize to Californians "for trying to insert discord and division, and I might add dysfunctionality, in a state that's really working."
The governor said he continues to be willing to cooperate with federal officials on immigration enforcement efforts that target those who commit serious or violent crimes.
Becerra said that under the U.S. Constitution's 10th Amendment, California has the right to decline participation in immigration enforcement. "California is in the business of public safety," he said. "We're not in the business of deportation."
State Senate President Pro Tem Kevin de León, D-Los Angeles, who last year introduced the measure limiting state and local law enforcement cooperation with ICE, held a press conference with two other Democratic legislators who introduced immigrant rights measures, state Senator Ricardo Lara of Bell Gardens and Assemblymember David Chiu from San Francisco. All three are immigrants or sons of immigrants.
Also participating was Eric Holder, U.S. Attorney General under President Obama, whose law firm is now under retainer with the state Senate.
De León emphasized California's right to "prioritize its limited resources in areas of state concern," including how its public safety funds are spent. "If it galls the U.S. Attorney General and the President that we won't help enforce their racist and xenophobic immigration policies, well, we say, Tough! We embrace the cultural gifts immigrants bestow on us, and their diversity. They are the backbone of our economy. And we will do everything in our legal power to protect them."
Holder, who seeks to file an amicus brief regarding the federal lawsuit, called the suit "a political and unconstitutional attack" on California's rights, since the U.S. Supreme Court has made it clear states can't be forced to divert their resources to help the federal government enforce federal law. "The Trump administration can pursue its self-defeating and misguided immigration policies, if that's what it wants to do, but it cannot insist that the State of California use its money and its resources to help in that effort."
Lara introduced the legislation blocking expansion of California's immigrant detention facilities and barring new or extended contracts with for-profit companies for the facilities. His bill also insists on decent treatment for people held there. "Let's not be fooled – this is jail," he said. "People are going without care, without access to an attorney … These are rights that ICE itself has recommended should be implemented in these detention centers."
Chiu's legislation says employers must require proper court documents before letting immigration agents enter a workplace or obtain workers' records and must inform workers of an impending raid. In California, he said, many workers lack immigration papers because Congress has not passed comprehensive immigration reform. He charged that with large portions of the state's farm, restaurant and construction workers in that situation, the federal administration's goal "is to disrupt the world's sixth largest economy."
Immigrant and civil rights groups were also quick to weigh in.
The ICE Out of California Coalition of over 20 organizations called the suit "an attack on our nation's values of equality and compassion … Now is the time for all Californians to stand up to federal abuses of power and blatant attempts at political retaliation."
Noting that the state is home to 2.6 million undocumented immigrants, over 400,000 of whom are Asian American, Advancing Justice-Asian Law Caucus said, "We will do everything in our power to defend against this hateful targeting of our immigrant communities."
Labor leaders were quick to comment, too. California Labor Federation Executive Secretary-Treasurer Art Pulaski called Sessions' attacks on hardworking immigrants an attempt "to score political points for a morally bankrupt administration," while Los Angeles County Labor Federation President Rusty Hicks declared, "The irony! For decades, Donald Trump has used the courts as a financial sanctuary for his bankrupt businesses. Now he wans to use the courts against California for daring to protect innocent people from his wanton abuse of power. The Los Angeles County Federation of Labor welcomes the chance to join in the defense of our rights as Californians."
In his speech before the California Peace Officers Association, Jeff Sessions continued his attacks on Oakland Mayor Libby Schaaf, who last month warned city residents of impending ICE sweeps in northern California.
To Sessions' "How dare you needlessly endanger the lives of law enforcement just to promote your radical open borders agenda," Schaaf replied, "How dare you distract the American people from a failed immigration system that tears apart decent families and forces the workers that our economy depends on to harvest our crops, deliver our services, and build our cities to live in fear and work under oppressed conditions. How dare you distort the reality about declining violent crime rates in a diverse, sanctuary city like Oakland to advance a racist agenda."