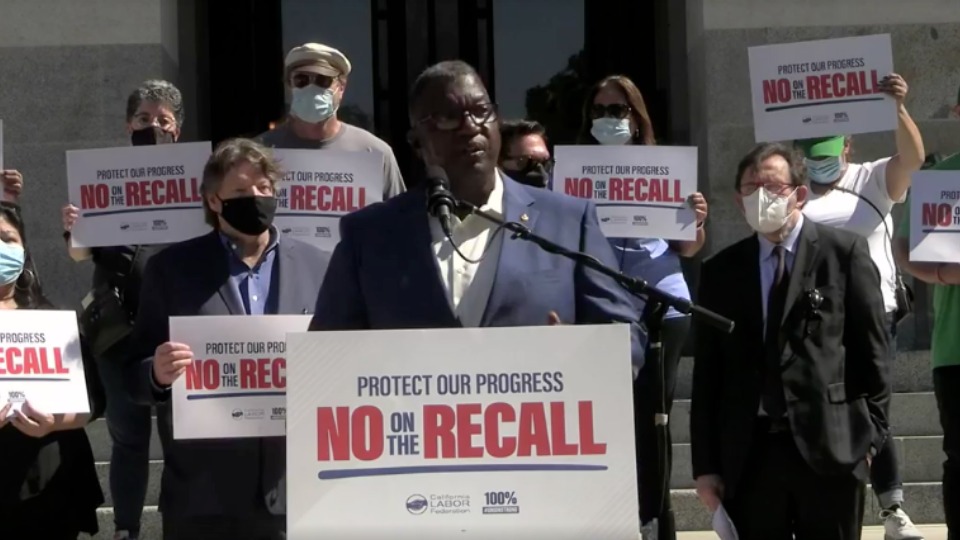 The growing campaign to block far-right efforts to recall California Gov. Gavin Newsom gained new strength June 1, as the California Labor Federation announced it is launching a massive ground campaign, with thousands of workers knocking on doors throughout the state, talking with voters face-to-face about the urgency of protecting hard-won gains including increased pay, paid sick leave and family leave, and the right to form unions.
"Under Gavin Newsom's leadership, California has the strongest worker protections in the nation," Federation Executive Secretary-Treasurer Art Pulaski declared as he opened the press conference on the steps of the Capitol building in Sacramento.
"Never has that been more important than over the past year, as the pandemic ripped through our state," Pulaski said. "The governor acted quickly and decisively to protect essential workers," mandating sick leave for COVID, ramping up health and safety protections, requiring employers to report workplace outbreaks, and following scientific guidance concerning the pandemic.
"The reckless recall threatens our values as Californians and will be met with strong opposition from working people across the state," Pulaski added. "With thousands of boots on the ground, we will lead the charge to stop the recall to protect decades of progress on workers' rights in California."
Doug Moore, executive director of United Domestic Workers, AFSCME 3930, said his union represents 20,000 family childcare providers and over 120,000 workers providing homecare through California's In-Home Supportive Services program.
When the pandemic hit, Moore said, Newsom designated both groups as essential workers. Too often, he said, care workers, usually women of color, "are accustomed to being overlooked, undervalued, marginalized, underpaid and misjudged. And to have their governor see them, at such a momentous time in history, was a sign of respect."
"Gavin Newsom has been there for UDW members when we needed him," Moore said, "and we are here for him!"
Speaking in both English and Spanish, Gloria Alvarado, executive director of the Orange County Labor Federation, said Gov. Newsom "partnered with us" at an extremely difficult time to make sure frontline workers – "those we call heroes"—were protected and kept healthy.
The governor "had our backs," Alvarado said, "and now it's our turn to show our support. We will walk through thousands of Orange County neighborhoods, knock on thousands of doors, take millions of steps to protect California's progress, and stop this recall in its tracks."
The effort to recall Newsom was originally launched early in 2020 by far-right, pro-Trump Republicans unhappy over the governor's challenges to the former president's policies including immigration and the death penalty, as well as California's high taxes and incidence of homelessness. During the pandemic, their complaints grew to include Newsom's limits on gatherings and business activities. The recall now has support of mainstream Republicans nationally, while supporters of the California Democratic Party's campaign to defeat it include Sens. Bernie Sanders, Elizabeth Warren, and Cory Booker.
A date has yet to be set, but the recall election is expected to take place during the fall. The California Labor Federation plans to campaign throughout the summer and fall, with union volunteers spending evenings and weekends going door-to-door, phoning, connecting with friends, neighbors, and co-workers. The Federation expects that in the process, members will take over 10 million steps—the equivalent, they say, of walking from Los Angeles to the coast of Maine.
Jacques Loveall, president of UFCW Local 8-Golden State, which represents supermarket, drugstore, and food processing workers, told reporters that from the start, Newsom has been "fighting for what's right and saving our members and millions of other Californians' lives … we are proud to have his back now, to stop this recall so we can get back to the important work of making California the best and brightest it can be."
California Nurses Association President Cathy Kennedy, RN, added her voice: "Our nurses have assessed this election. We see who is behind it, and their real agenda to roll back the ability of workers to have a voice on the job, on their workplace safety protections and economic standards for their families, on environmental safeguards, action on climate change, and much more."
Organized labor's opposition to the effort to recall Gov. Newsom has been building ever since it became apparent in late winter that a recall election was likely this year. Healthcare workers were among the first responders.
In early March the National Union of Healthcare Workers joined with the multi-issue progressive organization Courage California to unite voters to say "No to a recall," with NUHW President Sal Rosselli saying a recall "threatens the progress we  need now to support the health and safety of all Californians."
Early in April SEIU-United Healthcare Workers West signaled that they, too, opposed the recall, with President Dave Regan crediting Newsom with pushing California "to the forefront of healthcare policy" and having a "forward-thinking agenda to expand access and create a system that provides affordable quality care for all Californians."
On May 26 the SEIU California State Council officially said "No to the recall," with President Bob Schoonover saying the governor "has had our back through unprecedented crises, and now we have his," and adding that "extremist, partisan forces" are trying to force the recall "because they can't win in a normal election."
Schoonover recalled Newsom's "record of bold reforms" during his first three years in office, including a "historic" expansion of the state's paid family leave, doubling the earned-income tax credit for low-income families, signing an unprecedented bill targeting worker misclassification, expanding paid sick leave to all Californians during the pandemic, and signing legislation giving childcare workers the right to organize.
Meanwhile, the Public Policy Institute of California's latest poll, released May 25, looks very good for Newsom, with 57% of likely voters saying they would vote to keep the governor in office if the election were held now, and just 40% saying they would remove him. Those figures are very close to PPIC's findings in March, before holding the recall election became official.