SAN FRANCISCO—A new state law will make it possible for Californians to hold gun manufacturers and dealers responsible when they fail to follow the state's strict gun laws and their products cause harm.
On July 12, Gov. Gavin Newsom signed Assembly Bill 1594—by Assemblymember Phil Ting, D-San Francisco, Mike Gipson, D-Carson, and Christopher Ward, D-San Diego, with 13 co-authors, all Democrats. The bill was co-sponsored by California Attorney-General Rob Bonta, and by the Brady Campaign, one of the country's longest active anti-gun violence groups.
The measure, to take effect July 1, 2023, establishes a firearm industry standard of conduct that requires gun manufacturers, distributors, and retailers who do business in California to enforce reasonable controls to keep their products from being used unlawfully. It also bars the firearm industry from making or selling an abnormally dangerous firearm-related product.
Under AB 1594, Firearms: Civil Suits, an individual who suffers harm in California because the industry failed to meet the standards will be able to sue, as can the California Attorney General or city or county attorneys.
"It's well-known that nearly every industry is held to account when their products cause harm or injury—all except one, the gun industry," Newsom said in a brief video message before the signing. "Today, California is going to change that … If you've been hurt, or a family member is a victim of gun violence, you can now go to court and hold the makers of these deadly weapons accountable. Our kids, families, and communities deserve to live without the worry of gun violence, and with Assemblymember Ting's bill, gun makers will finally be held to account for their role in this crisis."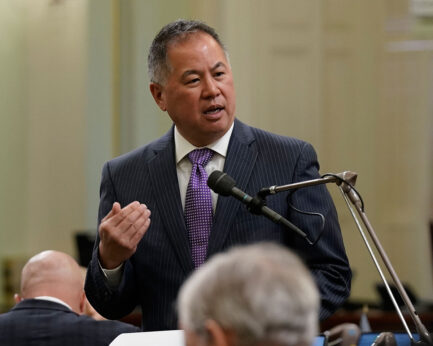 With gun violence now surpassing car accidents as the leading cause of death for U.S. children and teenagers, Ting said in a statement, "I see no better argument for stronger gun safety legislation … For far too long, the firearms industry has enjoyed federal immunity from civil lawsuits, providing them no incentive to follow our laws. Hitting their bottom line may finally compel them to step up to reduce gun violence by preventing illegal sales and theft."
Added Bonta, "There have been more mass shootings in our nation than days in the year, and yet many members of the gun industry continue to use a combination of bullying, exploitation, and fear to rack up profits from the very tools used in these shootings. There is no reason that the gun industry should be the only industry exempt from responsibility for the harm that its products cause, especially when its products are responsible for the deaths of thousands of Americans each year."
Brady Campaign President Kris Brown said the law "will create a powerful incentive for the industry to change its practices and promote public safety and put the interests of the people over profits."
California law already requires the gun industry to conduct rigorous background checks, prevent "straw" purchases when someone buys a gun for another person who can't legally own one, and sell safety devices with each firearm. Assault weapons may not be manufactured or sold in the state. Violating those laws could be a basis for a lawsuit when someone is killed or injured.
Almost every industry in the U.S. is held legally responsible when their misconduct harms consumers. But after intense lobbying by the gun industry, Congress in 2005 passed the Protection of Lawful Commerce in Arms Act, which shields the gun industry from civil liability when their products are used in crimes—unless the companies have broken state laws. Citing that exception, Ting says makers, distributors, and sellers of firearms can be held accountable under California law when their activities endanger the health or safety of others.
Also this week, the California Governor's Office of Emergency Services (Cal OES) announced $11 million in new community partnerships for an 18-month campaign to expand outreach and education on the use of Gun Violence Restraining Orders, or "red flag laws," to families, schools, and communities most at risk for gun violence.
The California Partnership to End Domestic Violence will receive $5 million in grants to local community-based domestic violence groups for community outreach. Another $5 million will go to Hope and Heal Fund for statewide outreach to communities most at risk of gun violence, including education efforts, research, and multilingual outreach. And the San Diego City Attorney's Office will receive $1 million for education and training for city attorney offices and law enforcement groups. The three "will work in tandem to ensure loved ones, teachers, or law enforcement know how to intervene and prevent someone in crisis from accessing firearms."
Cal OES Director Mark Ghilarducci cited the state's "nation-leading gun safety laws," and called education and outreach about how to use the red flag laws "critical to their success." He said the campaign "will focus on educating families and law enforcement on the tools they have at their disposal to prevent gun violence."